Owners Restore Vintage Kenworth Trucks as Labor of Love and To Preserve Industry's History
Kenworth 90th Anniversary: Owners Say Kenworth Trucks Stand Test of Time Through Quality Manufacturing
For Al Koenig, his first look at a Kenworth truck at the age of 8 was love at first sight.
"I can remember the first time I saw Kenworth trucks as they passed my parents' Minnesota farm," Koenig said.
The stories of Koenig and several other Kenworth truck owners who collect and restore vintage Kenworths have one common theme: a strong fondness for trucks, particularly Kenworths. Their passion for restoring them is sparked by an interest in not only preserving the trucks themselves, but also the 90-year history of Kenworth's impact on the industry.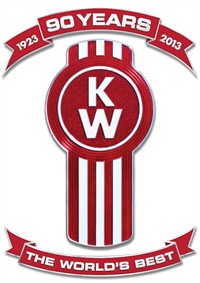 1928 Kenworth Model VS107 - Al Koenig, Rochester, Minn.
Koenig's affection for Kenworth was part of the reason why he bought and ran only Kenworth trucks when he owned Midwest Specialized Transportation of Rochester, Minn. He also bought a 1928 Kenworth Model VS107 that a company driver found during a chance stop near Sedro Woolley, Wash., in 1976. Koenig said the restoration work on that 1928 Kenworth took his company's master mechanic and professional restoration shop about 5 years to complete.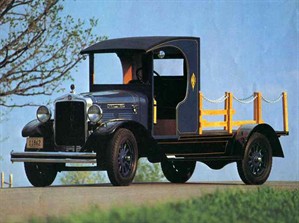 After Koenig retired several years ago, the Koenig family and his son, Chris, who stayed to assure a smooth transition from family ownership, sold the company exactly 40 years to the day Al founded it. Chris now works for Rihm Kenworth, while Al Koenig still proudly owns and occasionally shows his 1928 Kenworth VS107. He also owns the first Kenworth W900L that served as Kenworth's 75th anniversary tour truck and five other antique Kenworths, some of which are still in the process of being restored. Kurt Reed, who drove the W900L as it hauled the 75th Anniversary Kenworth museum trailer on a nationwide tour of Kenworth dealerships in 1998, now serves as safety director of Midwest Specialized Transportation.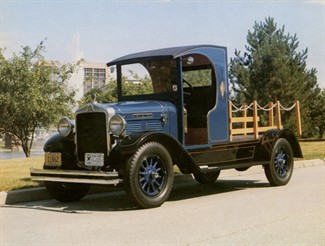 Koenig said the Kenworth VS107, which is named after Vernon Smith, Kenworth's legendary sales manager from 1922 to 1952, typifies the type of truck Kenworth built in those early years. The flatbed body was fabricated in Chicago and shipped to Kenworth's Mercer Street plant in Seattle for final assembly of the truck with a gasoline-powered Continental engine.
"We were so lucky to find an early Kenworth in fairly decent shape with the original stock engine," Koenig said. "The technological innovations Kenworth has introduced and incorporated into their models over the years have shaped the history of truck manufacturing and left an indelible mark on the trucking industry itself. I am proud of the fact that I currently own or have owned many trucks representing nearly all of Kenworth's developments over the years."
1931 Kenworth Model N - Dave Schroyer, Celina, Ohio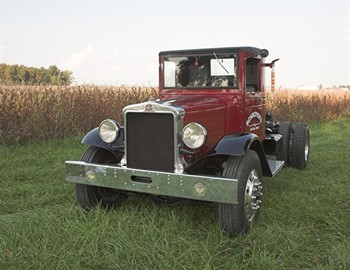 Like Koenig, Dave Schroyer of Celina, Ohio, developed an appreciation for trucks at an early age. Schroyer began driving for his family's company, Schroyer Inc., an agricultural farm supplies hauler, when he turned 16. He followed in the footsteps of his father, who at the age of 19 bought two trucks shortly after he graduated from high school, and started the family business.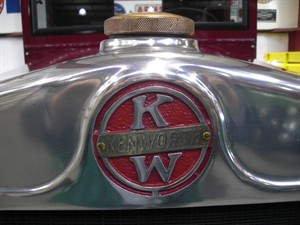 "Our family has owned a number of Kenworths over the years and I have had the pleasure of driving the Kenworth K100 cabover and the Kenworth W900," Schroyer said.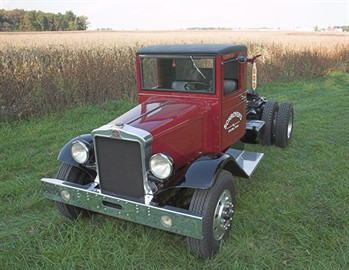 After the family started collecting vintage trucks in the early 1980s, Schroyer bought a 1931 Kenworth equipped with a 590-cubic-inch Hall-Scott engine from a long-time friend. After he had the truck restored, it eventually became a permanent exhibit in the family's antique truck museum in Celina, Ohio.
"I am so pleased our family has the 1931 Kenworth as part of our collection," he said. "Kenworth has a long history of manufacturing excellence and it's a great representation of the company's early history."
1935 Kenworth Model 89 - Gordon W. Cooper, Calgary, Alberta
When Gordon "Gord" Cooper first saw the 1935 Kenworth 89 on display at the 1992 American Truck Historical Society (ATHS) Antique Truck Show in Vancouver, Wash., he immediately recognized something special. The 3-ton single drive axle flatbed truck still ran with its original 65-hp gasoline-powered Hercules JXCM engine, a 4-speed manual transmission, a 2-speed Brown-Lipe auxiliary transmission and a Timken 2-speed rear axle. But the wood frame cab and exterior of the truck was in poor shape.
Photo courtesy of Hank Suderman
"It had been repainted an ugly utility orange color, but I still fell in love with it," Cooper said. He bought the truck from Pat Stump of Yakima, Wash., who found it sitting abandoned in the corner of a field near Yakima with a layer of Mount St. Helens ash still covering its dashboard and much of its interior. With help of his friends in the Pioneer Chapter of the American Truck Historical Society, Cooper finished the restoration, complete with a rebuilt stakebed.
Since then, Cooper has restored a number of Kenworth trucks, including a 1957 Kenworth 923 conventional, which was featured in the Kenworth Truck Company's 75th Anniversary in 1998. The Kenworth 923 also served as the bridal carriage in three weddings, including his own wedding and the wedding of his daughter. He's currently restoring a 1926 Kenworth Model OL.
"I have been a die-hard Kenworth fan for most of my life," said Cooper, who owns and operates O.C.E.A.N. Hauling and Hotshot Ltd., a light oilfield hauling company based in Calgary, Alberta. His company runs several Kenworths including a 2003 tri-drive Kenworth T800 with a 15-ton hydraulic picker. "Kenworth trucks are so well built and can handle the rough conditions in which we operate. They also run more efficiently, which allows me to pursue the hobbies I enjoy - collecting and restoring vintage Kenworths."
1957 Kenworth 925 - Dan Thomas, Medford, Ore.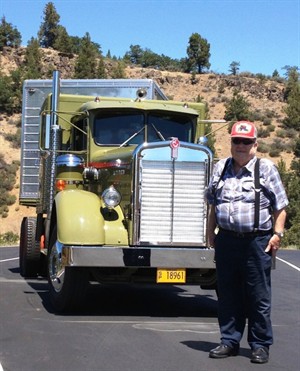 Dan Thomas, president of Medford, Ore.-based F.D. Thomas Inc., also developed his love of trucks at an early age. "My Dad was a trucker, he hauled steel in Pennsylvania, so I grew up around trucks," he said. "After I started my paint contracting business in 1979, I looked for ways for my company to have trucks that I could drive. So, I began looking for larger industrial jobs that required us to use trucks to haul large equipment."
As the company's business grew, Thomas also developed his passion - collecting and restoring antique trucks including a 1957 Kenworth 925, with an early version of Kenworth's 4-bag air ride suspension, a supercharged 275-hp Cummins engine and a 5-speed Spicer transmission.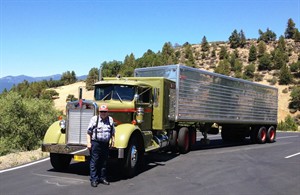 The power supply establishes the difference between supercharged and turbocharged. In a supercharged engine, a belt that connects directly to the engine supplies the power to run the compressor, similar to the way a water pump or alternator works. A turbocharger gets its power from the exhaust stream.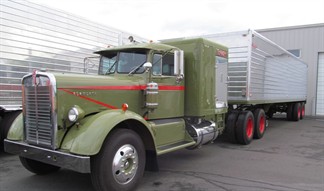 "I am very proud of this truck because it features many of the developments that have greatly enhanced trucking, such as a supercharged diesel engine and the earliest example of Kenworth's air-ride suspension I know of," he added.
1958 Kenworth KDC825C - Ray O'Hanesian, Bettendorf, Iowa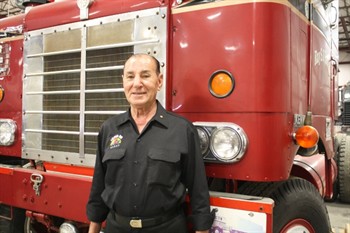 Although Ray O'Hanesian no longer owns the Kenworth KDC825C bullnose cabover that he bought brand new for $25,000 from Kenworth's branch in Denver, Colo., he can still see it every day. The retired Bettendorf, Iowa, truck operator donated it to the nearby Iowa 80 Trucking Museum in Walcott in 2010.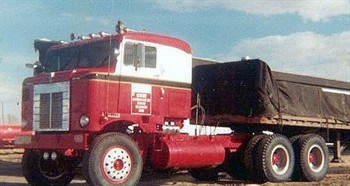 The truck, equipped with a 420-hp Cummins NTC380 engine that O'Hanesian added in the 1980s, had more than 5.2 million miles on it when he stopped counting in 1998. The truck was one of the last bullnose models Kenworth manufactured at its East Marginal Way Plant in Seattle. O'Hanesian recalls visiting that plant in 1988 and bringing with him the Kenworth bullnose cabover for a homecoming.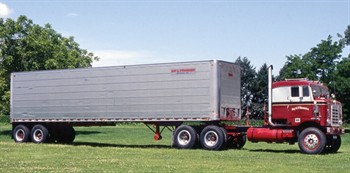 "Every Kenworth employee at that plant came over to look at it," he said. "The plant managers took great pride in pointing out to employees that at Kenworth, 'we use nothing but quality materials and quality workmanship in making a truck. That's why this truck is still going after millions of miles.' I couldn't agree more. I saw the employees put their hearts into manufacturing Kenworth trucks. And I know from personal experience Kenworth makes the world's finest."
1972 Kenworth W900A - David Hull, Monroe, Ore.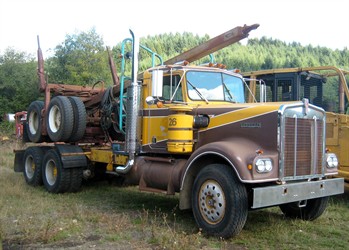 Kenworth has deep roots in the logging industry dating back to 1928 when it designed its first logging truck model for R. Malone of Ellensburg, Wash. It also has deep roots in the family history of David Hull, a life-long resident and logger from Bellfountain, Ore.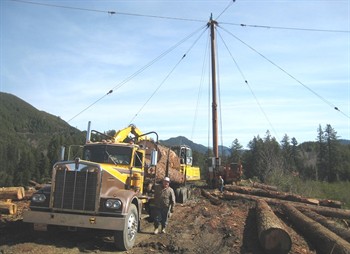 David's father, Homer, bought a 1958 Kenworth, nearly new with very low miles on it. His brother, Kenny, and his son, Casey, both bought three new Kenworths, while David himself bought two new Kenworth trucks over the years. The family has also restored and maintains a small collection of eight vintage logging trucks, including a 1972 Kenworth W900A that David bought from the Oregon Department of Forestry in a sealed bid surplus sale.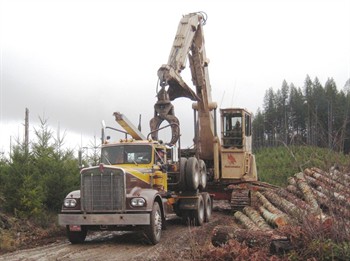 "The cab paint is still original and every summer I buff the paint to keep it in as good of condition as I can," David said. "This truck is very much a true timepiece right out of 1972, just like its driver, me. Kenworth builds trucks that last, stand up strong to rough conditions and literally last a life time."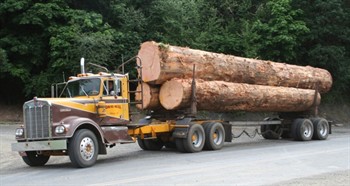 1986 Kenworth K100 - Pierre Aubin, Ste. Catherine, Quebec
Having been the owner of five Kenworth K100s, equipped with Kenworth Aerodyne® sleepers, throughout the '80s and '90s, Pierre Aubin always remained fond of the Kenworth cabover model.
"Over the last two years, I searched for one and with the help of one of my drivers, Luc Lemieux, I found the one I wanted," Aubin said. "Luc found it in Land-O-Lakes, Fla. The 1986 Kenworth K100 belonged to two brothers, Rick and Ron Judd, who hauled horses to special fairs in the southern states. After I flew to Tampa to take delivery of the truck, Ron told me that there were other people who wanted to buy it, but when he and his brother learned more about my company, they were sure their truck was going to go to a good family."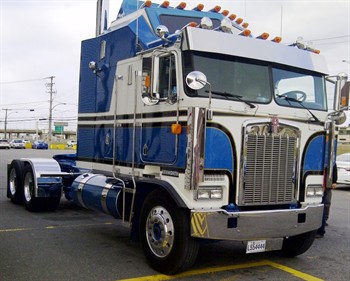 Aubin drove it back to Montreal, where he had it refurbished by Francois Thouin, the owner of a local truck body repair shop.
"Francois's body shop professionals - Alain, Erick and Daniel, worked on that truck," he said. "They lengthened the frame from 192 inches to 224 inches; took out the 425-hp engine and 13-speed transmission, then repainted and reinstalled them; sandblasted and repainted the cab; and installed new wiring and airlines, among other things. They came up with a truck that looks and feels as good as a brand new one."
Aubin occasionally takes his refurbished 1986 Kenworth K100 out for short 1- or 2-day trips. The trips allow him to stay grounded and to spend time with a truck he's always loved throughout his career. The K100, along with the Kenworth W900, were first introduced in 1963.
Today, Aubin's companies - L'Express du Midi, Les Transports Audec and Les Transports Delson operate an all-Kenworth fleet of 114 units, a majority of them Kenworth W900L with 72-inch and 86-inch AeroCab® sleepers equipped with 600-hp Cummins engines to handle loads of up to 85,000 to 88,000 pounds in Canada. Aubin also owns a fully restored 1956 bullnose Kenworth cabover, equipped with a 335-hp Cummins engine and a 5- by 3-speed manual transmission.
"Kenworth has always met our business needs as well as our desire to drive the best looking trucks in the industry," Aubin said. 
"Owners of antique trucks often see their restoration work not only as a way to preserve the trucks they love and a bit of trucking industry history, but also to bring back a sense of nostalgia," said Bill Johnson, executive director of the American Truck Historical Society. "They take great pride in knowing their restoration work will allow others to see first-hand the changes and innovations in truck manufacturing introduced over the years. As Kenworth concludes its 90th anniversary, it's important to recognize all those dedicated individuals who work to preserve this history."
Kenworth Truck Company is the manufacturer of The World's Best® heavy and medium duty trucks. Kenworth's Internet home page is at www.kenworth.com. Kenworth is a PACCAR company.