"Validation Drivers" from Shaffer Trucking Give Kenworth T680 Next Gen High Marks
Crete Carrier Refrigerated Division
Before Kenworth launched its new T680 Next Generation, drivers and fleets provided on-going feedback during the development process on what they would like to see in the new on-highway truck model.
"That valuable input and perspective guided the design of the T680 Next Gen," said Jonathan Duncan, Kenworth design director. "We continue to validate how the truck performs in real-world operations with real drivers and customers."
That meant a fleet of camouflaged T680 Next Gens hit the road for use with fleets and hand-picked drivers. That included a husband-and-wife team from Shaffer Trucking, the refrigerated division of Crete Carrier.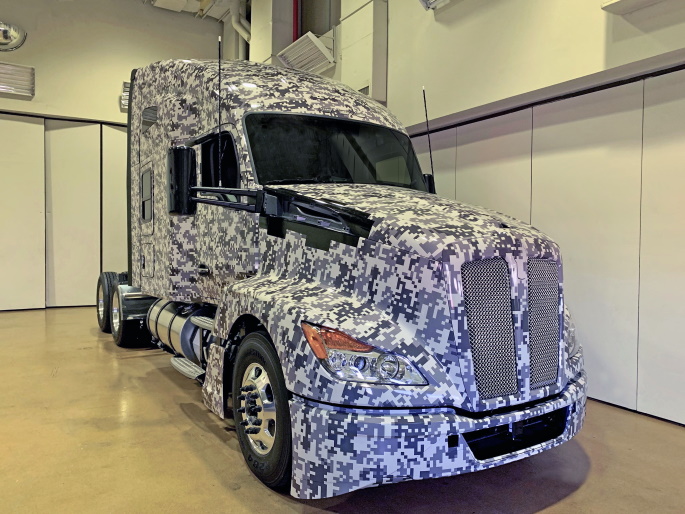 "We lobbied hard to be able to test the new Kenworth T680 Next Gen," said Deb Bazier, who drives team with her husband John Bazier out of Portland, Maine. The couple earned 'Team of the Year' honors with Shaffer Trucking in 2015, which boosted their credentials.
"We felt we were more than qualified after having driven team for 23 years, including the past 17 with Shaffer. We had driven other truck brands over the years, but for the last several we had driven Kenworth T680s," said Deb. "So, John and I knew we could give some candid feedback on the T680 Next Gen. Plus, since we have two drivers, we'd have twice the input and twice the miles to report as we typically run about 250,000 miles per year."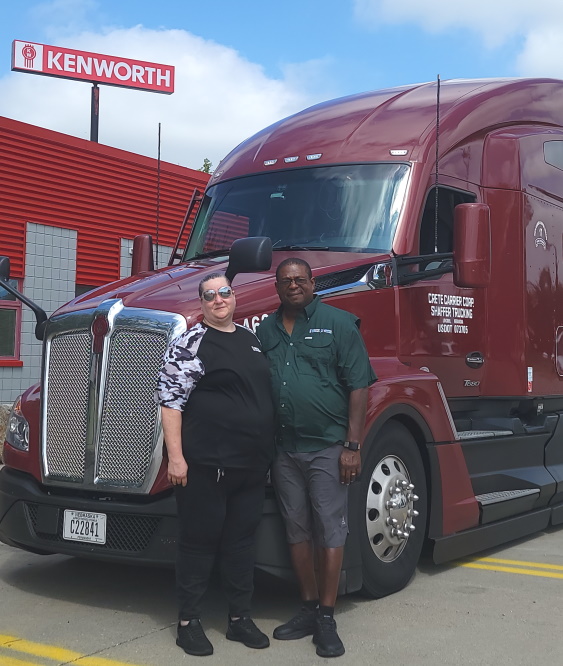 Deb and John Bazier are drivers for Shaffer Trucking, a Crete Carrier Refrigerated Division, and served as Kenworth T680 Next Gen validation drivers. The couple has put nearly 143,000 miles on the truck's odometer, and recently visited their Kenworth dealer - MHC Kenworth - Lincoln in Nebraska. 
The couple kept meticulous notes and reported findings to MHC Kenworth – Lincoln, Crete's local Kenworth dealer. "Scott (Kiddoo), our MHC salesperson, was fantastic to work with and quick to help address any issues in conjunction with Kenworth engineers and suppliers," said Deb. "Overall, we were just so impressed with how the T680 had changed and become even more comfortable to drive. Plus, the styling – which we really got to see after the camo came off – was impressive. It's a great looking truck."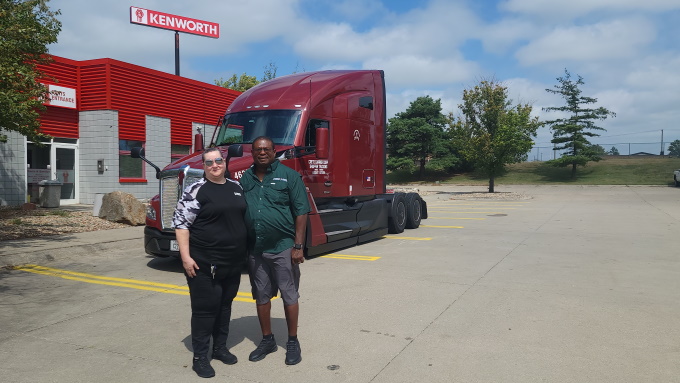 Driving the Kenworth Next Gen with camo for a little over three months meant the couple was routinely queried at fuel islands, delivery points, and even at company terminals. "We had a non-disclosure agreement, so we couldn't talk about the new model or give other drivers tours inside. When the camo came off and we could talk freely, John and I let them know what we thought, and we were happy to show them around. Many had seen the Kenworth T680 Next Gen video, but seeing the truck in person really impressed them."
According to John, the narrower hood gives more road view and better sight lines. "And little things, like the repositioning of the fuel fill spouts to the side, instead of behind the cab, makes fueling so much easier. Plus, the new drop-down door for battery access is a big improvement over the old style where the battery box had to be unbolted for access."
"The steps into the cab are great as well," added Deb. "They're very sturdy, nicely spaced and angled and seem to get less ice build-up."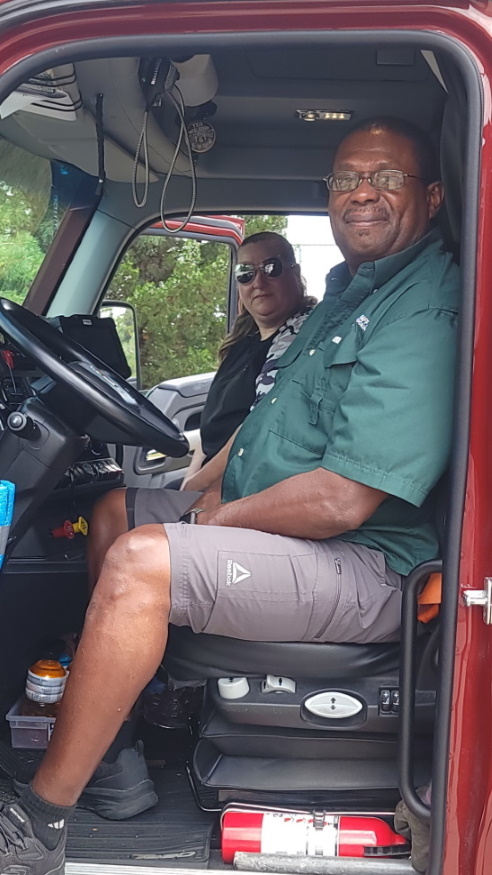 Inside, the couple gave high marks to the truck's 15-inch, high-definition digital display, which can be customized for driver preference. "I like to see all the gauges, while John just likes to see the speedometer," said Deb. "One roll of the dial on the (Kenworth SmartWheel) steering wheel and I can have the information I want displayed. And I like the line gauges – so if the line gets in the red, you know you're getting in a danger zone."
Behind the wheel, both John and Deb said the new 'torque assisted steering' function on the steering column has made a difference. "Wyoming can be especially windy," said John. "It takes very little pressure to keep the T680 Next Gen going straight. and helps keep your hands from cramping if you're getting moved around by the wind."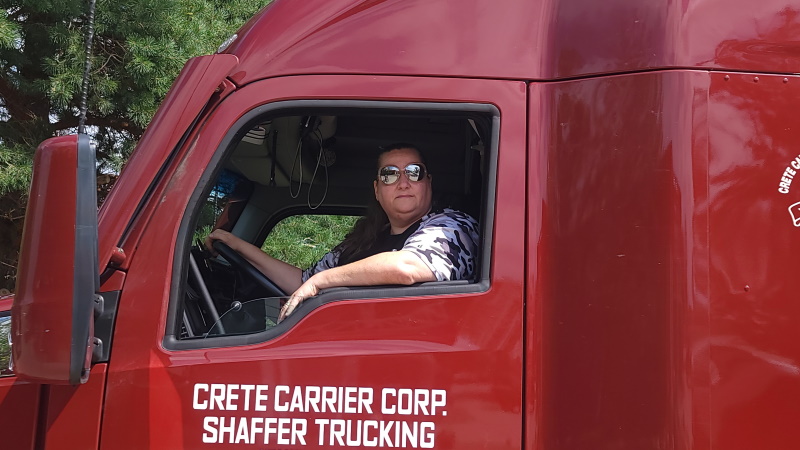 Now that the camo is off for good, the couple continue to drive the T680 Next Gen validation vehicle, which now has nearly 143,000 miles on the odometer. "It's been such an honor to be involved in this project," said Deb. "To be able to provide feedback and know that our comments are valued has been very rewarding. Kenworth engineers called us back regularly asking for more information and detail. It's clear they want to make continuous enhancements."
Going forward, the couple will drive the Kenworth T680 Next Gen until close to 300,000 miles. Then it will be transferred to a solo driver to runout the miles before trade in. "We've had a lot of drivers from our company come up to us and say, 'I want the truck when you get out of it,'" said John. "That tells you something right there. The T680 Next Gen is going to be a big hit with drivers."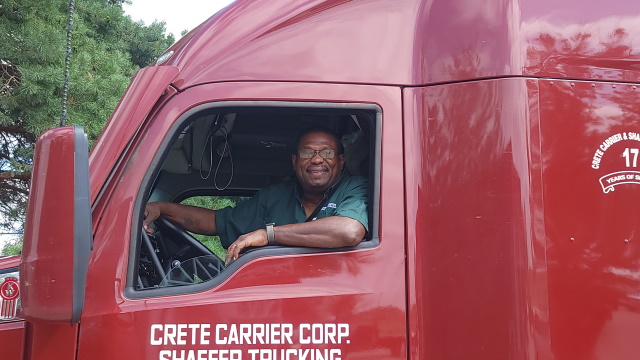 According to Winston Ostergard, third generation owner of Crete Carrier and vice president of maintenance, input from drivers is always important to the company. "We want to put them in trucks they want to drive and the new Kenworth T680 Next Gen fits the bill," he said. "The comments we heard back from Deb and John helped validate our decision to go with the Next Gen, and it's why we recently placed an order for 150 of this new model."
Kenworth is The Driver's Truck™. See what drivers are saying at www.kenworth.com/drivers.
Kenworth Truck Company is the manufacturer of The World's Best® heavy and medium duty trucks. Kenworth's Internet home page is at www.kenworth.com. Kenworth is a PACCAR company.