U.S. Army Veteran Christopher Slindee: "Transition Trucking – Driving for Excellence" Top 3 Finalist
Note: This is the third in a series of three feature news releases on the Top 3 Finalists for the "Transition Trucking: Driving for Excellence" award.
EL PASO, Texas, Nov. 30, 2021 – At an early age while growing up on a farm in rural Minnesota, U.S. Army veteran Christopher Slindee learned from his father, Dave, how to fix and maintain equipment. His skills and interest in working on equipment led him to join the Army as a wheeled vehicle mechanic when he was 18.
"My dad was the ultimate handyman and he taught me how to problem solve and fix things," said Slindee. "He was a diesel mechanic before becoming a truck driver, so I was around heavy equipment a lot. I enjoyed working with my hands and thought that a career serving in the Army as a mechanic aligned well with what I wanted to do."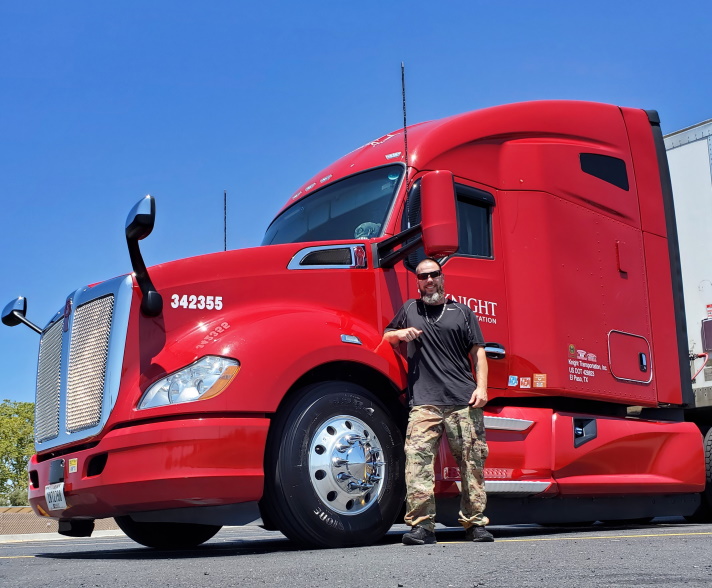 When Slindee honorably retired from the Army following more than 21 years of service, rising to the ranks of Master Sergeant, he was set on going to work as a diesel mechanic. But before pursuing job opportunities, Slindee had a change of heart following the passing of his father.
"My dad and I were really one of the same – we shared a lot of similar interests. He and I were very close, so his passing was really hard," said Slindee. "It's what led me to change course in my career. My dad was a truck driver for 38 years and it was a profession he loved. After he died, I thought about what I really wanted to do moving forward. I decided to become a truck driver instead of going the mechanic route to honor him and keep him in my memory."
Today, Slindee pays tribute to his dad as a driver for Knight Transportation. Slindee is one of three finalists in the "Transition Trucking: Driving for Excellence" program, which is dedicated to finding America's top rookie military driver. The annual program recognizes top drivers who have made the successful transition from active duty to driving for a commercial fleet.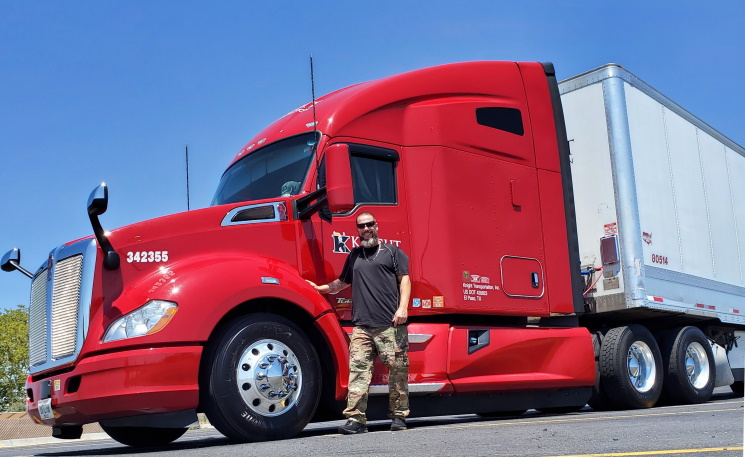 For the sixth consecutive year, Kenworth has teamed with the FASTPORT Trucking Track Mentoring Program and the U.S. Chamber of Commerce Foundation's Hiring our Heroes Program to support "Transition Trucking: Driving for Excellence." Kenworth will provide The Driver's Truck™– a Kenworth T680 with a 76-inch sleeper – to serve as the program's award to this year's overall winner. The T680 features the complete PACCAR Powertrain with PACCAR MX-13 engine, PACCAR TX-12 automated transmission and PACCAR DX-40 tandem rear axles.
As a driver, Slindee is on a mission to travel to all 48 continental states in his truck as a driver for Knight Transportation. So far, he's traveled through 46 states with just North Dakota and his home state Minnesota left on his list.
"It's ironic that Minnesota is one of the last states remaining, but we'll get there," said Slindee. "As a driver my dad never did make it to all 48 states, which was one of his goals, so I've made it one of mine. Knight (Transportation) has been supportive of my goal and they're finding me routes that can help me get there. Since I haven't driven to Minnesota yet, I'm working with Knight to have it be the last state I travel to. When I get to Minnesota, I'll place a pin that validates I've been to all 48 states next to my dad's headstone."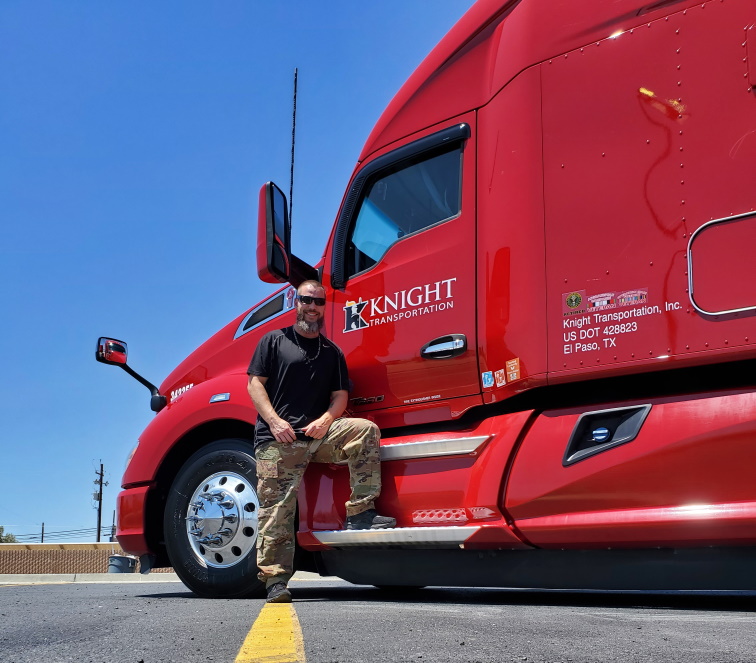 According to Slindee, he's always been a fan of Kenworth trucks. He currently drives a Kenworth T680, which he put in a request to drive, shortly after signing on with Knight Transportation.
"From the aesthetics to driver comfort, I've always thought that Kenworth trucks are the best of the best for drivers," said Slindee. "My dad was a Peterbilt guy, it was his personal preference but we both agreed that you can't beat a PACCAR product. To have the opportunity to travel the county in a Kenworth is a true blessing."
With a year and a half under his belt driving for Knight Transportation, Slindee has worked hard at being the best and most reliable driver he can be. He's currently working towards his goal of owning his own truck and becoming an independent driver.
"Whenever I meet with customers, I always have a smile on my face and ask how their day is going," said Slindee. "I always want to do right by the customer and represent my company well. I want to be a driver Knight can depend on. When I learned Knight had nominated me for this award, I was shocked. It's truly an honor."
If Slindee is selected as the winner of the Kenworth T680 in December, he has a name for the truck already picked out.
"Ghost Rider. That'll be the name of my business and what I'll call my truck if I'm lucky enough to win," said Slindee. "My dad's CB handle was Ghost Rider, so it makes sense to me to name it that and honor him. I look forward to the day I become an owner-operator. Driving, along with the support of my wife, Iris, has helped me cope with the loss of my dad. I've really enjoyed my time on the road and look forward to what's next."
The "Transition Trucking: Driving for Excellence" award winner will be announced on December 17 at the U.S. Chamber of Commerce in Washington, D.C. For more information, visit the websites of "Transition Trucking: Driving for Excellence" (www.transitiontrucking.org), FASTPORT (www.fastport.com) and Hiring Our Heroes (www.hiringourheroes.org).
Kenworth is The Driver's Truck™. See what drivers are saying at www.kenworth.com/drivers. Kenworth Truck Company is the manufacturer of The World's Best® heavy and medium duty trucks. Kenworth's Internet home page is at www.kenworth.com. Kenworth is a PACCAR company.