Truckworx Kenworth Opens New Parts and Service Location in Heart of Southwest Alabama
Truckworx Kenworth - Kenworth's 2012 Parts and Service Dealer of the Year, has opened a new parts and service facility in Thomasville, Ala. The new facility is located in Joe Davis Industrial Park just off of U.S. Route 43 in Clarke County, Ala.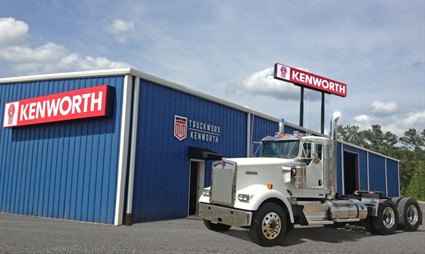 The new parts and service facility joins six other Truckworx Kenworth dealerships located in Birmingham, Dothan, Huntsville, Mobile, Montgomery, Ala., and Jackson (Richland), Miss. Truckworx Kenworth opened its first Kenworth dealership in Birmingham in 1978 and celebrated 35 years of business in February of this year. Bob Mitchell, who founded the company with his father, is still CEO today.
"We're pleased and feel fortunate to have the opportunity to offer quality TRP parts and Kenworth service to such a unique and exciting town," said Bob Mitchell. "Thomasville lies in the heart of the pine forests of Southwest Alabama. It is home to new and existing timber and steel-related industries that rely heavily on truck transportation. We fully intend to bring customers in this community the same focused level of service that recently earned us Kenworth's accolades as its top parts and service dealer in the country."
Mitchell said opening the Thomasville location closes a significant service gap that existed in Southwest Alabama. "Local and transient customers no longer have to travel upwards of 100 miles or more to Montgomery or Mobile to receive quality heavy duty service and parts," he added.
Truckworx Kenworth-Thomasville is located at 2400 Joe Davis Industrial Blvd., in Joe Davis Industrial Park. The facility includes two buildings, one that houses parts and the other service. Truckworx Kenworth-Thomasville has a 5,000 square-foot area to allow for an extensive parts inventory.  The location will offer daily parts delivery. The 6-acre service site offers customers plentiful truck and trailer parking. A lounge equipped with wireless Internet provides a comfortable place for drivers to catch up on paperwork while waiting for their trucks to be serviced. Its 8-bay service shop includes an area for express lube services and the only flywheel resurfacing machine within a 60-mile radius.
Truckworx Kenworth-Thomasville is open from 7 a.m. to 5 p.m. Monday through Friday. The parts manager is Ricky Ault and the service manager is Chris Gates. For more information, call Truckworx Kenworth-Thomasville at 334-636-4380 or visit www.TRUCKWORX.com.
The new parts and service location is part of a Kenworth dealer network of nearly 340 locations in the United States and Canada. Truckworx Kenworth-Thomasville is also part of Kenworth's constant commitment for superior dealer service as demonstrated by Kenworth receiving the "Highest in Customer Satisfaction with Heavy Duty Truck Dealer Service, Two Years in a Row", according to the J.D. Power and Associates 2011-2012 Heavy Duty Truck Customer Satisfaction StudiesSM.*
Kenworth Truck Company is the manufacturer of The World's Best® heavy and medium duty trucks. Kenworth's Internet home page is at www.kenworth.com. Kenworth is a PACCAR company.
*Kenworth received the highest numerical score for heavy-duty truck dealer service in the proprietary J.D. Power and Associates 2011-2012 Heavy Duty Truck Customer Satisfaction StudiesSM. 2012 study based on 1,725 primary maintainers of 2011 model-year Class 8 heavy-duty trucks measuring six manufacturers. Proprietary study results are based on experiences and perceptions of those surveyed in February-May 2012. Your experiences may vary.  Visit jdpower.com