Kenworth Features New T680 "Advantage" at Truck World
Kenworth Truck Company will display its new T680 Advantage in Canada during 2014 Truck World April 10-12 at the International Centre in Toronto.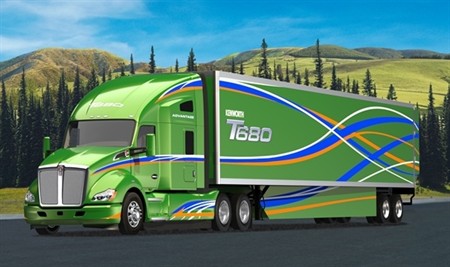 Kenworth T680 Advantage
The Kenworth T680 Advantage - Kenworth's new, most fuel-efficient truck - improves fuel economy up to 5 percent. The T680 Advantage features a special factory-installed aerodynamic package along with the optimized powertrain combination of the PACCAR MX-13 engine integrated with the Eaton Fuller Advantage™ 10-speed automated transmission.
 
Aerodynamic treatments for the T680 Advantage include longer side extenders for the T680 76-inch sleeper, lower cab fairing extenders, front air dam, aerodynamic mud flaps, rear fairing without steps coupled with an air deflector, exhaust cut out covers, and optional wheel covers for drive tires.
 
Other fuel-efficient T680 Advantage specs are speed control management that utilizes speed limiters; a tire pressure monitoring system to keep tires at optimum PSI; and the new Kenworth Idle Management System, which eliminates the need to idle in order to run air conditioning.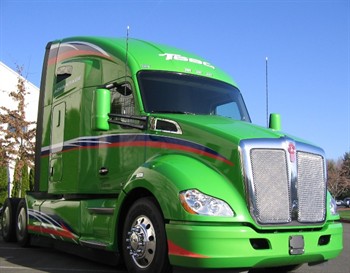 Kenworth T680 Advantage
  
The T680 Advantage was introduced at the Mid-America Trucking Show in late March.
 
At Truck World, Kenworth will also exhibit a T680 52-inch sleeper and T680 day cab, both specified with the PACCAR MX-13 engine rated at 455 hp and 1,650 lb-ft of torque and the Kenworth Diamond VIT interior.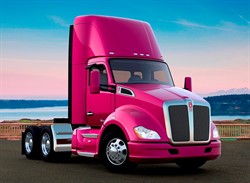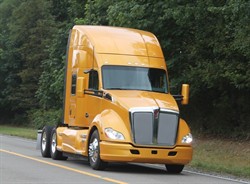 From left, Kenworth T680 Day Cab and Kenworth T680 52-inch Sleeper
Also featured is the Kenworth T880 - Kenworth's Class 8 vocational flagship - in a day cab configuration equipped with the PACCAR MX-13 engine rated at 500 hp and 1,850 lb-ft of torque and the Fuller  RTLO-18918B Low-Inertia™ Super 18 transmission.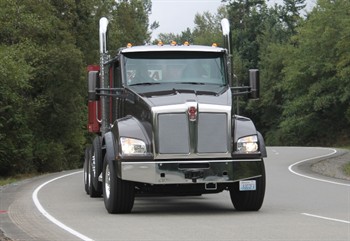 Kenworth T880 Day Cab
The T880 has a 5-piece Metton® hood for easier and faster repairs, air-assisted hydraulic clutch, panoramic windshield for enhanced visibility, complex reflector headlamps, excellent maneuverability, and new lightweight, factory-installed lift axles. The T880 utilizes a 2.1-meter wide, stamped aluminum cab which is robotically assembled. The quiet cab has triple-sealed and robust doors and provides a comfortable 23 inches of room between the seats.
 
Representing Kenworth quality medium duty trucks is a Class 7 Kenworth T370 conventional powered by a PACCAR PX-7 engine rated at 260-hp and 660 lb-ft of torque with an Allison 2500 RDS 5-speed automatic transmission and a van body.
 
Kenworth Truck Company is the manufacturer of The World's Best® heavy and medium duty trucks. Kenworth's Internet home page is at www.kenworth.com. Kenworth is a PACCAR company.