Kenworth T680s Help Petroleum Hauler Enhance Fuel Economy by 1 MPG, Keep Driver Turnover Low
Fourth Generation of Terpenings Continue Legacy of Their Fathers at Terpening Trucking
As members of the fourth generation of Terpenings in the trucking industry, cousins Craig Terpening and Rich Terpening Jr. have the wheel of their 97-year old family business firmly in hand as they drive the Syracuse-based petroleum hauler toward sustained growth.  In their mid-40s and mid-30s, they assumed the reigns of Terpening Trucking from their two dads, Chuck and Dick, and their uncle, George Terpening in 2010, and have grown the fleet from 32 trucks to 57 petroleum haulers.  They're on pace to deliver more than 400 million gallons of fuel in 2013.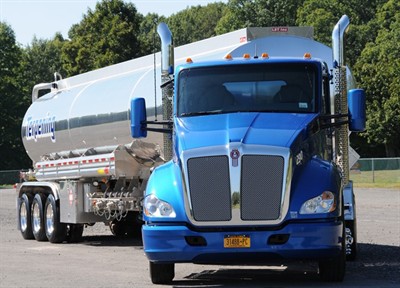 When Craig and Rich took over for their dads and uncle, Rich as vice president of operations, and Craig as vice president and general manager, the company was running Kenworth T800s as its standard truck.  "But we're now moving into the Kenworth T680 and it's been a great decision. We deliver to convenience stores and retail distributorships, and the statement those T680s make about quality means something," said Rich Terpening. 
"We have a five-year plan to move to 100 trucks.  With the eastern state mandates for bio-diesel and the increases in ethanol demand, we are thinking growth," he continued.  "In just the last few years, we've added 13 dedicated 7,000-gallon tankers for bio-diesel deliveries."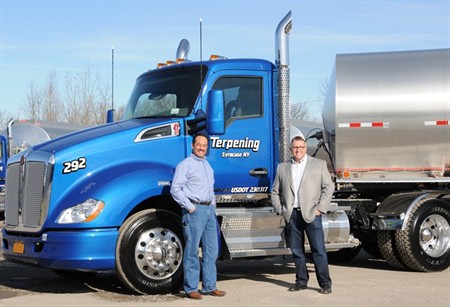 From left, cousins Craig Terpening, vice president and general manager, and Rich Terpening, vice president of operations, have the wheel of petroleum hauler Terpening Trucking, a 97-year-old family business based in Syracuse, N.Y.
Running double shifts, 84 drivers operate 57 Kenworth trucks throughout mostly New York, where the company has eight terminals.  Bio-diesel growth has meant additional deliveries in outlying states, and up into Canada. 
Impressing customers with equipment is one thing, impressing their own drivers with safe equipment is another.  "When the T680 first came out, we decided to test one for a year," said Rich.  "We had one of our most meticulous drivers dedicated to the truck during day-time runs, plus had other drivers take it for night deliveries.  Everyone raved about the visibility out of the truck, and the guys who drove at night immediately noticed the huge improvement in night-time vision with the headlight system.   They couldn't believe the improvement.  The quietness of the truck and the ride was also impressive to the group."

With key drivers sold, the Terpenings ordered 15 more T680s through Kenworth Northeast Group - Syracuse. "Everyone loves the trucks," said Rich. "But, perhaps what we love most is how much more economical they are.  We run very heavy in our area - 107,000 pounds hauling 12,500-gallon tri-axle tankers for gas hauling - and our T800s with 485 horsepower engines average between 5.2 and 5.4 mpg in regional deliveries.  The T680s, with the same horsepower rating, are averaging between 6.0 and 6.5 mpg, depending on the driver - that's up to a mile per gallon boost and it's been amazing what that means in fuel savings per truck - since each rig runs about 100,000 miles per year."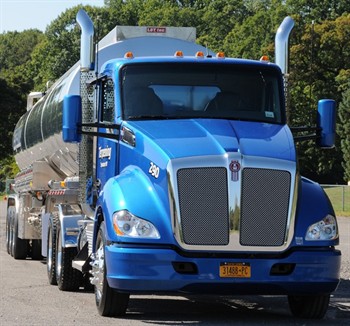 The T680s, which are spec'd with 10-speed transmissions and disc brakes, also feature Kenworth's NavPlus® system. "We're growing so we're adding new drivers, plus adding routes," said Craig.  "This navigation system has been just great - we plug in our load particulars and NavPlus chooses the best route.  That saves our guys time and ensures timely deliveries, plus it's a safety enhancement since we avoid missing exits and streets.  There is room for error when you get lost or go into an area where it's hard to get out of."
Terpening Trucking equipment also includes anti-rollover technology on all its trailers, traction control systems, and stability features - all of which has helped the company win numerous safety awards.
Since Rich and Craig have CDLs, both have been behind the wheel of the T680s making deliveries as "pinch drivers."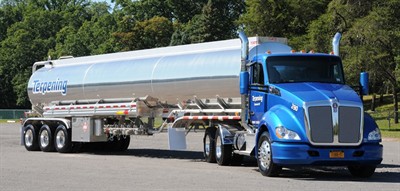 "I actually started as a driver for the company back in 1986," recalled Craig.  "And Rich did some driving in the early days as well.  Both of us also cut our teeth in dispatch, so we know and understand drivers very well."
That mentality, coupled with small family atmosphere, has led to less than 1 percent in driver turnover.  "Most of our drivers have been with us for over 15 years," said Rich.  "But with the new infusion of drivers due to our growth, our average is 12 years with the company.  We even have a father and son driving for us, so a family atmosphere truly runs deep here.  We've always said, as did our dads and uncle, that part of the equation is to operate the best equipment in order to attract the best drivers.  We know that philosophy has worked well for us just by looking at the caliber of people we have here, and how long they've been with us."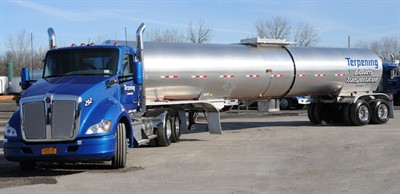 With a trade cycle of five years and between 350,000 and 500,000 miles, Rich said he's been very happy with resale value. "We work with Kenworth Northeast Group - Syracuse, and they've always provided us excellent service, all the way down to taking in our trucks on trade," he said. "Our trucks don't last long on their lot. We get a premium for those trucks since they're Kenworths and we keep very complete maintenance records.  They're just excellent vehicles for the next owners, and buyers in our area realize that."
Kenworth Truck Company is the manufacturer of The World's Best heavy and medium duty trucks. Kenworth's Internet home page is at www.kenworth.com.   Kenworth is a PACCAR company.