Kenworth Launches New T880 Vocational Truck
Kenworth 90 Years
Kenworth Truck Company launched the new Kenworth T880™ at the annual Mid-America Trucking Show in Louisville.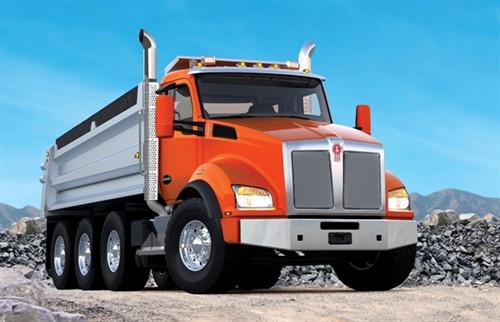 Kenworth T880
"Skillfully designed and robustly engineered, the new Kenworth T880 builds upon Kenworth's distinguished 90-year heritage of quality, innovation and technology to produce industry-leading, rugged and reliable vocational trucks," said Gary Moore, Kenworth general manager and PACCAR vice president.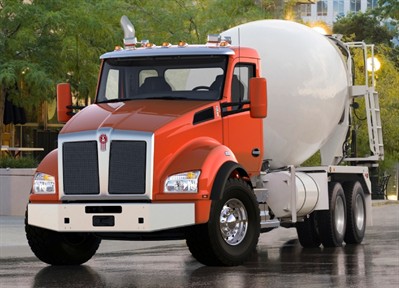 "As we celebrate Kenworth's 90th anniversary, the T880 represents our heritage very well as the latest evolution of our quality product line, while also reinforcing Kenworth's leadership in vocational truck performance. Vocational customers and drivers really demand a tough and durable truck in today's challenging work environments, and we are confident the Kenworth T880 will surpass customer expectations," said Kevin Baney, Kenworth chief engineer.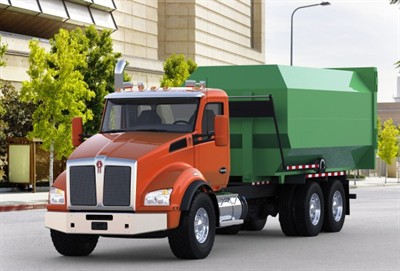 "For example, the T880 features a panoramic windshield for enhanced visibility, quiet cab with its triple-sealed and robust doors, 5-piece hood for easier and faster repairs, air-assisted hydraulic clutch, complex reflector headlamps, excellent maneuverability, and new lightweight, factory-installed lift axles that vocational customers will especially appreciate," Baney said. "On top of all that, we designed the T880 with distinctively sculpted lines that form an evolutionary, but uniquely Kenworth look."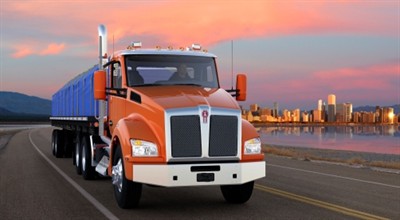 The new T880 is for vocational applications, including dump, mixer, refuse, and heavy haul. Its addition will complement Kenworth's current vocational line-up that includes the T800, T440, W900S and C500. The T880 will be available for production later this summer.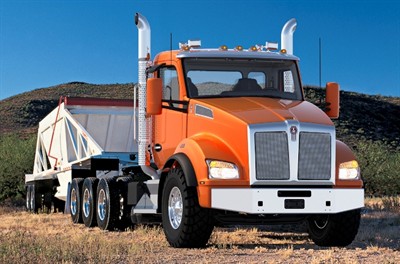 The Kenworth T880 is standard with the 12.9-liter PACCAR MX-13 engine. With its high-end ratings of 500 hp and 1,850 lb-ft of torque, the PACCAR MX-13 engine provides a lightweight, fuel-efficient engine option for vocational applications, including dumps and heavy haul applications over 100,000 lbs. The T880 also is available with the Cummins ISX15 engine with up to 600 hp and 2,050 lb-ft of torque.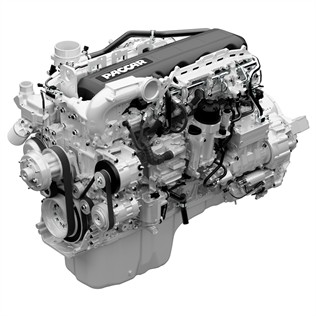 The T880 uses Kenworth's 2.1-meter wide, stamped aluminum cab, which is robotically assembled. The cab has a comfortable 23 inches of room between the seats. The T880 offers the premium Diamond VIT and Vantage trim levels and two interior color options of Sandstone Tan and Slate Gray.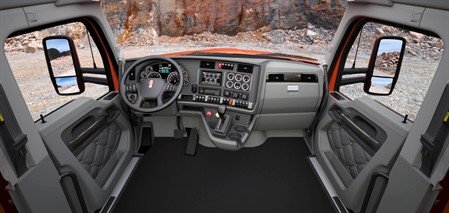 Here are key Kenworth T880 features:

Stamped Aluminum Cab: The lightweight cab is new for vocational applications. First introduced with the T680 in 2012, the cab's extensive durability testing regimen focused on achieving the highest, demanding requirements for vocational trucks. Robotically assembled, the stamped aluminum panels are connected by Henrob™ self-penetrating fasteners to produce an extremely durable cab with enhanced resistance to noise, vibration and corrosion. The cab also utilizes Kenworth's signature cowl-mounted mirrors for better visibility, increased durability and reduced adjustment.

Panoramic Windshield: The T880 is standard with a panoramic one-piece, bonded-in windshield with superior visibility. The T880 windshield has excellent thickness to minimize the effect of rock incidents, offers efficient replacement time, and is much larger in size compared to the T800 windshield.
Robust Door: The lightweight, stamped aluminum door is extremely durable and robust enough to support up to 400 lbs. The door provides smooth airflow around the cab and minimizes noise-inducing turbulence. A pressure relief valve equalizes interior and exterior air pressure to make the door easy to open and close. The door is triple sealed against the elements and road noise.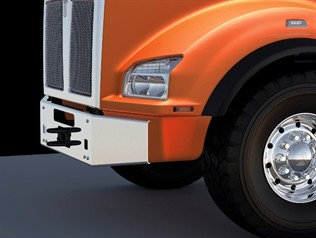 Hood and Bumper: The new vocational hood is made of Metton®, which is a lightweight, durable composite material with excellent impact resistance and finished surface. The hood, which offers easier and faster repair, is offered in two configurations, both with bolt-on fenders. The T880 is available in a 116.5-inch BBC. It also is available in a 122.5-inch BBC standard length. Both include a 5-piece Metton hood. The stylish, signature Kenworth grille is made from corrosion- resistant aluminum wire mesh for superior protection of cooling system components. The grille's surround is made of polished stainless steel. With the advanced hood assist system, lifting the hood requires just 35 lbs. of opening force. To aid in easy serviceability and replacements, the T880 is available with all the current T800 metal bumpers.

Lighting: The T880 is standard with dual lamp complex reflector headlamps which offer best in industry headlamp performance at a lower cost and more durable package. All standard exterior lights utilize LED technology that provides a 20,000-hour life, which equates to about 15 years of truck life. LED lights are also used extensively in the cab and sleeper.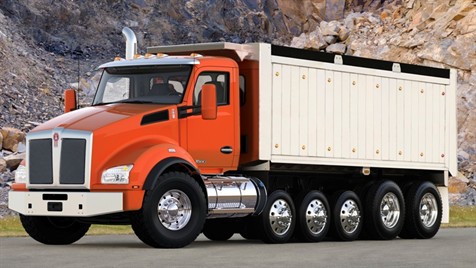 T880 Vocational Options: The T880 is available with five new, factory-installed and lightweight Watson & Chalin lift axles, including a 10K offering for the first time and a 20K version with a 200-lb weight savings. Also offered are new steering gears for improved steering feedback and increased wheelcut for greater maneuverability.

Driver Performance Center: The Driver Performance Center uses a full-color, high-resolution, 5-inch Thin Film Transistor display screen, which includes current truck information, diagnostic data, and pop-up alerts. The Center also displays situational-specific recommendations, which help improve vehicle performance.  

HVAC System: With industry-leading standard Automatic Temperature Control, simply set the desired temperature and the system maintains it. A one-touch feature provides maximum defrost. These features help keep drivers comfortable while maintaining their focus on driving.

Seats: The Kenworth proprietary seats offer an advanced air suspension system that automatically adjusts to various driver weights. A full range of seat comfort is available to meet driver-specific preferences. For the T880, Kenworth offers the DuraSupreme® heavy duty seat fabric in charcoal, gray and tan.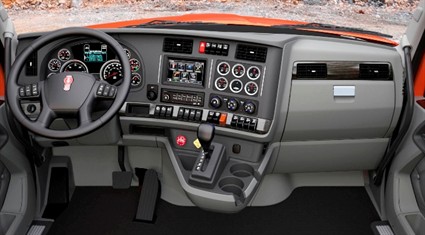 Kenworth Dash: The dash cluster has an easy-to-read layout with nine standard gauges and 12 additional gauges available. The switches utilize the toggling feature that drivers prefer, while maintaining rocker switch functionality. The T880 uses new electric-over-air dash switches introduced on the T680, and offers additional options to aid with vocational and body builder requirements. The Kenworth dash includes Kenworth NavPlus® - with hands-free cell phone capability via Bluetooth connections and voice commands. NavPlus is standard with premium interior trim.

Kenworth Truck Company is the manufacturer of The World's Best® heavy and medium duty trucks. Kenworth's Internet home page is at www.kenworth.com. Kenworth is a PACCAR company.