Kenworth T880 Contest Winners Receive Trip To Ohio For Special Test Drive, Plant Tour
When Jon Kibler of Bowmansville, N.Y., and Bryce Pinnell of Morrisonville, Ill., heard they were winners in the recent Kenworth T880 Test Drive Contest, they especially looked forward to becoming among the first truck drivers to drive the new Kenworth T880.
 
Introduced at the 2013 Mid-America Trucking Show, the T880 builds upon Kenworth's distinguished 90-year heritage of quality, innovation and technology to produce industry-leading, rugged and reliable vocational trucks for such demanding applications as dump, mixer, refuse, and heavy haul. The T880 is standard with the PACCAR MX-13 engine, which has ratings up to 500 hp and 1,850 lb-ft of torque and offers excellent fuel efficiency, high reliability and durability, lightweight design, and low cost of ownership.
Kenworth hosted the two winners at exciting events in both Columbus and Chillicothe, Ohio. In Columbus, the group attended the Kenworth Natural Gas Summit customer event, and learned more about Kenworth's extensive natural gas truck line-up.
The following morning, they journeyed one hour south to Chillicothe, Ohio, home of Kenworth's largest assembly plant. Upon their arrival, the group was greeted by plant manager Scott Blue, and then taken on an informative and action-packed, 90-minute tour.
And then, it was time for the Kibler and Pinnell to take the Kenworth T880 out for an enjoyable summer test drive around the Chillicothe area. 
Kenworth had several T880s for the two winners to experience first-hand, including a regional T880 day cab with a PACCAR MX-13 455 hp engine and 13-speed Eaton manual transmission, and a T880 Ohio dump with PACCAR MX-13 485 hp engine and Eaton UltraShift® Plus transmission. They also had a chance to climb into the latest Kenworth natural gas trucks there for the Kenworth customer event at the plant.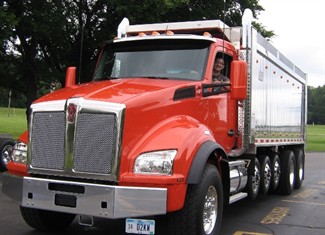 Jon Kibler, Kenworth T880 Test Drive Contest winner, is shown at the wheel of the new T880 dump truck. Kibler resides in Bowmansville, N.Y.
Kibler, who has been a truck driver for one year, currently drives for Central Transport out of its terminal in Buffalo, N.Y. He also has worked for Stevens Transport, where he mostly drove a Kenworth T660.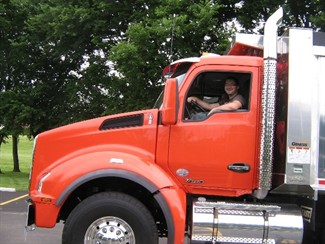 Kibler took a T880 dump truck out for a run and was impressed. "It's very stable and easy to drive. Everything is right there in easy reach on the dash. I liked the air-ride seat, which was very comfortable," he said. "The T880 has excellent power with the PACCAR MX-13 engine. The engine and the cab were very noticeably quiet.  I could actually hear the person next to me." Kibler's succinct conclusion: "I want one," Kibler smiled.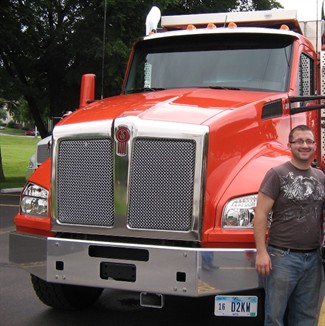 Pinnell, who has been a truck driver for seven years, became an owner-operator in 2009 and operates his own company called E&M Transport. He has six trailers and now operates two trucks - a 2013 T660 72-inch AeroCab® sleeper and a brand new T660 with 2014 86-inch Studio AeroCab®, which he picked up in Chillicothe after completion of his T880 test drives.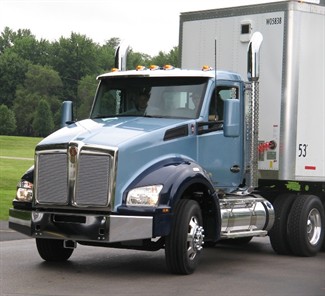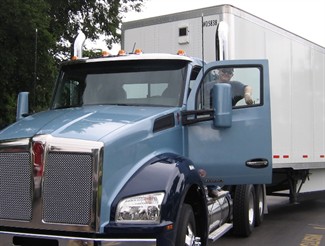 Bryce Pinnell, Kenworth T880 Test Drive Contest winner, is shown with one of the two T880s that he drove on the roads near the Kenworth plant in Chillicothe, Ohio. Pinnell is from Morrisonville, Ill.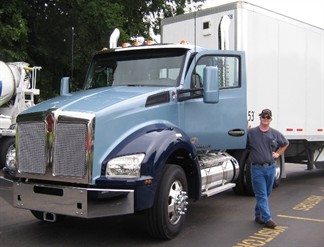 "The T880 is really comfortable and the PACCAR MX13 engine had good pick-up and go. I liked the overall visibility through the windshield and over the hood. The turning radius was great and I could make sharp, tight turns," said Pinnell. "The controls on the dash were in good position, and I could reach everything without having to stretch. And both the T880s I drove were real quiet."
Before they parted company, the winners and their guests each received a special Kenworth backpack stuffed with Kenworth merchandise, including a lightweight jacket, fleece blanket, T880 cap, T880 cowhide/denim work gloves, and travel tumbler mug.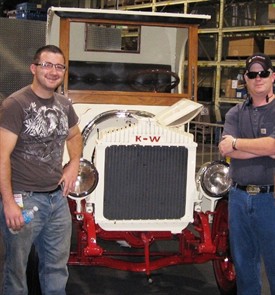 Jon Kibler, left, and Bryce Pinnell are shown with a 1923 Kenworth on display at the Kenworth assembly plant in Chillicothe, Ohio. Kenworth is celebrating its 90th anniversary in 2013.
More than 250 entries were received in the contest, which was for entrants 21 years and older with a valid commercial driver's license.
More information on the Kenworth T880 is available at www.kenworth.com.
Kenworth Truck Company is the manufacturer of The World's Best® heavy and medium duty trucks. Kenworth's Internet home page is at www.kenworth.com. Kenworth is a PACCAR company.