Kenworth T880 Adds 52-Inch Mid-Roof Sleeper Option
The new Kenworth T880 is now available for order with the Kenworth 52-inch mid-roof sleeper.
The new T880 sleeper option provides vocational customers in heavy haul, oil patch, flatbed and lowboy applications with a durable and reliable truck equipped with a comfortable and spacious sleeper that drivers will appreciate.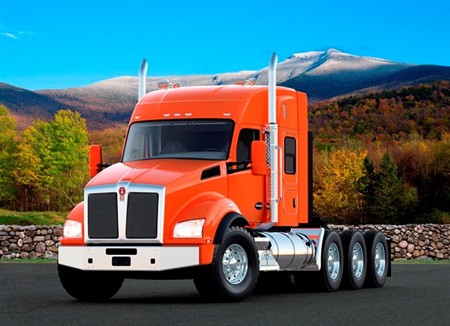 Kenworth T880 52-inch Mid-Roof Sleeper
The mid-roof sleeper features a liftable lower bunk and upper storage units on the sleeper's back wall, including hanging storage for drivers to hang their clothes and jackets. A bunk heater, flat screen TV and premium sound system can be added for additional driver comfort.
Specifying the optional passenger swivel seat further expands the living space, and enables the driver to use both the cab and the sleeper as a comfortable space for relaxation when not driving. The 52-inch sleeper also offers excellent interior height clearance for a mid-roof sleeper, enabling a driver or passenger up to 6-foot-4 to easily stand up between the seats.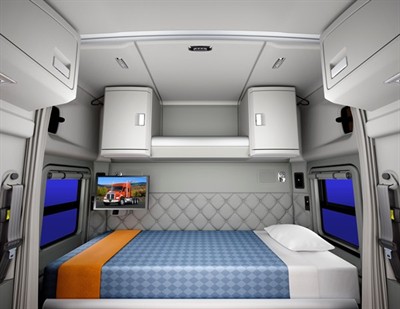 52-inch Mid-Roof Sleeper with Diamond Interior
The Kenworth T880 is standard with the PACCAR MX-13 engine rated up to 500 hp and 1,850 lb-ft of torque. The PACCAR MX-13 provides a lightweight, fuel-efficient engine for vocational applications, including dumps and heavy haul applications over 100,000 lbs. The T880 can be ordered with a 116.5-inch BBC hood optimized for the PACCAR MX-13 engine or with the 122.5-inch BBC hood.
The Kenworth T880 uses Kenworth's 2.1-meter wide, stamped aluminum cab, which is robotically assembled. The quiet cab has triple-sealed and robust doors and provides a comfortable 23 inches of room between the seats. The T880 offers the premium Diamond VIT and Vantage trim levels and two interior color options of Sandstone Tan and Slate Gray.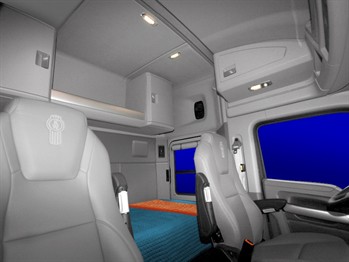 52-inch Mid-Roof Sleeper with Vantage Interior
The T880 also has a 5-piece Metton® hood for easier and faster repairs, air-assisted hydraulic clutch, panoramic windshield for enhanced visibility, complex reflector headlamps, excellent maneuverability, and new lightweight, factory-installed lift axles.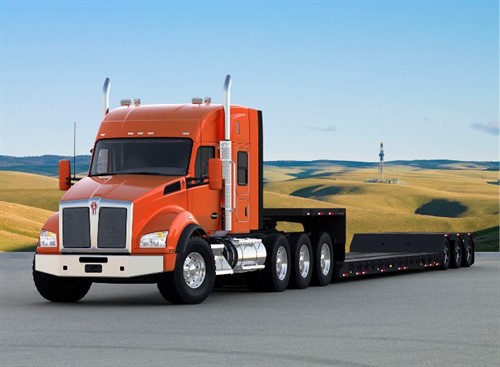 Kenworth T880 52-inch Mid-Roof Sleeper
Kenworth's 52-inch sleeper also is available as an option for the aerodynamic Kenworth T680.
Kenworth Truck Company is the manufacturer of The World's Best® heavy and medium duty trucks. Kenworth's Internet home page is at www.kenworth.com. Kenworth is a PACCAR company.