Experience Driving Kenworth T680 Across Country Impresses Pride Transport CEO and His Wife
Jeff and Pat England Enjoy 5,600-Mile, 9-Day Trip to Florida Together in T680
One of Pat England's first trips riding shotgun in a Kenworth K100 cabover driven by her husband, Jeff England, wasn't an entirely pleasant experience primarily due to her morning sickness.
She was 6 weeks pregnant carrying the couple's first child during that 1969 trip. The cabover was equipped with a day cab and offered little in the way of comfort for an expectant mother sitting in the passenger seat. Fast forward 44 years later, and her recent 9-day trip to Florida aboard one of Pride Transport's new Kenworth T680s was an entirely different experience. It was one she would love to try again even with her husband, who's also CEO of the company, behind the wheel, Pat said.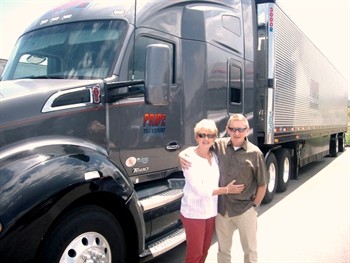 Pat and Jeff England with their Kenworth T680
"The Kenworth T680 was so comfortable with plenty of room in the sleeper to lay down and relax and plenty of light (from the interior LED lighting system) to read books while Jeff drove," she said. "The rotating table really came in handy for preparing sandwiches and snacks for Jeff, and I liked the fact that I could stand up in the (full-height 76-inch) sleeper and hand him a can of pop or a snack while he was driving."
Jeff and Pat travelled together more than 5,600 miles on the Kenworth T680's maiden trip from the company's headquarters in Salt Lake City to Jacksonville, Fla., and back. Pat and Jeff believe the trip re-affirmed their close relationship, one in which they recently celebrated 45 years of being together.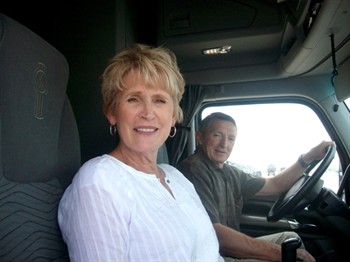 The Englands delivered furniture in a 53-foot trailer for Jeff's nephew, who was moving his family from Salt Lake City to Jacksonville, where he would serve as a fuel manager for Pride Transport. They hauled a light load of Heavenly Soft toilet tissue back from Florida to Utah. Pride Transport provides truckload and less-than-truckload hauling services moving commodities such as produce, frozen foods, pharmaceuticals and candy, across the United States.
"It was an opportunity to test out the new Kenworth T680 and to help a family member get resettled in Florida at the same time," Jeff said. The truck Jeff drove was one of five T680s Pride Transport bought from local dealer Kenworth Sales Co. earlier this year, equipped with 15-liter Cummins ISX engines rated at 425 hp and 1,800 ft.-lbs. of torque, a 3.36 rear axle gear ratio, and 40,000-pound Kenworth AG400L air bag suspensions.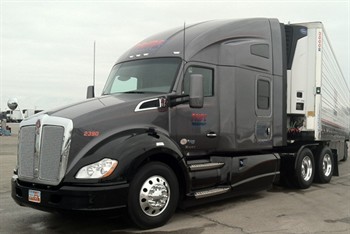 Jeff said he found the Kenworth T680 to be a great truck for his company's drivers and owner-operators to drive. He said he thinks the Kenworth T680 is going to be a popular truck among company drivers not only because of the aura and prestige of driving a Kenworth, but also because of its comfort and drivability.
"(The air-assisted) hydraulic clutch made it easy to shift in heavier traffic and the comfortable ride made it easy to cover a lot of ground," he added. "During one day of driving, I drove a lot of miles and didn't feel tired at the end of the day."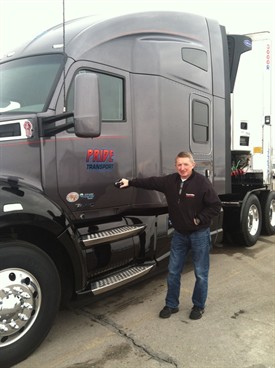 Jeff said the 76-inch sleeper provided a comfortable place to get rest, particularly when he had to stop for 36 hours at a Love's Truck Stop between Amarillo and Dallas on the way back to Salt Lake City when he ran out of driving time after his seventh consecutive day of driving.
"It was good to be back behind the wheel of a Kenworth," he said. Before Jeff started Pride Transport in 1979, he washed trucks, dispatched trucks and drivers, and drove trucks, mostly Kenworths, for 20 years for C.R. England, the company his grandfather Chester Rodney England founded.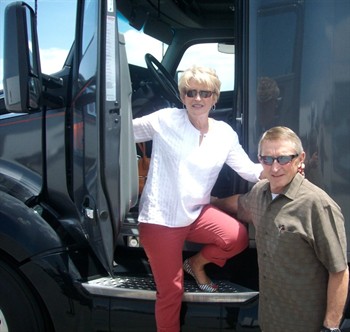 "Having grown up in Ogden, I knew who the Englands were because one of England's drivers lived next door, but I never imagined I would ever be married to one," Pat said.
 
Jeff said he takes pride in the fact that he still drives Pride Transport trucks and makes deliveries from time-to-time to stay in touch with his family's trucking heritage.
"These trips are a great way to stay grounded and understand what our drivers face out there on the road today," Jeff said. Although a typical trip for Jeff is usually two or three days out at a time. "This was the first cross-country trip I've taken in a very long time. Pat and I got a chance to see a part of the country we don't usually see from the road."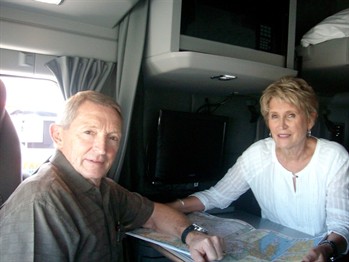 Pat said they stayed every night in the truck's sleeper except one. And truth be told, she said she would have preferred staying in the T680.
"The motel room wasn't as comfortable as the T680 sleeper," she added. "I would certainly go again with Jeff in a Kenworth T680."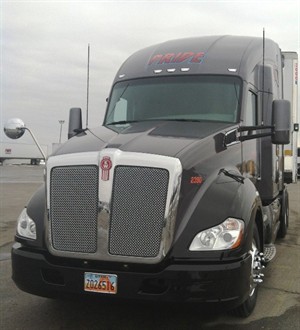 Kenworth Truck Company is the manufacturer of The World's Best® heavy and medium duty trucks. Kenworth's Internet home page is at www.kenworth.com. Kenworth is a PACCAR company.