Kenworth Launches T680 Online Truck Configurator
Kenworth Truck Company is introducing an interactive, easy-to-use Kenworth T680 Truck Configurator on its website (www.kenworth.com).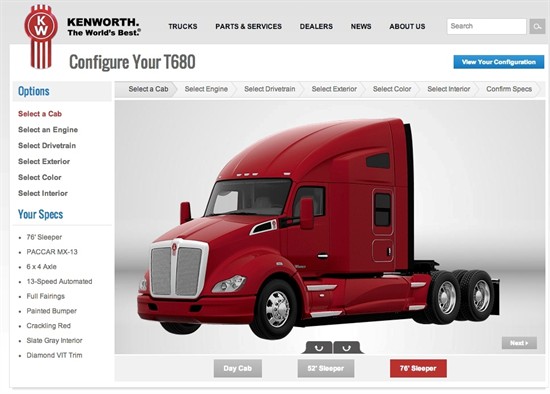 "The industry-leading, aerodynamic T680 has become our most popular truck of choice among Kenworth customers with its excellent fuel efficiency and driver comfort amenities," said Kurt Swihart, Kenworth marketing director. "The new Kenworth T680 Truck Configurator is a useful tool that helps customers to visualize how their very own T680 will look based on the key options they select."
With the Kenworth T680 already a top attraction on Kenworth's website, visitors will now be able to select key features of their T680 and seeing the vehicle take shape on screen, as different options are added. 
The Kenworth T680 Truck Configurator enables customers to begin by selecting the T680 in a day cab, 52-inch mid-roof sleeper or 76-inch sleeper configuration. Then, it's time to choose from the available T680 options offered for the engine, transmission, axles, side or partial fairings, bumper,  exterior color, interior trim colors, and Diamond VIT or Vantage trim level, among others.
According to Swihart, once a customer's T680 is configured online, the info can be printed, plus customers have the option to send their T680 to their local Kenworth dealer. "That can get the conversation going with your Kenworth dealer to build out the truck even further, and to develop your complete specifications for the most fuel-efficient truck Kenworth offers," Swihart said.
Designed to maximize performance in line haul, pickup and delivery, and regional hauling operations, the T680 is standard with the PACCAR MX-13 engine rated up to 500-hp and 1,850 lb-ft of torque. The Kenworth T680 with the PACCAR MX-13 engine was named the 2013 Heavy Duty Commercial Truck of the Year by the American Truck Dealers (ATD). 
Kenworth Truck Company is the manufacturer of The World's Best® heavy and medium duty trucks. Kenworth's Internet home page is at www.kenworth.com. Kenworth is a PACCAR company.