New Kenworth T680 Brochure Now Available
Kenworth has published a new Kenworth T680 brochure with the latest, comprehensive information on the company's popular flagship on-highway truck.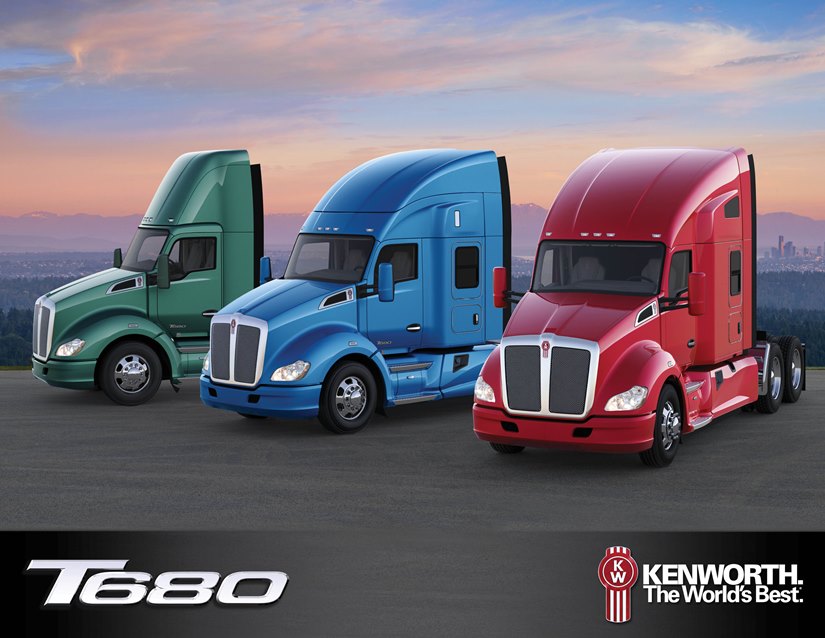 Kenworth T680 Brochure
Kenworth has expanded its offerings for the T680, which was originally launched four years ago as a 76-inch sleeper and day cab. The T680 is now also available with 52-inch and 76-inch mid-roof sleepers, along with the company's new 40-inch sleeper. The T680 provides an excellent fuel-efficient, productive and driver-friendly truck for over-the-road fleets and truck operators in line haul, pickup and delivery, and regional hauling applications.
 
The 34-page T680 brochure provides information on Kenworth TruckTech+, driver performance technology, power management technology and the Kenworth Idle Management System, Kenworth Nav+ HD system, interior colors and options, and Kenworth seats with superior comfort, adjustability, ride suspension and personal climate control. Kenworth PremierCare® parts and service programs also are highlighted.
 
The Kenworth T680 is standard with the PACCAR MX-13 engine rated up to 500-hp and 1,850 lb-ft of torque, and also is available with the new PACCAR MX-11 engine with up to 430-hp and 1,550 lb-ft of torque. Both engines offer optimum performance, industry-leading reliability and durability, and a quiet operating environment for drivers.
 
The Kenworth T680 Brochure is available from Kenworth dealers in the United States and Canada or online (www.kenworth.com/media/rualmwbn/t680-brochure-0316.pdf). More information on the T680, and an online configurator enabling customers to spec their T680, are also available (www.kenworth.com/trucks/t680). The Kenworth T680 truck with the PACCAR MX-13 engine received 2013 Heavy Duty Commercial Truck of the Year honors from the American Truck Dealers (ATD).
 
In addition, a Kenworth T680 video is available on YouTube (www.youtube.com/watch?v=bpOsleRBrg8). To see more Kenworth videos, visit and subscribe to the Kenworth YouTube Channel (www.youtube.com/KenworthTruckCo).
 
Kenworth is the driver's truck. See what drivers are saying at www.kenworth.com/drivers.
 
Kenworth Truck Company is the manufacturer of The World's Best® heavy and medium duty trucks. Kenworth's Internet home page is at www.kenworth.com. Kenworth is a PACCAR company.