Kenworth T680 Advantage Package Designed To Maximize Fuel Economy Through Total Vehicle Efficiency
Kenworth 90 Years
Kenworth introduced the latest in fuel economy technology with the Kenworth T680 Advantage truck, which effectively integrates aerodynamics, powertrain and electronic efficiencies combined into a complete tractor/trailer package to maximize fuel economy.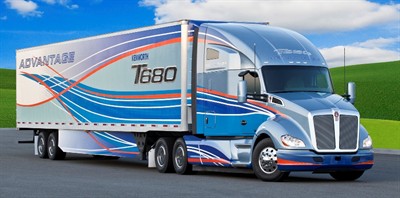 "To gain the optimum in vehicle fuel economy, the trucking industry must view aerodynamics, powertrains, drivers and trailers in concert.  They all must be integrated to maximize vehicle fuel efficiency," said Kevin Baney, Kenworth chief engineer. "That's the premise behind developing the Kenworth T680 Advantage. The T680 Advantages shows the industry what's possible when you integrate the total vehicle."

The Kenworth T680 Advantage was unveiled today at the annual Mid-America Trucking Show in Louisville, Ky. A full-size tractor-trailer is available for viewing outside the South Wing of the Kentucky Fair & Exposition Center, while a tractor and partial trailer are on display in Kenworth's booth (30305).

The  Kenworth T680 Advantage begins with the 2013 ATD Heavy Duty Commercial Truck of the Year - the award-winning Kenworth T680 equipped with a 12.9-liter PACCAR MX-13 engine. The T680, which has received U.S. Environmental Protection Agency (EPA) SmartWay® Designation, was selected as the Advantage vehicle since it already possesses a number of standard features that make it Kenworth's most aerodynamic model ever. "We also designed features to further increase its fuel-efficiency numbers - such as cab aerodynamic enhancements - providing a package that we know our customers will desire," said Baney.

In addition to the T680, fuel economy enhancements are provided by the 2013 PACCAR MX-13, which is estimated to be up to 3.5 percent* more fuel efficient than the previous 2010 PACCAR MX engine. That's due in part to a new common-rail fuel-injection system that optimizes combustion. Engine software updates and oil viscosity changes also contribute to fuel economy improvements. The PACCAR MX-13 is rated up to 500 hp and 1,850 lb-ft of torque.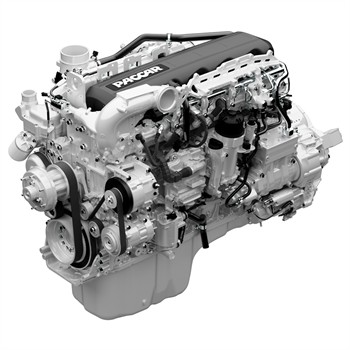 "The MX-13 engine is paired with an Eaton UltraShift® PLUS automated manual transmission to maximize fuel efficiency," he said. "Thanks to the system's integration with the PACCAR MX-13, the transmission knows when to optimally shift.  This way it mirrors the abilities of great drivers shifting with a manual transmission. Studies have shown that drivers may influence upwards of 30 percent of fuel economy numbers, so reducing the driver variable can significantly improve a fleet's mpg."

Instantaneous fuel economy feedback on the dash is another feature of the Kenworth T680 Advantage. "Drivers like to know how they're doing, especially if fuel economy incentives are offered by their company," he said. "The in-dash, Kenworth T680's Driver Performance Center provides real-time mpg numbers as well as detailed information and driver notifications to keep the truck running more efficiently."

The Kenworth T680 Advantage controls fuel usage with an electronic speed limiter and engine idle shutdown software.  "As a rule of thumb, there's an estimated 0.1 mpg gain for every mph reduced when the truck is running at freeway speeds. If drivers lower their top speed and keep it around 62 or below, they'll definitely see fuel savings. Our speed limiter helps put more money in the company's pocket and can benefit drivers on incentive programs," said Baney.  "The same goes for idling.  Most engines burn up to an estimated 1 gallon per hour while idling.  By using our engine idle shutdown timer, fuel-wasting idling is nearly eliminated."
Baney said the idle shutdown goes hand-in-hand with the T680 Advantage's Kenworth Idle Management System.  "It's a new, factory-installed battery-based APU system for air conditioning that is tied directly into the Kenworth T680's ducting system," he said. "A fuel-fired heater provides full engine-off heating capability. Both are seamlessly integrated into the T680 to provide excellent, engine-off, heating and cooling."

Another "given" that will improve fuel economy is utilizing cruise control.  "Studies bear this out," said Baney.  "But, in the real world, there is traffic and the need to engage and disengage the cruise with changing road conditions. It can be a distraction for the driver to re-set the cruise, so in many cases, they don't and fuel economy suffers. With the Bendix® Wingman® Advanced™ System with adaptive cruise, we have radar sensors integrated with the engine and braking system to help maintain a safe distance from traffic while maintaining control of the vehicle's throttle input.  This gives more control to the tractor - allowing it to maximize performance." The T680 Advantage also includes the Bendix SmarTire™ Tire Pressure Monitoring System.

The trailer is the last to be integrated.  According to Baney, trailers have come a long way in maximizing their potential.  "Through countless hours of computational fluid dynamics testing we can work with our customers to help them in spec'ing proper trailer aerodynamics that complement the aerodynamics of the T680 - all the way down to the details such as trailer height, tandem location and even trailer rake.   

"The Utility trailer we have attached to our T680 Advantage truck features a trailer nose fairing, side skirts, and a trailer tail - all EPA SmartWay-verified.  Combined, they can provide a significant fuel economy improvement, which will vary depending on use, road conditions and other factors," he said.

A Laydon nose fairing fills the gap between the tractor and front of the dry van to shield the trailer from the negative impacts of a crosswind.  Its open design does not interfere with trailer connections.  "On its own, the fairing can improve fuel economy up to an estimated 3 percent*," he said.

 Side skirts are the most popular trailer aerodynamic device and have proven themselves well in the industry.  "The T680 Advantage features Utility side skirts and they've been SAE-tested to provide a 5 percent* improvement in fuel economy. Completing the package is the ATDynamics TrailerTail®, which has been tested to provide more than a 6 percent** improvement in fuel economy when driven at typical freeway speeds," Baney said.  Such aerodynamic parts may be purchased in the aftermarket. Side skirts and nose fairings may be purchased at your Kenworth dealer.

"We've developed a solid approach to Total Vehicle Efficiency with the Kenworth T680, the PACCAR MX-13 engine and a package of productive options for customers interested in driving their fuel economy higher in the future," Baney concluded.
Kenworth Truck Company is the manufacturer of The World's Best® heavy and medium duty trucks. Kenworth's Internet home page is at www.kenworth.com. Kenworth is a PACCAR company.      
*Individual fuel economy improvement will vary depending on use, road conditions and other factors.
** ATDynamics reports that its TrailerTail® is certified to deliver 6.6% fuel efficiency gains at 65 mph based on SAE Type II testing validated by the U.S. EPA.