'Efficiency in Motion' Tour Demonstrates Value of Kenworth T680 Advantage To Fleets and Operators
Fleets and truck operators received the fuel efficiency and cost-saving message loud and clear as the Kenworth T680 Advantage 'Efficiency in Motion' Tour visited numerous Kenworth dealer-hosted events throughout the United States and Canada.
The Kenworth T680 Advantage, Kenworth's most fuel-efficient truck, features the optimized powertrain combination of the 2014 PACCAR MX-13 engine and Eaton Fuller Advantage™ automated transmission, Dana's Spicer® AdvanTEK® 40 tandem drive axles, and the new, factory-installed Kenworth aerodynamic package. As a result, the T680 Advantage with 76-inch sleeper offers up to a 5 percent fuel economy improvement* compared to last year's T680 76-inch sleeper with 2013 PACCAR MX-13 engine, Eaton UltraShift® PLUS LAS 10-speed transmission, and Dana DSP40 6x4. 
CIT Kenworth Chicago - Mokena, Kenworth of Indianapolis, and Inland Kenworth - Phoenix were among recent stops on the tour, which began in June and concluded Oct. 1 at Kenworth Northwest - Yakima in Washington state.
Kenworth of Indianapolis Tour Stop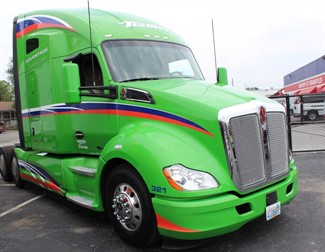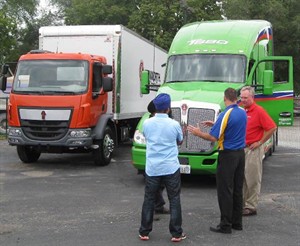 The Kenworth T680 Advantage 'Efficiency in Motion' Tour certainly demonstrated to customers that the T680 Advantage can significantly reduce their fuel costs while remaining a driver's first choice, according to Scott Nichols, principal operating manager for Kenworth of Indianapolis.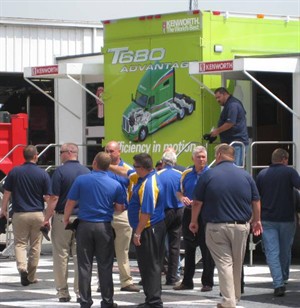 "Sometimes fleet and truck operators can find it difficult to discover a truck that significantly lowers their operating costs while at the same time offers drivers a great driving experience," Nichols said. "Kenworth has successfully met that challenge in the past by offering trucks with industry-leading aerodynamics and comfort. The tour demonstrated to our customers that the Kenworth T680 Advantage is something better, a whole lot better. The overall feedback we heard from both fleet owners and drivers was amazing.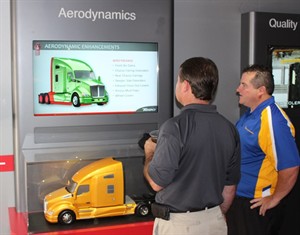 "When fleets begin to realize the fuel savings with the T680 Advantage package, they get excited and really start to engage, asking all sorts of questions about the different fuel-saving components," said Nichols. "When drivers see all the comfort the T680 has to offer and the features that make it an easier truck to drive, they love it and want it as their truck," Nichols said.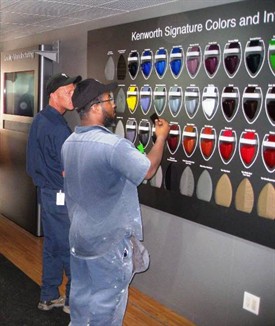 From their comments, it's apparent that both fleet owners and drivers see the Kenworth T680 as the all-in-one truck model for both of them, Nichols added.
Inland Kenworth - Phoenix Tour Stop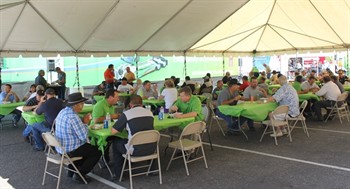 Don Blake, sales manager for Inland Kenworth - Phoenix, agreed. He said the tour's recent stop there attracted a variety of customers from owner-operators to small fleets with up to five trucks as well as large fleets of 50 or more trucks. Even the CEO of one of the largest trucking companies in North America showed up wearing a Kenworth baseball cap, he added. They all found that the Kenworth T680 Advantage offers compelling features that make it a highly productive and driver-friendly truck, Blake said.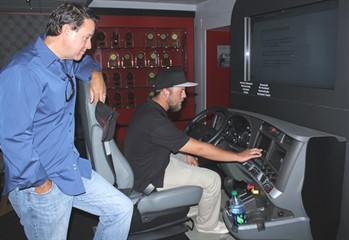 "Our customers were very interested in all of the fuel-saving components and aerodynamic features of the T680 Advantage," Blake added. "They were loving the idea that a truck could be both fuel-efficient and attract drivers."
CIT Kenworth Chicago - Mokena Tour Stop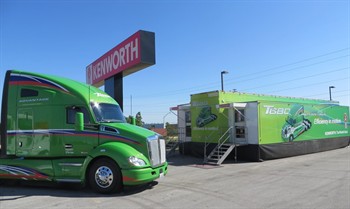 The fuel-saving components of the T680 Advantage also greatly appealed to CIT Kenworth Chicago customers during the tour's stop in Mokena, Ill.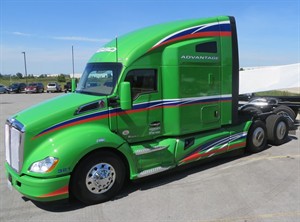 "Improving fuel economy is a leading factor in the decision-making process for truck owners, fleet managers, and business owners," said Rodney Shaffer, Chicago area regional manager for CIT Kenworth. "The tour provided an excellent educational opportunity for our customers regardless of size to learn how the T680 Advantage can help them gain much-needed improvements in fuel economy."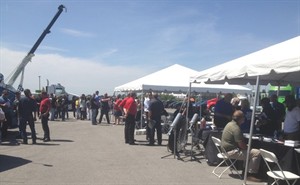 Shaffer said the tour's 53-foot trailer featuring a self-guided exhibit with interactive displays offered customers a lot of good information to help them understand the benefits of the T680 Advantage. In the end, it was customers' personal experience with the Kenworth T680, particularly those equipped with the PACCAR MX-13 engine, that ultimately convinced them of the value of the T680 Advantage.
"With customers reporting noticeable fuel economy gains and overall reductions in operating costs compared to the performance of their 15-liter engines, the PACCAR MX-13 engine is gaining significant traction in our market by reputation," Shaffer said. "Our sales staff had visiting customers who were ready to finalize the paperwork on the purchase of the T680 with the PACCAR MX-13 engine."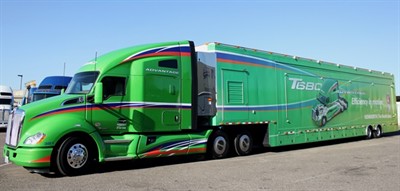 Kenworth Truck Company is the manufacturer of The World's Best® heavy and medium duty trucks. Kenworth's Internet home page is at www.kenworth.com. Kenworth is a PACCAR company.
* Individual fuel economy improvement will vary depending on use, road conditions and other factors.