Kenworth T440s Help California Agricultural Hauler Boost Bottom Line, Improve Driver Productivity and Comfort
Inside a conference room at Valley Farm Transport is a retired 1928 Kenworth truck. It stands as a testament to an appreciation of Kenworths throughout Kenworth's 90-year history, which comes from a company with its own 50-year history of providing reliable service hauling agricultural products throughout Northern California.
"I always liked Kenworth trucks," said the late company founder, Bob Nickum, who was quoted in a 2005 Kenworth World's Best Magazine article. "I liked the looks, the durability, resale and weight."
Bob's son, David Nickum, is president and CEO of Valley Farm now. Like his father, David works with Tom Bertolino, dealer principal at NorCal Kenworth - Sacramento, to spec the most reliable, cost-effective trucks available for regional bulk transport.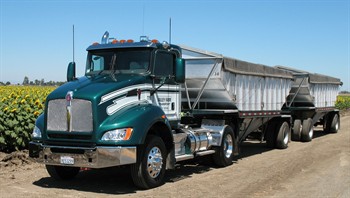 "A few years back, we sat down with Tom and Kenworth engineers and asked, 'Is there a way to make a lighter T800, or a beefier T300?' recalled David Nickum. "We didn't need a lot of horsepower, a big transmission or sleeper. We wanted something that could be operated in city or country environments, and most importantly, is lightweight and durable. The goal was that it would be a regional truck - about 85 percent of hauls are within 100 miles."
By 2010, Kenworth introduced the versatile T440, perfectly suited for regional operations. That's when Nickum began replacing some of the older T800s and W900s in his 150-truck fleet with T440 Day Cabs. Last year, alone, the company added 16 T440 Day Cabs with Cummins ISL9 engines and lightweight aluminum wheels on the front and drive axle. By the end of 2014, Nickum said, the company will have 50 T440s in the fleet.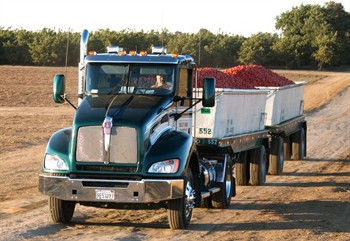 "Running a fleet of durable, lighter weight trucks is a big deal for us," said Nickum. "Hauling bulk products like tomatoes, rice and almonds - that's money that goes right to our bottom line."
According to Kristian Damkier at the Sacramento Metropolitan Air Quality Management District, "Valley Farm Transport, through its fleet modernization program, has reduced NOx emissions by 45 tons per year, the equivalent of removing 12,000 cars from the Sacramento region."
"In California, due to CARB regulations, this is a time of intensive capital spending among fleet operators," said Nickum. "Kenworth turned that into a positive for us. We're able to buy new T440s that are not only lighter weight but offer significant capital advantages."
Reliable equipment is key to Valley Farms' success, particularly during harvest season, which runs 24 hours a day, seven days a week. "We can't afford to have trucks break down," said Nickum. Out on the road, Kenworth trucks present a quality image that has helped shape the company's reputation for reliable service.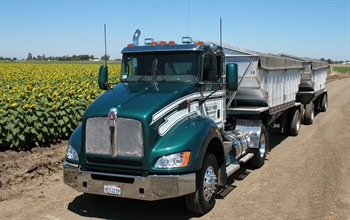 "Our drivers are paid by the load, so they appreciate the lightweight aspect, as well as the comfortable, quiet, spacious cab. And the aerodynamic, sloped hood gives them better visibility when they're going down dirt roads, through fields, and maneuvering around ditches and culverts," he said.
"With Kenworth, our operating costs are lower, product reliability is higher and we get excellent resale value," said Nickum. "That's a testament to the kind of partnership we've enjoyed over the past 50 years, where we can sit down with Kenworth engineers and stakeholders, and find solutions that benefit both companies."
Kenworth Truck Company is the manufacturer of The World's Best® heavy and medium duty trucks. Kenworth's Internet home page is at www.kenworth.com. Kenworth is a PACCAR company.