Kenworth T370s are Salt of Earth For Clintar Landscape Management
Kenworths Stand Up in Harsh Road Salting Jobs
From November through April, each of Clintar Landscape Management's 40 Kenworth T370s faces not only brutal snow and ice conditions, but the corrosive environment that comes from working with salt. 
As the company's mainstay truck in its snow removal business, the Kenworth T370 in single- and tandem-axle configurations, spread salt and a salt liquid mixture (when temperatures drop below -8 degrees Celsius) in government and private sector parking lots throughout southern Ontario and the Maritime provinces.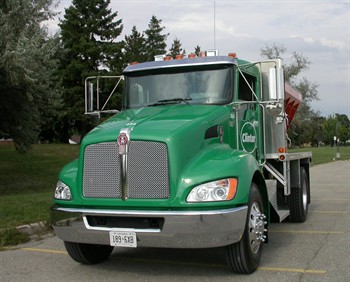 "You couldn't find a more corrosive environment for a truck to operate," said John O'Leary, Clintar's vice president of operations. "During the winter months their sole operation is spreading salt to keep parking lots free of ice so that business and government operations can safely remain open.  We look at it as emergency service - when our customers need salt and an ice-free lot, they need it now and we must deliver with equipment that's reliable."
Prior to coming to Clintar 30 years ago, O'Leary worked in the heavy haul industry, and knew Kenworth trucks for their durability and reliability. In 2008, that knowledge came in handy when Clintar was in the market to purchase new medium duty trucks. "Five years ago, we ordered our first Kenworth - a T370 salt truck.  We're now running 40 - which matches the 40th anniversary we're celebrating at Clintar this year.  With its aluminum cab and the way we spec the truck with as much aluminum as possible, along with undercoating for added protection, it's proved to be very reliable and a great truck at resisting the ill effects of salt and salt spray."
Equipped with 6.7-liter PACCAR PX-6 engines rated at 260 hp on the single axle, and 8.3-liter PACCAR PX-8 engines rated at 330 hp on the tandem axles, each truck is run through Allison 3000 series automatic transmissions.  The single-axle T370s have 11-foot dump bodies with 5.5 cubic yard V-Box salt spreaders mounted inside the dump bodies.  The tandem-axle Kenworths host 11.2 cubic yard salt spreaders.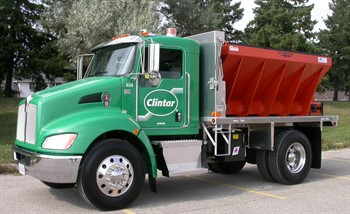 Since Clintar is a franchise operation with locations throughout Canada and two in the United States, O'Leary is in charge of central purchasing for fleet needs.  "If franchises need a piece of equipment - a salt spreader for example - they come to us and we provide the Kenworth T370.  We have a standardized look and equipment that we feel is the best in the industry.  A unified and quality truck is important to us - we see our Kenworths as our moving billboards and our biggest company promotion vehicle.  You can't miss our Clintar green Kenworths."
According to O'Leary, about 50 percent of Clintar's revenues come from its snow removal operations. The rest comes from grounds maintenance, litter control, landscape enhancements, parking lot maintenance and line painting. Scheduling salting is weather-dependent and each franchise has employees on standby ready to move out for salting operations.  Most salting operations occur during the dead of night.  Depending on snowfall and the size of the lot to clear, Clintar has dedicated plows, which range in size from Ag-type tractors with 16-foot blades to skid-steer bobcats with eight-to 10-foot blades.  Then the Kenworth salt trucks finish the job.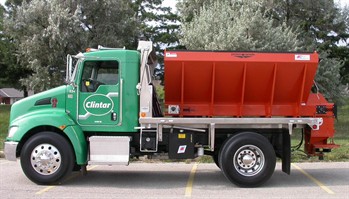 "Each night they're used, a typical salt truck will make three runs to get loaded on salt," explained O'Leary.  "One thing we're particular proud of is our specs on the Kenworths and salt spreaders.  We actually have nine pages of specs just for the truck cab and chassis alone. We also have four more pages covering the aluminum dump body and salt spreader bodies, along with breakdowns on hydraulics and computerized controllers. With the help of Mark King at Kenworth Truck Centres in Ontario, we fine tune our trucks each year to make them lighter and better for our operation.  
"We also have a 'ground speed application' which provides a constant measure of salt being applied.  No longer does the driver have to worry about application saturation manually.  It's all automated which means no more salt is applied than necessary.  That's great for the environment," he said.
During the spring and summer months, the salt boxes are removed and the Kenworth T370s  are put to landscape tasks, such as hauling gravel and mulch.  Some of the trucks are even outfitted with 1,000-gallon tanks so Clintar can use them for watering sod installations, or for power washing operations. 
According to O'Leary, the Kenworth T370s are a favorite to drive.  "They really are - we get a lot of positive comments from the drivers," he said.  "At Clintar we feel employees are our greatest asset - and a happy employee means they'll work harder and do quality work for us.  We want to give them the best equipment and we feel we're doing that with the Kenworth T370."
About Clintar
Built on a heritage spanning 40 years, Clintar is focused on providing the best in landscape management services to corporations, large retail outlets, property management companies, government facilities, home-owner associations, and private estates. Its services are diverse, serving clients in a variety of key areas including: Landscape Maintenance, Landscape Design-Build, Road and Parking Lot Maintenance, Watering Systems, and Snow and Ice Control.
About Kenworth Truck Company
About Kenworth Truck Company
Kenworth Truck Company is the manufacturer of The World's Best® heavy and medium duty trucks. Kenworth is an industry leader in providing fuel-saving technology solutions that help increase fuel efficiency and reduce emissions. The company's dedication to the green fleet includes aerodynamic trucks, compressed and liquefied natural gas trucks, and medium duty diesel-electric hybrids. Kenworth is the only truck manufacturer to receive the Environmental Protection Agency's Clean Air Excellence award in recognition of its environmentally friendly products. Kenworth also received the "Highest in Customer Satisfaction with Heavy Duty Truck Dealer Service, Two Years in a Row", according to the J.D. Power and Associates 2011-2012 Heavy Duty Truck Customer Satisfaction StudiesSM. Kenworth's Internet home page is at www.kenworth.com. Kenworth. A PACCAR Company.