Shaw Brothers Construction Rides Economic Upturn, Adds Kenworth T880 Dumps and Tractors
For the Shaw brothers - Jon and Dan - the town of Gorham, Maine, is ideal for their construction company. It's a small town - just 16,000 residents - but the outlying area is booming with opportunity and growth.
And for the Shaw Brothers, they've taken advantage. Spinning off from their father's home-building business in 1977, the brothers set sites on specializing in concrete work - building foundations and handling residential site work. Revenue that first year was a handsome $288,000.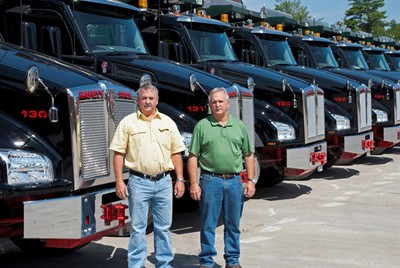 From left are Dan Shaw and Jon Shaw of Shaw Brothers Construction with some of the company's Kenworth T880s.
Today, lending credence to the motto of Gorham, where 95 percent of its work is within a 50-mile radius, Shaw Brothers Construction revenues are up to $52 million a year.
"We're really seeing a turnaround in the economy - government work with roads has been solid, but we've been seeing private work gather steam," said Dan Shaw. "We're continuing to grow and that's going to help keep our new 400-ton per hour Astec asphalt plant, and 200 employees, busy."
The company hadn't purchased new dump trucks since it bought 2008 models.  And some of those models didn't actually go into service until 2011. "We were a little nervous with new engine and emission technology back then so we did a pre-buy with the 2008 units and parked them out until we needed them," said Shaw. "We figured we'd stand pat and wait till all the bugs were worked out, then make a buy down the road."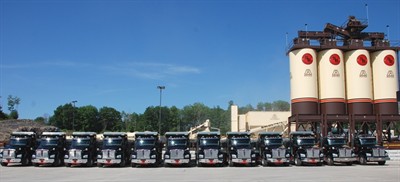 Shown are the 12 Kenworth T880s in operation at Shaw Brothers Construction.
Now needing new equipment and feeling confident in the trucks and their engines, Shaw Brothers purchased 12 Kenworth T880 dump trucks and tractors, which have been in service since April.  They join 27 other Class 8 trucks. Combined, the company runs 37 dump trucks (most spec'd as tri-axle dumps with 18-yard dump bodies), along with four tractors to haul lowboys.
The Kenworth T880 dumps are powered with PACCAR MX-13 engines, rated at 455-hp and driven through Allison automatics.  The T880 tractors feature the MX-13 engine rated at 500-hp and driven through 18-speed transmissions. The trucks were purchased through C-B Kenworth.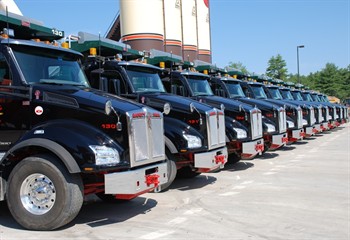 "It's our first experience with the PACCAR MX-13 engine and we've been very pleased thus far," said Shaw. "Before we spec'd the engine, I called several of my friends - who were running that engine in their fleets - to get their opinion. What they told us about performance and reliability convinced us it was the right choice for our trucks."
According to Shaw, the company has three different brands of trucks in its fleet. "But the Kenworth T880 is now our flagship vehicle and the model we would like to be the standard," he said. "We really did our homework when we decided on the T880. We looked at all the new models, but the T880 really stood out. Kenworth gave us a reason to jump the fence with the T880. The cab is wider and the seat travel gives more legroom - we have some tall guys.  Our drivers really like the layout, the visibility and how it drives. It's very comfortable."
Shaw said the Kenworth T880 tri-axles are also easier to load properly thanks to its set-back front axle. "On our dumps, which haul asphalt and all kinds of aggregate, we can weigh out at 74,900. The key is to get enough weight on the front axle - with the Kenworth, we're able to get at least 20,000 pounds on the front axle, and 20,000 pounds on our pusher. Weight distribution is much easier with the Kenworth than with our other trucks."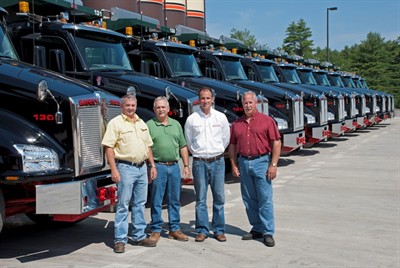 From left: Dan Shaw and Jon Shaw work with Ben Hicks and Dan Burgess of C-B Kenworth in acquiring new Kenworth trucks. The Shaw Brothers purchased 12 Kenworth T880 dump trucks and tractors.
With a trade cycle at 600,000 miles, and the trucks averaging about 50,000 miles per year, Shaw said reliability and durability are a key component for the company's success. "It used to be a 300,000 mile trade cycle, but trucks are built so much better today. We had one T800 in our fleet previously - a '06 model - and that showed us some advantages of a Kenworth. The aluminum cab is really a plus since we have so much salt on the roads in the winter. We plan to hold on to our trucks for up to 12 years, so cab integrity and rust can be a big issue. But with the T880, we won't have to worry about that."
Kenworth Truck Company is the manufacturer of The World's Best® heavy and medium duty trucks. Kenworth's Internet home page is at www.kenworth.com. Kenworth is a PACCAR company.