Innovative Oil Delivery and Waste Oil Pick-Up Keeps Restaurant Technologies Cooking
Specialized Kenworth T370s, Dealer Support Keep Deliveries on Schedule
When it comes to synchronicity, Restaurant Technologies has it down to a science. When a Kenworth T370 pulls into a restaurant, it can replenish the establishment's cooking oil tank with fresh oil, while at the same time drawing out used oil from the restaurant's storage tank.
 
"We are the only ones that can do that on a national basis," said Becky Mueller, Restaurant Technologies national fleet manager. "We have a fleet of nearly 200 medium duty trucks, domiciled at 41 depots across the country that can service foodservice locations in this fashion. Our patented design with multiple tanks gives us a unique delivery advantage, which also includes simultaneous waste oil removal all in one unit."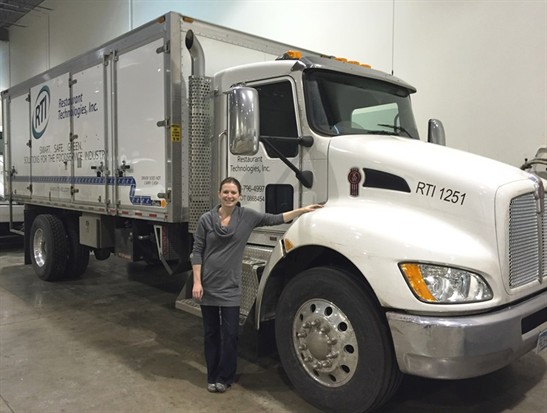 Becky Mueller, Restaurant Technologies national fleet manager, is shown with one of the company's Kenworth T370s.
Restaurant Technologies works with many of the national big boys - McDonald's, KFC, Burger King - as well as many other regional and independent restaurant groups. In all, it services more than 21,000 foodservice locations. It employs a telemetry system - a "black box" - at customer locations, which monitors the customers' fresh oil supply. When inventories drop to a certain level, replenishments are automatically sent in one of the customized delivery trucks.
 
While "oil management" is an on-going service for these companies, Restaurant Technologies also supplies all the oil management equipment and storage tanks, as well as a web-based customer portal that sends automated alerts to customers when standard operating procedures are not in compliance. It also provides ongoing training and equipment maintenance, which makes Restaurant Technologies a truly turnkey company.
 
"In a low-margin industry, we have a competitive advantage of not only saving our customers money in the delivery and pickup of oil, but in providing quality in everything we do," said Mueller.  "It's why we have a 98 percent retention rate with our customers."
 
In 2013, the company began replacing its fleet with Kenworth T370s in single and tandem-axle configurations.  There are 30 currently in service with more on order. The trucks were purchased through Rihm Kenworth.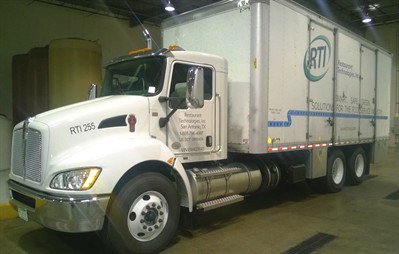 The tandems are spec'd with PACCAR PX-9 engines, rated at 350-hp and driven through Allison automatic transmissions. The single axle T370s are powered by the PACCAR PX-7 engine rated at 300-hp and also driven through Allison automatics.
 
Since the Kenworth T370s leave fully loaded with oil - six fresh tanks hold up to 20,000 pounds of oil in the tandem axles, and 12,000 pounds of oil in the three fresh tanks on the single axles - saving weight was a consideration in the specs.
 
"We looked at different ways to save Restaurant Technologies weight and to maximize payload," said Colby Smith, the Rihm Kenworth salesman who manages the account. "The T370 is already very competitive in weight to begin with, but each additional pound we save goes to the bottom line for Restaurant Technologies. For example, we spec'd aluminum cross members and aluminum wheels, deleted the armrests, and selected a solid rear wall for the cab in place of a rear window. All told, that saved an additional 173 pounds. Multiply that by the number of stops they make per day and you can see why it was so important."
 
Mueller said on any given week, up to 800 routes will be driven, each with 10 to 14 customer stops. "In Las Vegas, those routes will be short, only about 85 miles for the day, but in other areas the trucks can put on up to 650 miles," she said. "On average, our medium duty trucks travel about 60,000 miles per year. Our drivers say they really enjoy driving the Kenworths - they're very comfortable. They're also very high image vehicles - they look great and really do a nice job of projecting the quality of our company."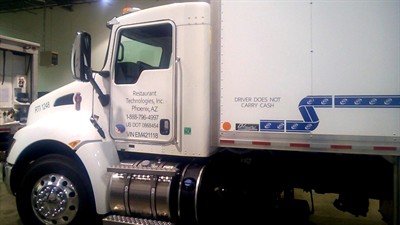 According to Mueller, since the trucks are so specialized, reliability and uptime were a key consideration in truck selection. "Kenworth has a long history and reputation in building a quality product, but for us, that's part of the equation. The other is dealer support and parts availability and we have that from Colby and Rihm Kenworth," said Mueller. "They keep parts on hand and can ship them anywhere in the U.S. to ensure the T370s stay up and running. Rihm has been great in shuttling our new trucks to our body builder, and getting them back for D.O.T. certification prior to being placed into service. They also arrange to have the trucks delivered to any of our locations in the U.S. That kind of service means a lot to us. Colby and Rihm Kenworth are a true partner with us - they know that if we succeed and have a good experience with the truck, they'll succeed as well."
 
Kenworth Truck Company is the manufacturer of The World's Best® heavy and medium duty trucks. Kenworth's Internet home page is at www.kenworth.com. Kenworth is a PACCAR company.