Paper Transport Adds 20 Natural Gas-Powered Kenworth T660s To Regional Fleet
Wisconsin Truckload Carrier Plans Significant Adoption of Natural Gas
Jeff Shefchik, president of Green Bay, Wis.-based regional truckload carrier Paper Transport Inc., is proud that his company is among the first to begin moving toward a fleet with a significant number of natural gas-powered trucks.
Paper Transport began testing two Kenworth natural gas trucks in 2012 and this spring the company became one of Kenworth's first customers to run CNG-powered Kenworth T660s with the Cummins Westport ISX12 G engine.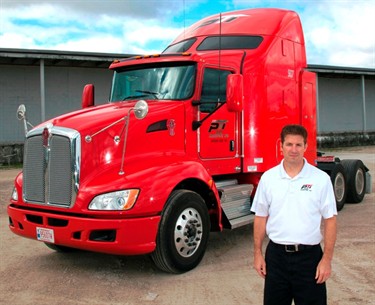 Jeff Shefchik, president of regional truckload carrier Paper Transport, is shown with one of the company's Kenworth T660s equipped with the Cummins Westport ISX12 G natual gas engine.
"While other larger trucking companies are just now starting tests of natural gas-powered trucks in response to requests from shippers, we've already gotten a major education in making natural gas work in our operation," Shefchik said. "It's been a learning curve, but we're no longer testing. We're well on our way to adopting natural gas, which we think will provide us a significant competitive advantage." According to Shefchik, the company plans to replace 25 percent of its diesel-powered units in its 400-truck fleet with trucks running on compressed natural gas (CNG) by the end of this year.
"We'll continue to add more natural gas-powered trucks because we believe in the potential of this fuel for our operation," he added.
Paper Transport started in 1990 by hauling corrugated cardboard, paper wrapping, paper rolls, toilet paper and other paper products for a major paper producer in the state of Wisconsin to warehouses and distribution centers throughout the Midwest and southeastern United States. Since then, the regional over-the-road truckload carrier has expanded its operation to include hauling building products, furniture and products for a major beverage company throughout the Midwest and Southeast.
"Our customers appreciate getting deliveries from trucks with quieter engines that emit fewer greenhouse gases; trucks that are easier on the environment," Shefchik said.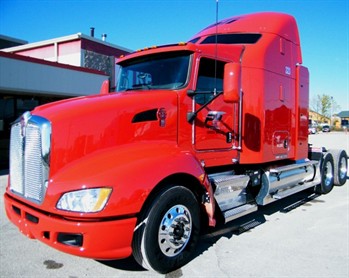 Paper Transport's first order of 10 natural gas-powered Kenworth T660s, delivered in the spring, came equipped with the 350-hp Cummins Westport ISX12 G and Kenworth 62-inch AeroCab® sleepers. The company also specified Agility Fuel Systems™ tanks, one with 75 diesel gallon equivalent (DGE) of CNG capacity mounted to the back of the cab, and the second a 40 DGE tank mounted to the driver side.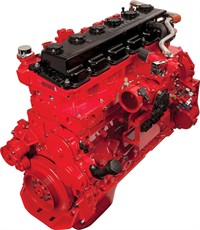 Cummins Westport ISX12 G
With its second order of 10 CNG-powered Kenworth T660s, which the company will put into service in October, Paper Transport chose to equip the trucks with the new, bigger 400-hp Cummins Westport ISX12 G engine and a 72-inch AeroCab sleeper. Paper Transport also chose more fuel capacity with Agility Fuel Systems' tanks offering 100 DGE of CNG capacity for the back-of-cab and 40 DGE of CNG capacity for the side-mounted tank. This fuel capacity gives the trucks a 600-mile range on a single fueling.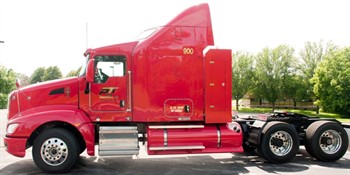 "While these trucks can go further than our previous models, they remain comfortable to drive, which makes them popular among our drivers," Shefchik said. "Drivers also say the driving performance of the ISX12 G with the 10-speed manual transmission is very good. They've really seen no difference in the response and the power and torque offered by the ISX12 G with natural gas compared to comparable diesel-powered engines."
The Cummins Westport ISX12 G engine requires a single fuel source and can run on either CNG or LNG (liquefied natural gas), both of which are cost-effective, low-carbon and low-emission fuels. Kenworth offers the ISX12 G with power ratings of up to 400 hp and 1,450 lb-ft of torque for the T800 short hood with a 116.5-inch BBC and the T660.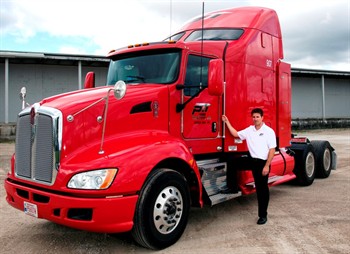 Andy Douglas, Kenworth national sales manager for specialty markets, said demand among Kenworth customers for the ISX12 G has been exceptional because the engine offers a mid-range option for fleets interested in running natural gas.
"The combination of 1,450 lb-ft of torque, simplified emissions and a 40 to 50 percent reduction in fuel price are key motivators for customers like Paper Transport to consider natural gas," Douglas said. "Price stability has also been key."
Shefchik agrees. He said since natural gas is domestically produced, it offers greater price stability than what the company gets with diesel, which is the main reason natural gas has such great appeal for his company. Since Paper Transport has been paying an average of $1.70 less per diesel gallon equivalent of natural gas than what it pays for diesel fuel, the company will be able to recoup the additional cost of the technology through fuel cost savings, Shefchik said.
"Because of global instability, the price of diesel fuel has been all over the place," Shefchik added. "We believe natural gas is here to stay, particularly given all of the natural gas production happening in the United States.
"We've been pleased with the performance of our natural gas-powered Kenworth trucks," Shefchik said. "And the folks at Wisconsin Kenworth have done an excellent job of supporting us after the purchase of these trucks. They've really lived up to Kenworth's award-winning reputation for dealer service."
Kenworth Truck Company is the manufacturer of The World's Best® heavy and medium duty trucks. Kenworth's Internet home page is at www.kenworth.com. Kenworth is a PACCAR company.