Papé Kenworth – Medford Moves To Expanded Facility Along Key Truck Corridor
Papé Kenworth - Medford has expanded its operation and relocated to Central Point, Ore., with convenient access to Interstate 5 off Exit 33.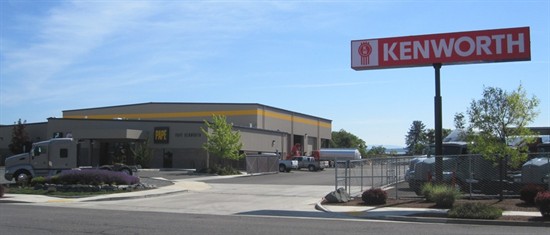 Papé Kenworth - Medford is part of a Kenworth dealer network of more than 325 locations in the United States and Canada. The new full-service facility is located at 4300 Hadley Drive, Suite 100, in Central Point.
The dealership's 9,100 square-foot service department contains seven service bays and also offers a specialized service bay equipped with a jib crane. The service shop uses a 10-ton overhead crane running the entire length of the shop for major repairs. To provide excellent parts support, the facility has 1,250 square feet of parts display and 6,300 square feet of parts storage. A nearly 5,200 square-foot wash bay building also is on the site.
A drivers' lounge offers a flat-screen TV and comfortable leather chairs. Other driver amenities include free showers, and free washers and dryers to help catch up on laundry.
"We are centrally located between Eugene, Ore., and Redding, Calif., along I-5, which is a key trucking corridor on the West Coast. We offer popular amenities for truckers as they wait for service to be completed by one of our six professional service technicians," said Gary Neal, service manager.
Papé Kenworth is open from 7:30 a.m. to 7 p.m. Monday through Friday and 8 a.m. to noon Saturday. The phone number is 541-772-5211 or toll-free 1-800-344-5211. Key personnel are Paul Hildebrand, territory sales manager, and Joe White, parts manager.
At Papé Kenworth - Medford, truck fleets and operators can purchase from Kenworth's comprehensive product lineup of aerodynamic, vocational and medium duty trucks. In addition to parts and service and PACCAR Engine support, the dealership offers PACCAR Leasing (PacLease) services such as customized full-service leasing programs and truck rentals; and PACCAR Financial support through flexible retail loans, and leases for the transportation industry.
About Papé Kenworth
Papé Kenworth provides sales, leasing, financing, rental, parts, and service support for heavy- and medium-duty trucks manufactured by Kenworth Truck Company. The dealer has three locations in central California: Bakersfield, Fresno and Stockton; and four locations throughout Oregon: Central Point (Medford), Eugene, Portland and Redmond. Papé Kenworth is headquartered in Eugene, Ore., and is part of The Papé Group Inc., visit www.papekenworth.com.
About Kenworth Truck Company
Kenworth Truck Company is the manufacturer of The World's Best® heavy and medium duty trucks. Kenworth is an industry leader in providing fuel-saving technology solutions that help increase fuel efficiency and reduce emissions. The company's dedication to the green fleet includes aerodynamic trucks, compressed and liquefied natural gas trucks, and medium duty diesel-electric hybrids. Kenworth is the only truck manufacturer to receive the Environmental Protection Agency's Clean Air Excellence award in recognition of its environmentally friendly products. In addition, the fuel-efficient Kenworth T700 equipped with the low-emission PACCAR MX engine was named the 2011 Heavy Duty Commercial Truck of the Year by the American Truck Dealers. Kenworth's Internet home page is at www.kenworth.com. Kenworth. A PACCAR Company.