Papé Kenworth's Service Excellence Help Keep Central Oregon Truck Co. Rolling
Papé Kenworth, led by president Dave Laird, has a vision for the kind of service Central Oregon Truck Co. and other customers need for their trucks while they're traveling.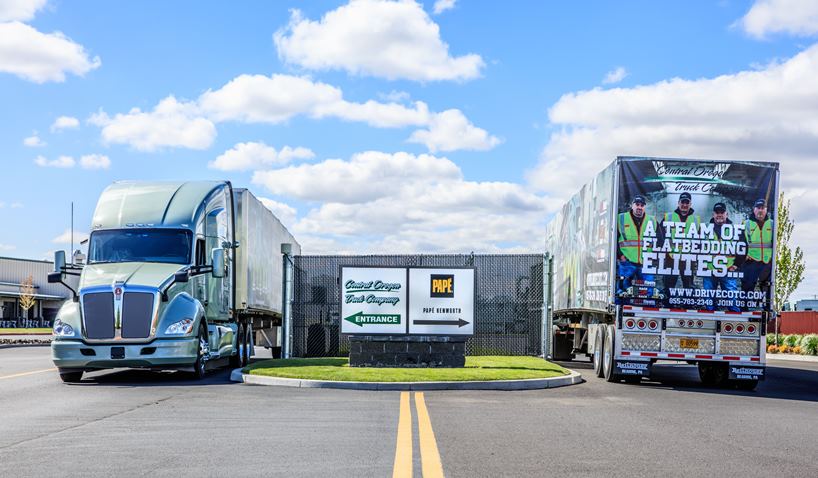 "It's really no secret – if their trucks have an issue on the road, our customers want to know what the problem is, they want it fixed quickly, and they don't want to sweat the unknowns," Laird said. "And through our concierge service, that's what we strive to deliver for Central Oregon Truck Company (COTC) and our other customers. Our goal is to give them peace of mind by managing the process from beginning to end. We know the only way our customers make money is when they're rolling. So, it's our charter, and vision, to make that happen. And, do it better than anyone in the industry."
 
While COTC's chief executive officer, Rick Williams, likes that vision, he likes how Papé Kenworth executes it even more.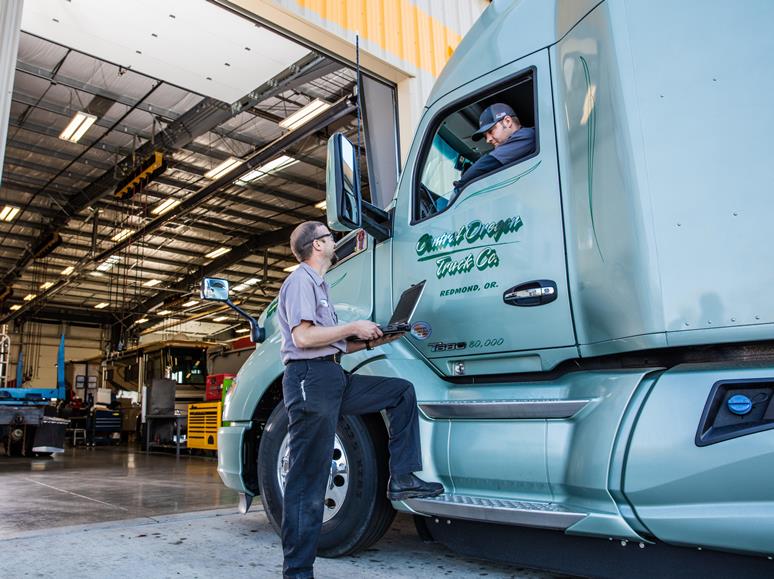 "Papé Kenworth established a single person to act as a go-between – a coordinator who can contact other Kenworth dealers for us, making the whole process of scheduling service and repairs and obtaining updates seamless," Williams said. "This dealer-to-dealer exchange is much more efficient than having our employees try to do the same thing because the Papé Kenworth coordinator knows the people on the other end of the line."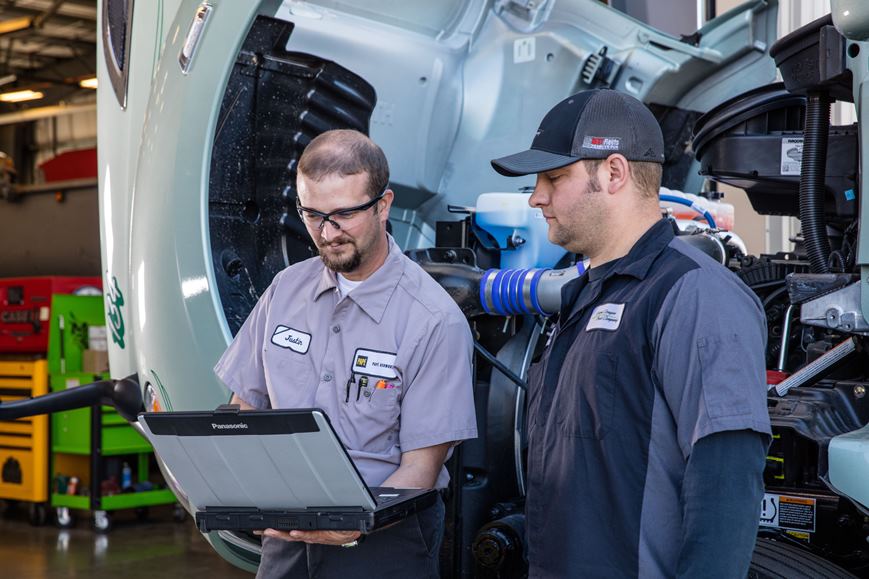 Justin MacDonald, a service technician with Papé Kenworth - Redmond, at left, goes over the service schedule for Central Oregon Truck Company's Kenworth T680 with COTC maintenance shop foreman Travis Seeger.


Including its Redmond dealership, which is located next door to COTC, Papé Kenworth operates seven Oregon locations, four Central California locations, and one Washington location. Earlier this year, Papé Kenworth was named the 2015 Kenworth Dealer of the Year for the United States and Canada at Kenworth's annual dealer meeting.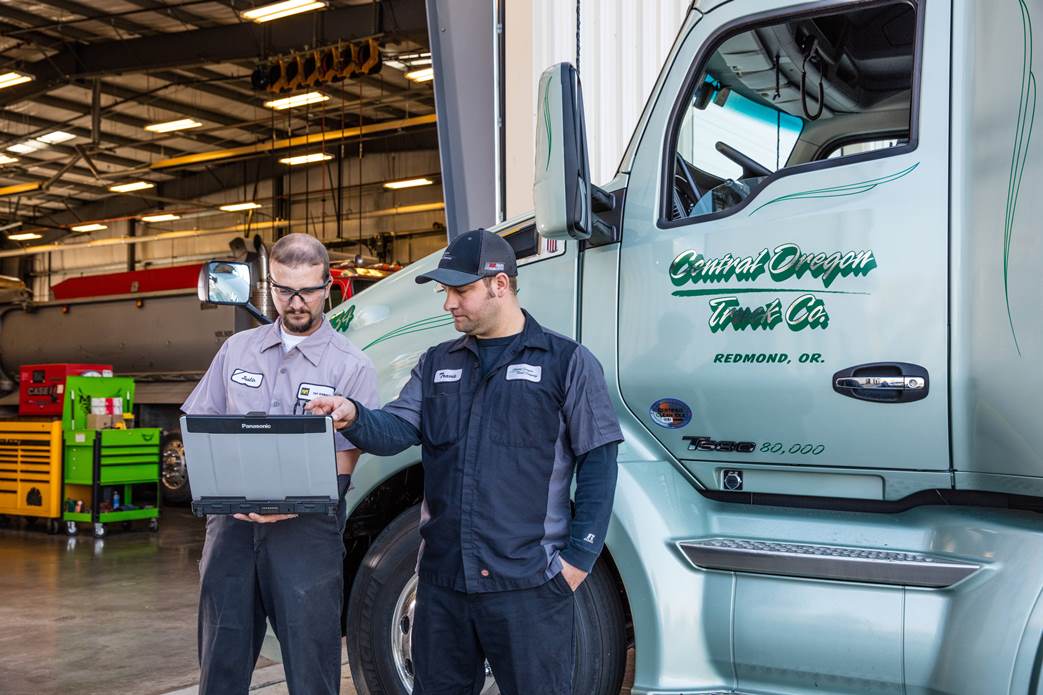 "When our trucks need repairs or service on the road, it can be difficult for our company's driver concierge or dispatchers to figure out whom to call to get firm estimates or timeframes for repairs," explained Phil Taylor, COTC vice president of maintenance. "Papé Kenworth does all of that for us."

Taylor said he believes Kenworth TruckTech+ remote diagnostics system, which came standard on COTC's newest Kenworth T680s equipped with PACCAR MX-13 engines, will make that job much easier for Papé Kenworth. TruckTech+ delivers a powerful tool to technicians to help them better manage any fault codes that may be triggered from time-to-time. COTC has 36 Kenworth T680s equipped with TruckTech+ that all will be operating soon.

 
"The system interprets the fault codes and then provides us information and recommended actions based on the severity of the issue," Taylor explained. "We can then determine whether the issue requires immediate attention or if our driver can continue driving, satisfy the load and have the problem addressed immediately afterwards or when the driver returns to the company's headquarters. TruckTech+ can also provide technicians at Kenworth dealerships and our company's shop a much more complete look at the circumstances and conditions surrounding issues as they occur on the road.
 
"Since it displays a variety of information such as engine speed and temperature, ambient temperature, and exhaust gas temperature, the technician may be better able to remotely diagnose the issue or at least narrow down the possible causes," he added. "Depending on how quickly the issue needs to be fixed, our dispatchers and technicians could use TruckTech+ to schedule loads that can get the driver and truck back to our maintenance shop in Redmond. Then our shop or the people at Papé Kenworth can address the issue during the driver's time off."
 
TruckTech+, which COTC dispatchers and managers access via a web portal, also provides a map that displays the locations of the company's trucks. With the click of a mouse, they can obtain weather information plus traffic patterns for the surrounding area around the trucks. That could allow them to direct drivers around congested areas or storm cells.

Papé Kenworth's service coordination for COTC helped it to earn the company's gratitude and Kenworth's Dealer of the Year award. Not surprisingly, Papé Kenworth is one of Kenworth's leading dealers in the PremierCare(R) Gold Certified program with four gold-certified locations – Bakersfield and Fresno, California, and Medford and Portland, Oregon. Under that program, certified dealers go above and beyond Kenworth PremierCare dealers to help fleets and truck operators to minimize downtime with a range of premium services, including extended evening and weekend operating hours and dedicated TruckTech+ personnel. A hallmark of the program is a rapid diagnosis of estimated repair time in two hours or less.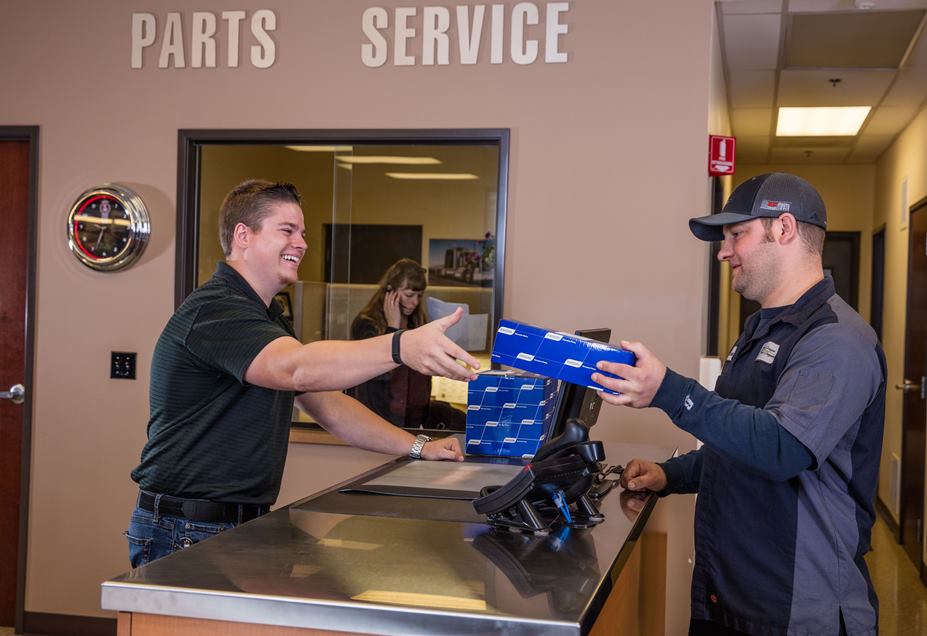 Papé Kenworth's Jerrid Langdon, left, provides Travis Seeger, Central Oregon Truck Company maintenance shop foreman, with his expertise in keeping high-demand parts in stock for the company maintenance shop, which handles routine preventive maintenance on a fleet of 250 Kenworth trucks.


"I wasn't surprised at all when Kenworth announced Papé Kenworth as its Dealer of the Year," said Williams, who attended the dealer meeting as a guest panelist. "Papé Kenworth is a great partner to our company because their people understand that when one of our trucks is down, then our customer is down because we haul many just-in-time loads to manufacturing facilities. The truck is our revenue source. The employees at Papé Kenworth recognize that we need to get it back on the road making money because every hour it's not running, that's time we can never get back."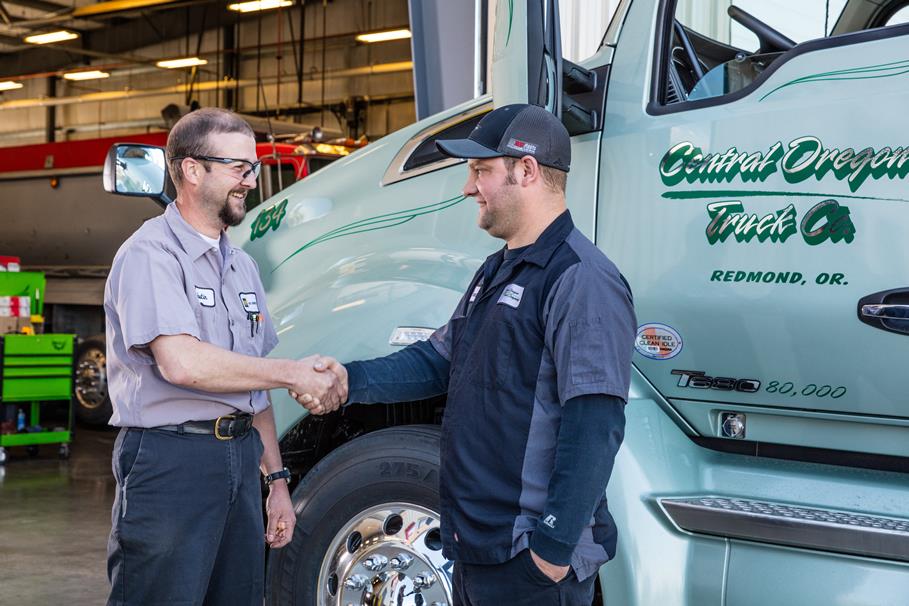 "Papé Kenworth's concierge program coordinator has been working with our company's driver concierge on establishing training parameters for company dispatchers and drivers in what kinds of information TruckTech+ gathers, when and where it will be delivered and how to make the best use of it," Taylor said.
 
Taylor said while TruckTech+ is a welcome technological addition to the company's toolbox, and could automate some of the work Papé Kenworth's concierge currently does.
 
Taylor said Papé Kenworth's success in serving COTC needs comes not only in the strength of the Kenworth dealer network, but also in the relationships and contacts Laird and others in the Papé Kenworth dealer group have developed over the years with other Kenworth dealerships across the United States. Laird currently serves as the chairman of Kenworth's 2016 PACCAR MX Engine Dealer Council. Over the past two years, Laird has also served as a member of the Kenworth Dealer Council, which works with Kenworth to develop strong customer support throughout its dealer network.
 
"So, when we get a call from a driver whose truck requires immediate service, we know we can call someone and within two hours they'll find out what the issue is and they'll give us an estimate of how long it will take to get it fixed," he said. "That way we can inform our customers and determine whether to pick up the load with another truck if necessary and continue its delivery.
 
"No matter what day or time we call, Papé Kenworth makes it all seamless for us," Taylor added. "That's good because our expertise is in hauling building materials and heavy equipment on flatbeds safely and on-time." Central Oregon Truck Co. hauls loads for major manufacturers of building products in the lower 48 states and Canada. It is a part of the Addison, Texas-based Daseke family of premier open-deck/specialized transportation companies.
 
"We've come to rely on Papé Kenworth's expertise in ordering and keeping high-demand parts in stock for our company's maintenance shop, which handles routine preventive maintenance on our fleet of 250 Kenworth trucks," he added. COTC also relies on Papé Kenworth's experience in helping to choose the right specifications for their T680s to maximize driver comfort, fuel efficiency and effective use of new technologies.

"We've been very happy with the performance of our newest Kenworth T680s equipped with PACCAR MX-13 engines, Kenworth Idle Management, Kenworth TruckTech+ and the Bendix® Wingman® Fusion™," Taylor said. At Papé Kenworth's recommendation, COTC was one of the first Kenworth customers to order T680s equipped with the PACCAR engines shortly after they became available in 2012.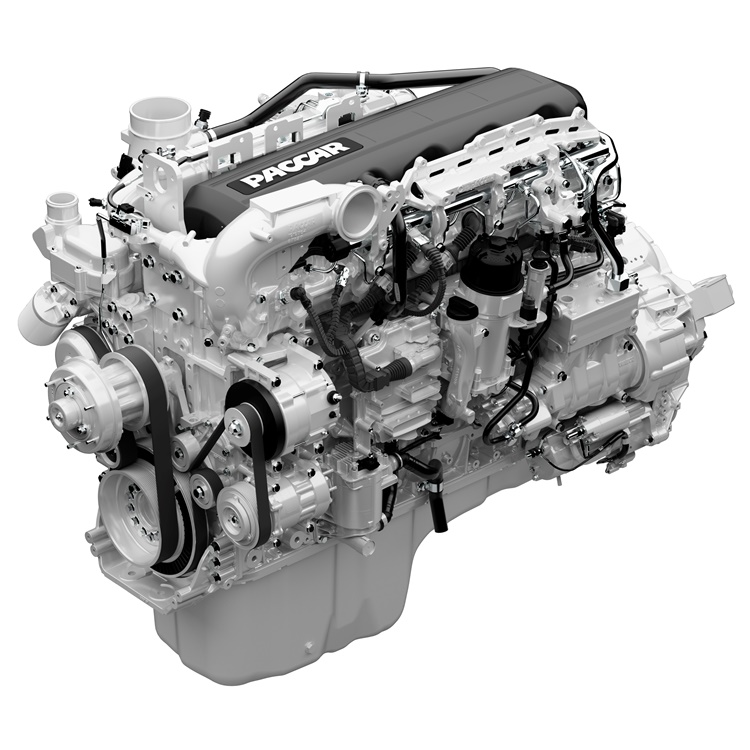 PACCAR MX-13 Engine

"They've been performing exceptionally, continuing to provide us great fuel economy," Taylor added. "The idle management system will help us reduce idling time and the driver assistance system will help our drivers maintain safer distances and better recognize when they're speeding. TruckTech+ will help us and Papé Kenworth anticipate issues, which will result in our trucks getting back on the road making money more quickly. And when it comes time to replace the Kenworth T680s, we anticipate getting excellent resale values for them."
 
Kenworth is the driver's truck. See what drivers are saying at www.kenworth.com/drivers.
 
Kenworth Truck Company is the manufacturer of The World's Best® heavy and medium duty trucks. Kenworth's Internet home page is at www.kenworth.com. Kenworth is a PACCAR company.