PACCAR MX-13 Engine Offers Fuel Economy Benefits
Kenworth 90 Years
Coming off a record year of PACCAR MX engine sales in Kenworth trucks, Kenworth is anticipating even further proprietary engine adoption with the PACCAR MX-13.

"We've taken an excellent engine platform and made it even better with the PACCAR MX-13," said Preston Feight, Kenworth assistant general manager for sales and marketing. "The immediate impact is an improvement in fuel economy of up to 3.5 percent*. That's a significant gain for customers which may amount to about a $2,500 annual fuel savings for the typical long-haul truck averaging 120,000 miles per year.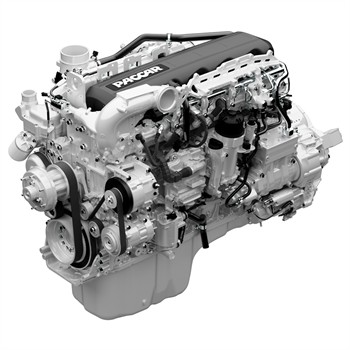 "We feel that Kenworth and the PACCAR MX-13 will be the truck make and engine of choice for those fleet and truck operators who want a fuel-efficient, reliable 12.9-liter engine in their Class 8 trucks," said Feight.

Designed for linehaul and vocational heavy duty truck operators, the PACCAR MX-13 utilizes the latest common rail fuel-delivery technology, which enables injection pressures of up to 2,500 bar, significantly enhancing fuel efficiency and performance. The common rail system uses controls to regulate the fuel in a central manifold, only compressing the amount of fuel mixture needed. The result is finer fuel atomization for optimized combustion, enabling lower fuel consumption and emissions.

In addition to its fuel efficiency, the engine offers high reliability and durability, lightweight design, and low cost of ownership. The PACCAR MX-13 is rated up to 500 hp and is the only 13-liter class engine rated up to 1,850 lb-ft of torque. It is available for Kenworth Class 8 models, including the T660, T680, T700, T800, T880 and W900. The PACCAR MX-13 is assembled at the PACCAR Engine Plant in Columbus, Miss.

The PACCAR MX-13 meets the Environmental Protection Agency (EPA) regulation requiring that all model-year 2013 engines be equipped with On-Board Diagnostics (OBD). OBD improves engine reliability by monitoring the performance of the vehicle's emission system to help detect emission issues, recognize component faults, and ensure optimal performance.

Kenworth Truck Company is the manufacturer of The World's Best® heavy and medium duty trucks. Kenworth's Internet home page is at www.kenworth.com. Kenworth is a PACCAR company.
*Individual fuel economy improvement will vary depending on use, road conditions and other factors.