New York City Turns Others Green with Envy
Kenworth Hybrids Help Lower Emissions and Save Fuel
It's the city that never sleeps, but when managers for New York City's department of sanitation, parks department, and DOT do, they often dream of ways to improve fleet fuel economy while lowering overall emissions.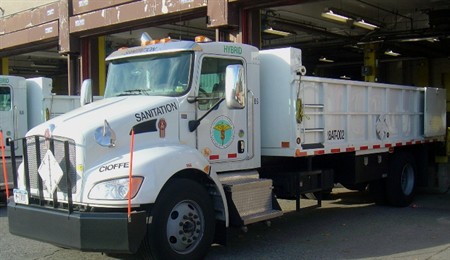 According to Spiro Kattan, supervisor of mechanics for the New York City Department of Sanitation, the city has been a forward thinker in the use of hybrid vehicles and trucks since their inception.  "Being known in the industry as early adopters, we get to use and test cutting-edge technology," he said.  "We'll also be the pilot test bed for many vehicles.  This allows us to prove out technology and see first hand what will work best for the city.  Rocco DiRico (the department's deputy commissioner of support services) has been a driving force - challenging manufacturers - and those manufacturers, including Kenworth, have stepped up to the challenge."
The city's sanitation department began running hybrid Kenworth T370s in 2009, and currently has nine in use as rack trucks, delivering parts to five borough repair shops. Five other Kenworth T370 hybrids are used as delivery trucks - shuttling tires to different service locations.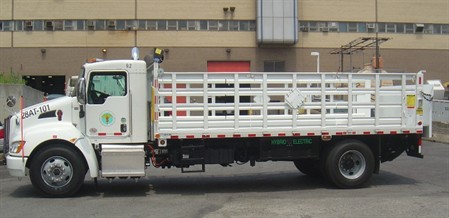 The Kenworth T370 hybrids, purchased through Gabrielli Kenworth, feature the PACCAR PX-6 engine rated at 240 hp and 560 lb-ft of torque, and the Eaton diesel-electric hybrid power system. The system uses an integral transmission-mounted motor/generator; frame-mounted 340-volt, lithium-ion battery pack; and dedicated power management system.  Electricity generated through regenerative braking is stored and used for acceleration, assisting the diesel engine. The hybrid system is monitored through an in-dash display. As the power requirements for different driving conditions change, the screen constantly updates the driver on system status.
"We're seeing up to a 30 percent improvement in fuel economy over non-hybrid delivery trucks," said Kattan.  "And, the cost of maintenance is pretty close to what we have with our other trucks.  We, of course, paid a premium for the hybrids, but they are paying us back by lowering our fuel consumption.  And, that also goes into lowering our carbon footprint."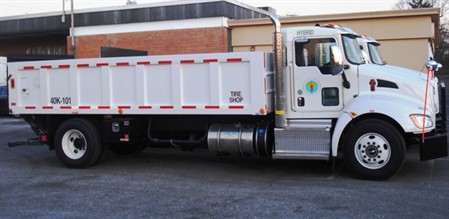 According to Kattan, lowering emissions is the biggest benefit to New York.  "In 2007, Mayor (Michael R.) Bloomberg announced a mandate to cut carbon dioxide by 30 percent by the year 2017," he said.  "We're on track to do just that.  Our fleet of passenger cars and light trucks/SUVs are nearly 40 percent hybrid.  And we're looking into hybrid-electric technology for our street sweepers - joining our rear loaders (garbage trucks).   As for our medium-duty fleet, we've been using Kenworth hybrids in applications where stop-and-go work is necessary.  That's been the best application to get better fuel economy."
Within NYC Parks, 74 percent of its vehicles are on some sort of alternative fuel.  "We're running bio-diesel, have some equipment that is solar-powered, and we're using 17 Kenworth T370 hybrids - eight have rack bodies with lift gates, and the rest feature 5-yard dump bodies," said Jonathan Ells, chief of staff for citywide operations.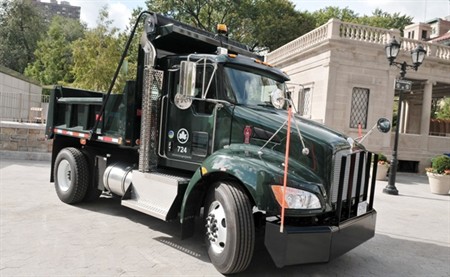 With over 29,000 acres, divided up among 1,700 parks and more than 500 ball fields, New York City has the largest parks department in the country.  The hybrid dump trucks haul dirt, sand and clay to ball fields; they're also used for general assignment work. The T370s with rack bodies are do-all vehicles and support a wide range of park activities - from skilled trades to general maintenance.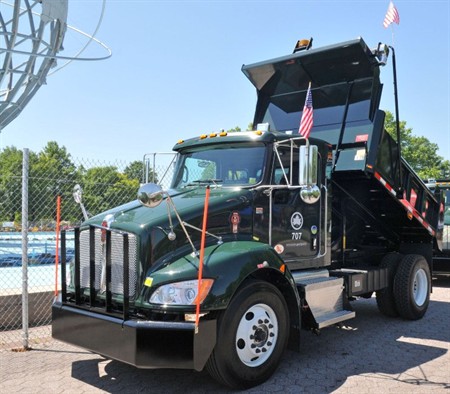 For the New York City Department of Transportation, nine Kenworth T270 hybrid "bucket trucks" are in service, and a T370 hybrid is on order to hoist a 60-foot bucket.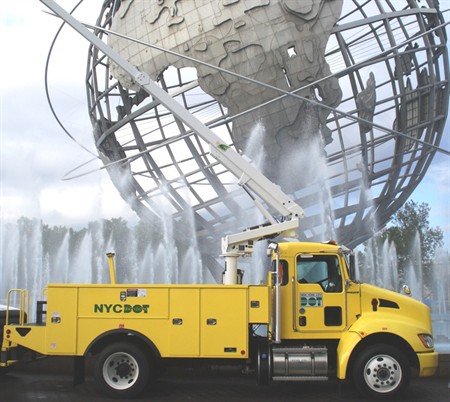 "In our department, all but one of the Kenworth hybrids are configured as 35-foot working height bucket trucks - five are used to hang signs around the city, while the others are used for painting overpasses, inspecting small bridges, and for electrical repairs," said Dan Malone, with the city's DOT Fleet Services Administrative Office.  "What's nice is once the truck is shut off, the bucket is driven by the electric PTO.  That means no noise, so our employees no longer have to yell over one another at the job site.  Plus, the worker in the bucket is no longer inhaling engine fumes.  It's made a huge difference to our operators.  And, we're saving fuel.  All told, we're expecting our hybrid trucks to pass 30 percent in fuel savings over our non-hybrids."
According to Malone, the new T370 hybrid will go into service with rail gear.  "We think it will be the first hybrid in the country to run on railroad tracks.  The 60-foot boom will allow us to inspect bridges over railroads."
The Kenworth hybrids join 54 other T370 non-hybrids in the field.  "The majority feature rack bodies and haul cones in our safety division," said Malone.  "They'll go out to different job sites and create safety zones to protect our employees.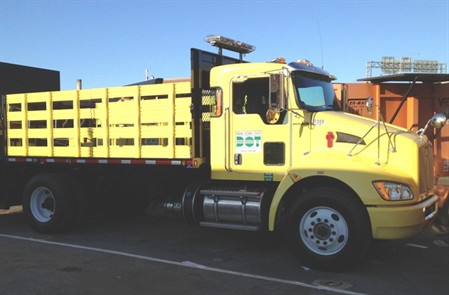 "We've had the Kenworths now for awhile and they're amazing trucks.  Our drivers like them, and I like them since our crew also works on the trucks.  To be honest, I can't compare other trucks to the Kenworths. They're very high quality. I have a saying that if you have something to prove, bring it to New York City. Well, Kenworth did and they haven't disappointed.  We hold onto our equipment in excess of 10 years, and we see no problem of the Kenworths holding up."
Kenworth Truck Company is the manufacturer of The World's Best® heavy and medium duty trucks. Kenworth is an industry leader in providing fuel-saving technology solutions that help increase fuel efficiency and reduce emissions. The company's dedication to the green fleet includes aerodynamic trucks, compressed and liquefied natural gas trucks, and medium duty diesel-electric hybrids. Kenworth is the only truck manufacturer to receive the Environmental Protection Agency's Clean Air Excellence award in recognition of its environmentally friendly products. Kenworth also received the "Highest in Customer Satisfaction with Heavy Duty Truck Dealer Service, Two Years in a Row", according to the J.D. Power and Associates 2011-2012 Heavy Duty Truck Customer Satisfaction StudiesSM. Kenworth's Internet home page is at www.kenworth.com. Kenworth. A PACCAR Company.