New Kenworth Medium Duty Trucks Feature Larger, Driver-Friendly Cab
Kenworth's new medium duty trucks feature an array of in-cab enhancements including increased cabin space, a completely re-designed interior, and driver control technologies to enhance the in-cab experience for Kenworth customers.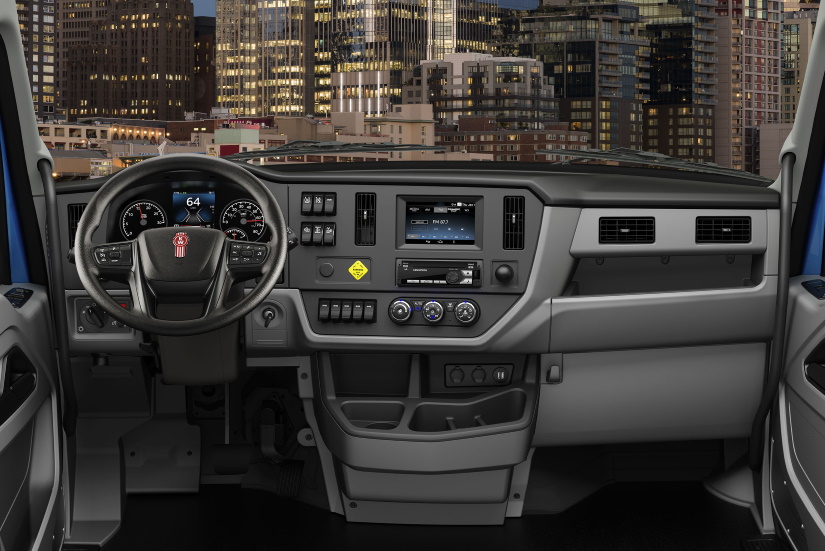 "Our goal was to re-design the cab to broadly support the wide variety of applications employed by our customers who operate Kenworth medium duty trucks," said Joe Adams, Kenworth chief engineer. "From non-CDL drivers operating a Class 5 or 6 truck for the first time to CDL drivers accustomed to operating Class 7 or light Class 8 trucks, we wanted to provide the ergonomics and features beneficial to drivers across our entire new medium duty product line. We've accomplished that."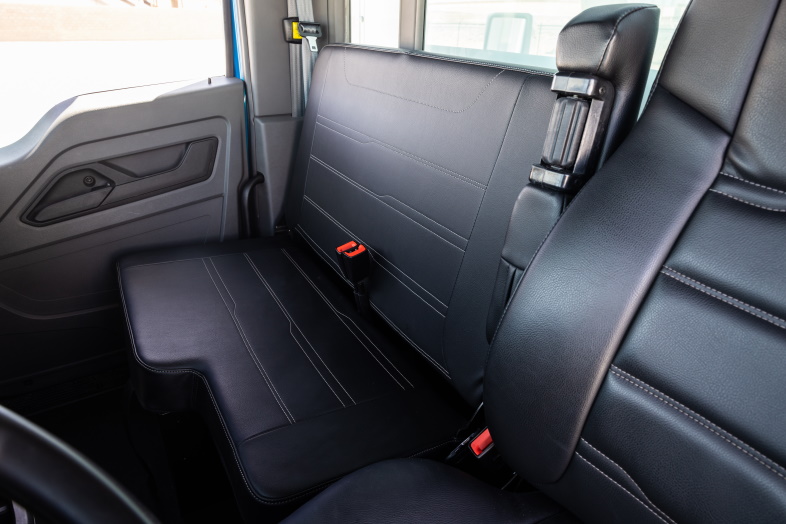 The new 2.1-meter cab for Kenworth's new medium duty trucks – T180, T280, T380, T380V, T480 and T480V – is 8 inches wider than its predecessor. This creates a more comfortable ride, and enables three-person seating. Customers can select from a multitude of seating options that are configurable with high- or medium-back seats and passenger bench seats that provide a comfortable ride for up to three people.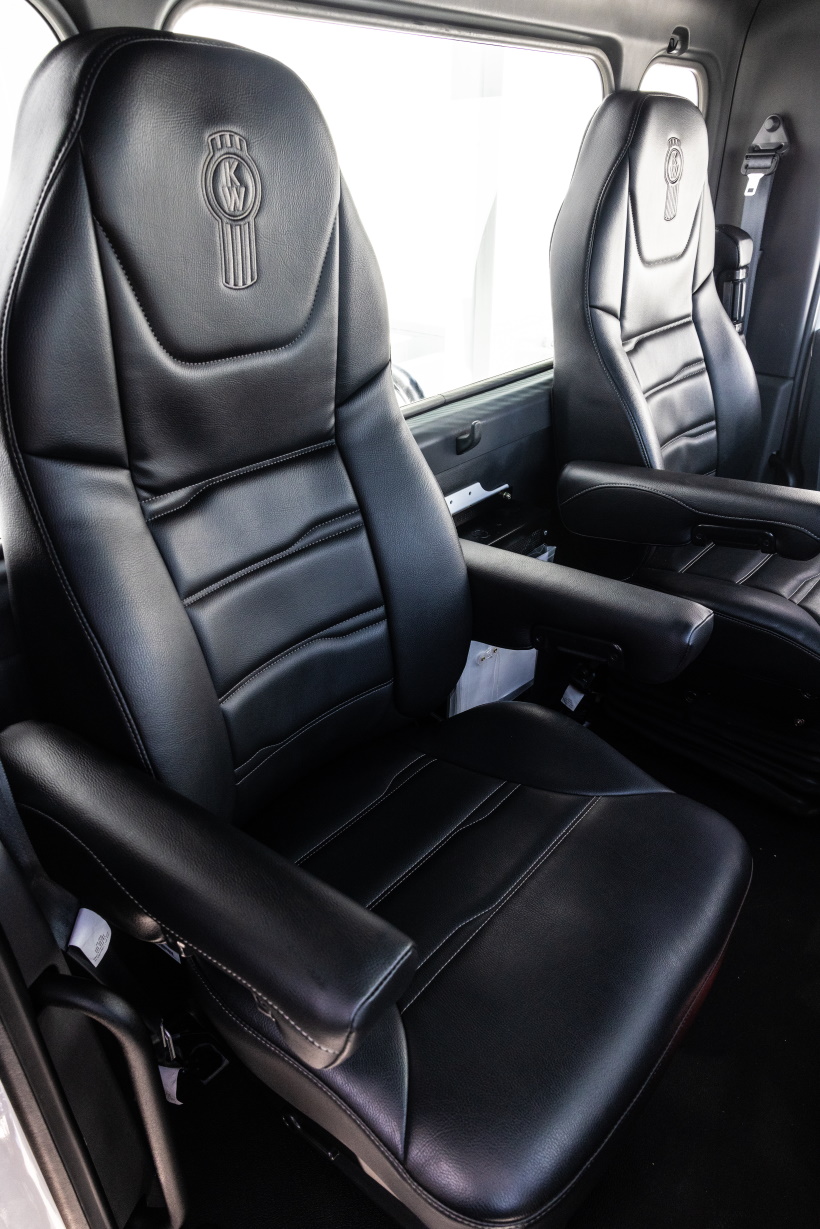 Kenworth medium duty trucks are available with either a standard low or raised roof option. At 63 inches, the low roof is 4 inches lower than the raised roof, making it ideal for height-restricted applications.
Kenworth's new line also features a re-designed interior, including a modern and clean dashboard that provide drivers and passengers with improved functionality and more connectivity options with USB ports, optional Bluetooth capability, and 12V power ports. A new LED dome light offers higher light output for both the driver and passenger and includes a red ambient light feature that projects light onto the center console.
A premium cabin climate system offers standard automatic temperature control, which maintains the user selected temperature with a single push of a button. Optional backwall lining with thermal insulation is available to assist with temperature control in extreme environments and to help further reduce the cab's noise level.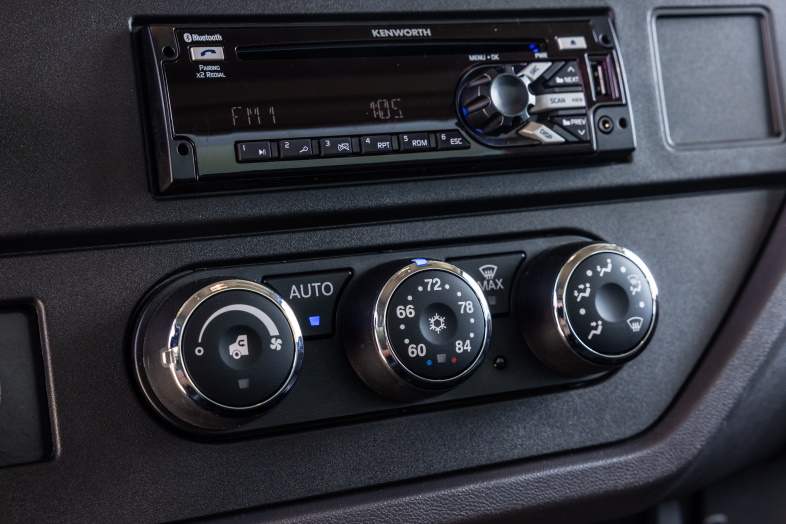 The dashboard is flexible in configurations, allowing customers to specify single and dual RAM® mounts, and up to 6 additional gauges and 11 optional switches. It is also configured to sit a few inches lower – compared to the dash in Kenworth's previous medium duty models – to enhance visibility through the lower windshield.
Added storage was designed into the cab, including pockets in the dash on the passenger side, in the middle console, and on the driver-side door. There also is a 3-cup holder option. Kenworth medium duty models, with the raised roof option, offer a storage bin with rubber inserts. Optional storage is available for low roof cabs, which includes a bin with a net to capture items.
"With the additional space to seat a third person, we needed to come up with solutions to better accommodate additional gear and equipment that drivers and passengers may bring on-board," said Adams. "We also wanted to enhance connectivity options, improve overall functionality, and the driver experience inside the cab."
To better convey vehicle information to drivers, Kenworth developed a new instrumentation cluster with a 7-inch high-definition digital display centered between four standard analog gauges for its medium duty models. The integrated Kenworth Digital Display allows drivers to personalize information that is shown on the screen to match their preferences.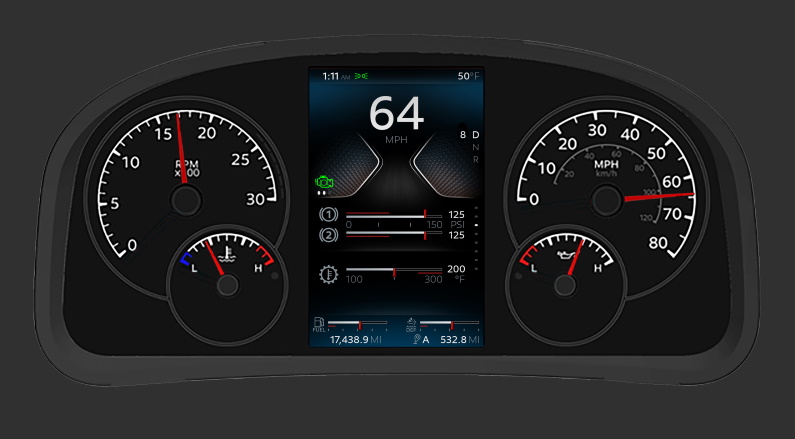 The instrumentation cluster features four standard analog gauges that appear on the left and right side of the screen: speedometer, tachometer, oil pressure, and coolant temperature. There are also 20 physical tell-tales and variants to support either standard or metric units in the instrumentation and additional 'virtual tell-tales' available within the display.
Within the digital display, drivers can select from a variety of screens that show specific vehicle information, trip information, gauges, and more. The display also allows drivers to customize the digital gauge layout from many accessory gauges on the vehicle so they can personalize driver information.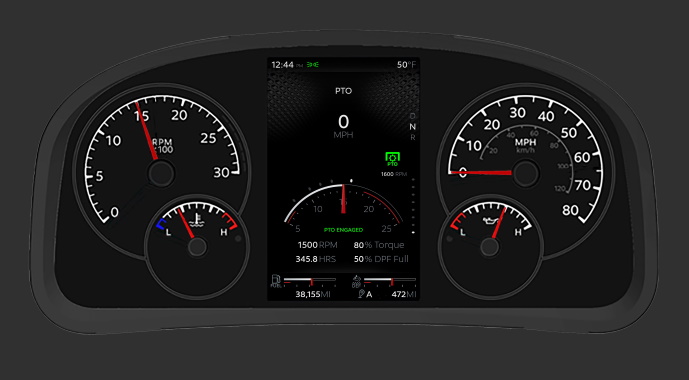 In any display screen view, drivers will be alerted to warnings or faults, if they were to occur, by having them presented automatically on the screen.
When the optional Kenworth SmartWheel® is specified, drivers can navigate between the screens using either the scroll switch mounted in the steering wheel, or the menu control switch located above the ignition.
"Our new instrumentation establishes a new standard in the medium duty marketplace," said Adams. "Drivers will appreciate the instrumentation's innovative look and intuitive functionality, as well as the ability to customize views that match either preferences or how the customer has configured the vehicle with options."
Some other driver control features added to Kenworth's new medium duty trucks include the enhanced transmission shifter, plus the new throttle pedal, clutch system, hydraulic brake and steering column that all help to reduce driver fatigue.
The right-hand, column-mounted transmission shifter – available only with the PACCAR TX-8 transmission – is integrated with the digital display. The shifter provides improved ergonomics and an additional cupholder over the pushbutton controller.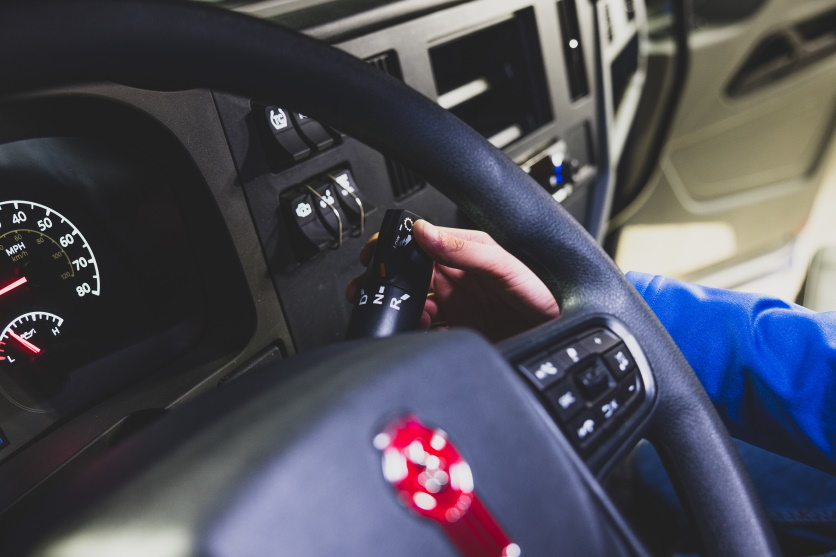 The new durable, hanging throttle pedal offers an automotive feel to Kenworth's medium duty trucks. The new pedal features a slip-resistant surface.
The air-assisted hydraulic clutch system is for customers running manual transmissions. The system reduces driver fatigue through a pedal design that better matches a driver's foot angle when engaging the clutch.
The new hydraulic brake is set lower to ground, and when pressed, is similar to engaging a brake in a passenger vehicle. The brake also better matches a driver's foot angle.
The steering column, now standard in Kenworth medium duty models, matches the excellent ergonomics in Kenworth's heavy duty truck models with full-tilt and telescopic position capability, and self-canceling turn signal capability. It is designed to extend ergonomic range of motion and enhance overall comfort.
Kenworth is The Driver's Truck™. See what drivers are saying at www.kenworth.com/drivers.
Kenworth Truck Company is the manufacturer of The World's Best® heavy and medium duty trucks. Kenworth's Internet home page is at www.kenworth.com. Kenworth is a PACCAR company.