Miller Industries Finds Kenworth T880s Are "Show Stoppers" for Tow Industry
While Kenworth's venerable T800 has long been a favorite of tow and recovery companies, the new Kenworth T880 has been turning heads. And fast. "It's quickly leapfrogged the T800," according to John L. Hawkins, Miller Industries vice president of heavy duty operations for the Ooltewah, Tenn.-based company.
 
"We purchased one of the first T880s last fall and installed one of our 50-ton towing and recovery units, and displayed it at the industry's second largest trade show in Baltimore," Hawkins said. "The T880 stole the show, generated a lot of future business, and brought customers to the Miller booth. In fact, it was the first vehicle to sell at the show."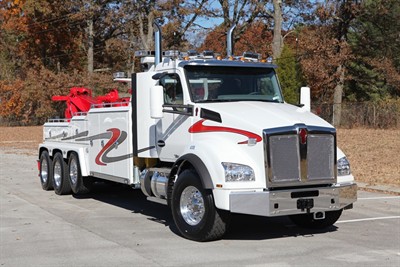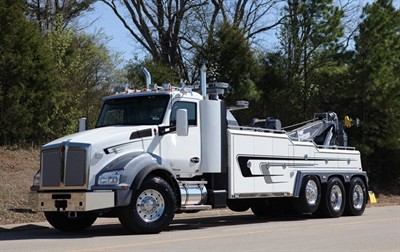 Above: Two of Miller Industries' Kenworth T880s.
Miller Industries is one of the nation's largest suppliers of towing and recovery equipment, in part, due to its long-standing reputation of delivering products that outperform expectations. "To be successful in this business you have to have a truck partner that understands towing and recovery," said Hawkins. "The truck builder has to have on-going engineering expertise and be willing to create a vehicle that works precisely as our customers expect. I feel that's what helps separate Kenworth from other truck OEMs - they're truly dedicated to our market. It's why we're successful, and why Kenworth is as well."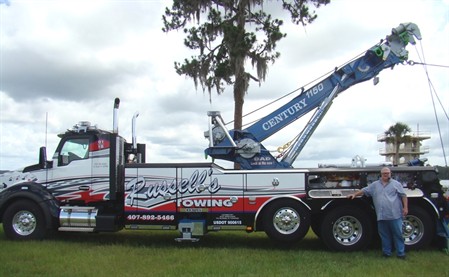 Robbie Faulk, owner of Ace Wrecker Service in Orlando and its sister company, Russell's Towing in nearby St. Cloud, Fla., with his new Kenworth T880.
Robbie Faulk, owner of Ace Wrecker Service in Orlando and its sister company, Russell's Towing in nearby St. Cloud, attended that Baltimore show and saw the Kenworth T880.  "I ordered a new Century 1150S rotator for my personal tow vehicle," he said. "But, a funny thing happened when it was delivered - two of my drivers started fighting over it. They both wanted to drive it. So, now I have to share the truck. We all just love the T880 - it rides better and has a great turning radius, and with the sloped hood we get great visibility out the front."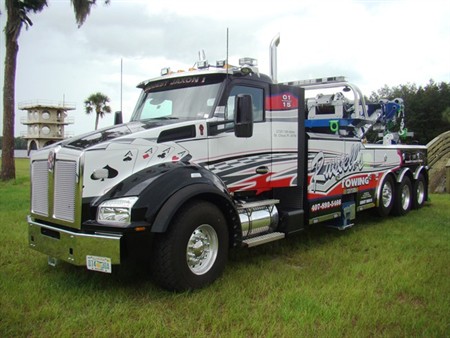 The T880 joins 60 other tow vehicles in Faulk's fleet - which consists of smaller vehicles for transporting cars, on up to a heavy duty rig with a 75-ton rotator. "We're using the T880 for recovery work, plus other jobs," Faulk said. "We just finished helping put a small bridge into place by using the dual 50,000-lb. winches with the hydraulic boom that rotates 360-degrees and extends and elevates under load. Without the stability of the chassis platform, we would not have been able to complete the job."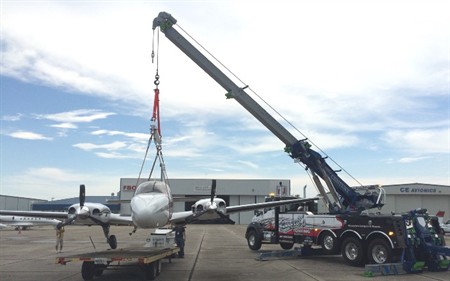 In Jacksonville, Greg Gaylord, president of Southern Wrecker and Recovery, considers the T880 its flagship tow truck. Southern Wrecker spec'd a T880 for a Century 9055 - a 50-ton integrated unit known for its heavy duty towing superiority. Both Russell's Towing's and Southern Wrecker's T880s feature 20,000-lb. front suspensions and 46,000-lb. rears. "Though each tow company has 50-ton units installed on the T880s, they feature different designs - yet the diverse specifications of the chassis properly support each client's application," said Hawkins.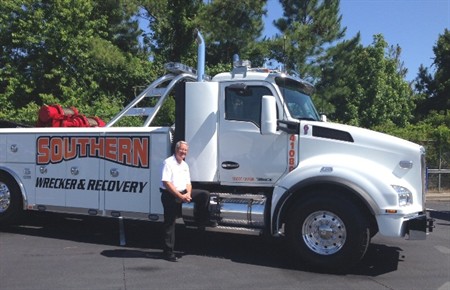 Greg Gaylord, president of Southern Wrecker and Recovery with his company's T880.
"We took delivery of the T880 in April after seeing one at the industry's largest trade show in Florida," said Gaylord. "The spec'ing process, along with Kenworth quality, led us to the T880. It may seem like a small thing, but for a tow operator, specs are critical, especially when you need the tow body to come up all the way to the cab.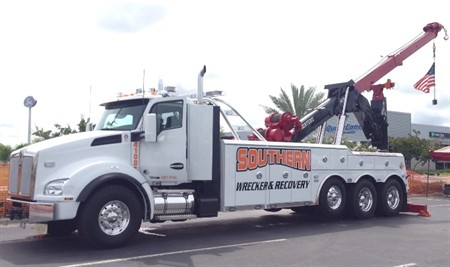 "In our case, we looked at the exhaust behind the cab," he said. "Kenworth had it situated so we could do dual fuel tanks, which we need since we make hauls into Georgia and other nearby states. Other manufacturers restricted us to one fuel tank due to the exhaust. Kenworth also set it up to install the batteries between the DPF (diesel particulate filter) and exhaust system behind the cab - maximizing the remaining cab to bogie for proper equipment installation. This kept the batteries out of the toolbox. Just little details like these show that Kenworth knows our industry and how we like things spec'd."
"Kenworth gets it when it comes to engineering for the tow industry," agreed Hawkins. "They know we need large volume air compressors with maximum air storage, high amp alternators to support amperage draw, specific placement for air dryers, fuel tanks, batteries, exhaust, cross members and suspension components to accommodate our bodies - all while shifting weight forward to the front axle and away from the rear drives.
 
"With wheelbases exceeding 300 inches, a tight turning radius is required and the Kenworth T880's set-back front axle allows for added maneuverability," continued Hawkins. "But, the real key is the challenge of balancing chassis weight. Unlike other trucking applications, we carry our payload 100-plus inches off the tailboard of the tow vehicle. Weight is critical in our industry. The only way to pick up a loaded trash truck with a front axle weight that can be in excess of 20,000 lbs. is to have a T880 that Kenworth has engineered with the proper center of gravity that supports the suspension and axle package."
 
"Our T880 is extremely quiet and handles like a Cadillac," Gaylord said. "My son is driving it now and I don't expect him to leave it anytime soon. He loves it - the T880 is very comfortable. The other day he hauled a fully loaded mixer and the drive, with all that weight, was phenomenal. We'll do recovery work with the T880 as well. I like to say that if you give us enough time, and enough cable, there is nothing we can't accomplish."
 
Gaylord's original core business was Southern Fleet Maintenance, and which provided contract maintenance to large fleets in the area. "In 2000, we decided to buy our own wrecker to transport our customers' trucks since we couldn't find a reliable tower in our area," he said. "Today, we have 28 tow vehicles including eight Class 8 tow vehicles and have state contracts with 18 counties - serving a 250-mile radius around Jacksonville."
 
Working with Miller Industries has been a huge plus. "We're buying their experience in the industry and we've been big fans of theirs for many years," Gaylord said. "They don't miss much - they're on the cutting edge with wreckers and it's tremendous for us to have a Kenworth T880 with a Miller body. We get the best of both worlds."
 
Kenworth Truck Company is the manufacturer of The World's Best® heavy and medium duty trucks. Kenworth's Internet home page is at www.kenworth.com. Kenworth is a PACCAR company.