Michigan Kenworth Opens Full-Service Location in Gaylord
Michigan Kenworth has relocated its parts dealership in Gaylord, Mich., to a full-service facility with expanded customer support.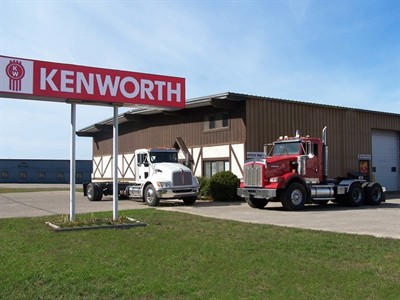 The dealership is now on a 7-acre site just 3-1/2 miles southwest of its former parts facility. Michigan Kenworth's new, nearly 14,000 square-foot facility includes a shop with 14 bays for service and PACCAR engine support and a 2,000 square-foot parts department well-stocked with quality Kenworth proprietary and TRP all-makes parts. The Gaylord dealership is at 1134 Milbocker Road, near the Gaylord Regional Airport, about 2 miles northwest of Exit 279 on U.S. Interstate 75.
 
"With this new location, we can offer customers more complete solutions to their transportation needs with new Kenworth models, including the Kenworth T880 and T680, PACCAR MX-13 engine, and Kenworth PremierCare(R) parts and service support," said Jim Kamps, vice president of Michigan Kenworth. "Logging, petroleum hauling, natural gas production and construction are predominant industries in the Gaylord area. Since Kenworth trucks have a solid reputation in those industries, we expect to do especially well with the Kenworth T680 and T880.
 
"Michigan Kenworth is making significant investments in our northern and mid-Michigan facilities because we see the great potential in the Michigan economy," Kamps added.
 
Michigan Kenworth in Gaylord is open from 7:30 a.m. to 5 p.m. Monday through Friday. The phone number is 989-732-6424. Brothers Vince and Norm Brecheisen, previous owners of the truck service facility, will act as the operations manager and the new truck sales manager, respectively.
 
"We purchased our new Michigan Kenworth facility from the Brecheisen family, who operated a truck service location here for many years," Kamps said. "By retaining their longtime employees and providing them training on Kenworth and PACCAR products and services, not only can we maintain existing relationships they've cultivated over the years, but also forge new ones."
 
The new full-service dealership is part of the Kenworth dealer network of more than 340 locations in the United States and Canada. Michigan Kenworth also operates Kenworth dealerships in Escanaba and Grand Rapids.
 
Kenworth Truck Company is the manufacturer of The World's Best® heavy and medium duty trucks. Kenworth's Internet home page is at www.kenworth.com. Kenworth is a PACCAR company.