Kenworth T680 Advantage Sets New Standard for Mabe Trucking
Butch Mabe shook his head when he looked at the numbers. "It's hard to believe, but in the last 10 years, we've moved from 5.7 mpg to 7.7 mpg," he said. "For any truck operator, those numbers are huge when you consider how much we spend on fuel."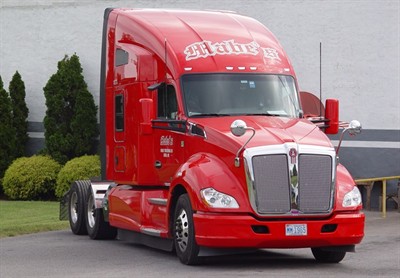 Mabe Trucking - T680 Advantage
Operating a fleet of 170 tractors and 500 trailers, Eden, N.C.-based Mabe Trucking runs primarily truckload east of the Rockies and is about as fuel-efficient as a fleet can get. Always looking for opportunities to enhance fuel economy, the company began integrating the Kenworth T680 Advantage with 76-inch sleeper into the fleet this past spring and saw an impressive gain.
 
"With the T680 Advantage, we've already moved up to 7.7 mpg, or six-tenths more than our regular T680s in a 6x4 configuration," said Mabe, who serves as the company's owner and president. "We're saving between $400 and $500 a month for each T680 Advantage. And that's calculating the price and maintenance difference between the original T680 and T680 Advantage. For instance, we pay a bit more in tire prices and give up some mileage with wide-base versus duals, but we're getting it back and more with improved fuel economy."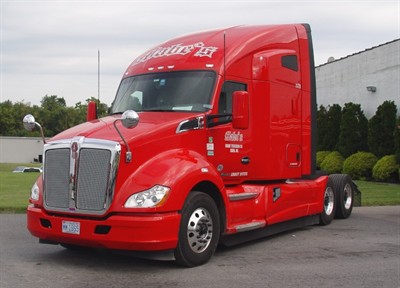 The biggest contributors to the Kenworth T680 Advantage's fuel mileage increase over the Kenworth T680 is its 6x2 configuration, Eaton Fuller Advantage 10-speed automated transmission (over 10-speed manual), wide-base tires and special factory-installed Kenworth aerodynamic package. Mabe Trucking's T680 Advantage units are powered by the 2014 PACCAR MX-13 engine rated at 455 hp.
 
Mabe said going from the 6x4 to a 6x2 was a 'non-event' when it came to road-gripping performance. "At the start, some of our drivers were concerned with giving up traction, but with the locking differential and the Bendix eTrac (traction enhancement) option, the trucks performed beautifully," Mabe said. "And, we were operating them when we had extreme weather."
 
According to Mabe, his trucking company has now standardized on the T680 Advantage. "We have 35 T680 Advantage trucks running and 20 more on order," he said. "We can't wait to get them as they'll immediately begin paying dividends."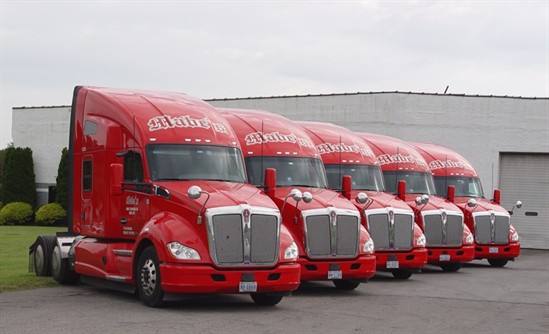 The trucks were purchased through MHC Kenworth - Greensboro. "And, they've been great to work with," said Mabe. "They're open 24/7 and that's important to us - as is how they've always taken the time to investigate new technologies to see how it could improve our operation. It's nice to have a partnership with a dealership and that's what I feel we have."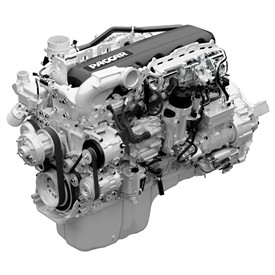 PACCAR MX-13 Engine
 While fuel economy improvements have been a constant for Mabe, so has engine performance - which has led the company to standardize on the PACCAR MX-13. "We were an early adopter of the 12.9-liter PACCAR engine … and we're glad we made that decision," said Mabe. "It's in 100 percent of our trucks now and they're performing great. They're lighter, get great fuel mileage, quiet, and have surprising power performance in a 13-liter package. We have some with more than 500,000 miles, and what's nice is those engines are so durable - they have a design life in excess of a million miles so that says something for their durability.  That fact helps when we trade out our trucks."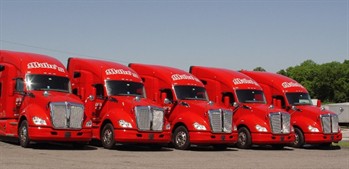 Mabe said from a dollar-and-sense standpoint, the T680 has made accountants at the company smile. "But drivers are smiling too," he said. "They all liked the T660, but with the T680, that's a whole new ball game. The biggest thing is the wider cab, usable space and storage, and visibility out of the truck.  Plus little things - like how the doors shut with just a push of the fingertips. Providing drivers with a quality truck has always been important to us. We feel we're loyal to them when it comes to providing an excellent work place, and excellent equipment. They in turn give us their loyalty and that shows in our 45 percent turnover rate, which is well below the industry average."

Kenworth Truck Company is the manufacturer of The World's Best® heavy and medium duty trucks. Kenworth's Internet home page is at www.kenworth.com. Kenworth is a PACCAR company.