Kenworth's Facebook Site Surpasses 100,000 Likes
The Kenworth Truck Company official Facebook site has surpassed 100,000 likes.
 
Kenworth's Facebook site is designed as a forum for information from Kenworth and thoughts from Kenworth owners and enthusiasts about The World's Best® trucks.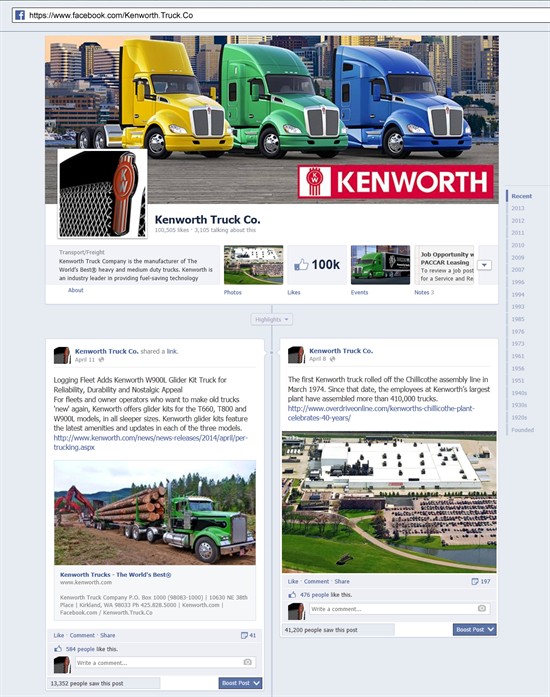 The company's Facebook site features the latest product and other news from Kenworth. The news includes the recent 40th anniversary of the Kenworth plant in Chillicothe, Ohio, an Oregon logging fleet's success with a Kenworth W900L Glider Kit truck, and a feature on owners that restore vintage Kenworth trucks as a labor of love and to preserve the industry's history.
 
The site also covers Kenworth's history from its founding in 1923 to the present, and offers an Owner's Gallery of photographs of interesting Kenworth trucks submitted by truck owners throughout the United States and Canada.
 
To visit, go to Kenworth's website (www.kenworth.com) and click on "Like us on Facebook" located at the bottom right of the Kenworth homepage.
 
Kenworth Truck Company is the manufacturer of The World's Best® heavy and medium duty trucks. Kenworth's Internet home page is at www.kenworth.com. Kenworth is a PACCAR company.