Kenworth's Website Receives Award of Distinction in 19th Annual Communicator Awards
Earns Honors in Manufacturing Category
Kenworth Truck Company's comprehensive website (www.kenworth.com) recently received a 2013 Award of Distinction in the manufacturing category in the 19th Annual Communicator Awards competition.
The award recognizes Kenworth, which is a technology leader in the trucking industry, as a website leader. This year's competition had more than 6,000 entries in various categories.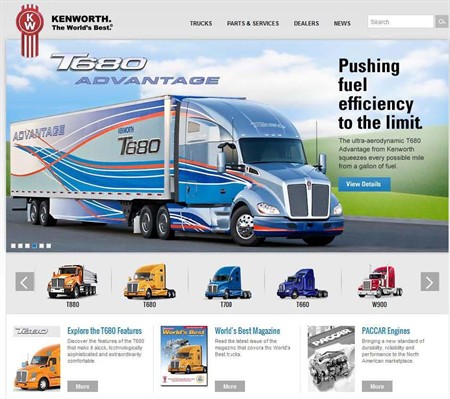 Kenworth's award-winning, user-friendly website makes it easy for users to quickly navigate and find information. The Trucks section offers useful information on the full family of quality Kenworth heavy duty and medium duty trucks that serve a wide range of customer applications. Downloadable brochures are available from the website.
Featured are the fuel-efficient Kenworth T680, which was named the 2013, Heavy Duty Commercial Truck of the Year by the American Truck Dealers; and the new rugged and reliable Kenworth T880 vocational truck, which builds upon Kenworth's distinguished 90-year heritage of quality, innovation and technology. Learn more about the PACCAR MX-13 engine with its enhanced fuel economy and ratings up to 500 hp and 1,850 lb-ft of torque, and the industry-leading Kenworth NavPlus® system, a multi-function communication system which includes hands-free cell phone calls via Bluetooth connections and voice commands.
Also available are a Kenworth dealer locator with mapping and links to Kenworth dealers in the United States and Canada, Kenworth parts and services, and the latest Kenworth news.
The Kenworth website also provides convenient links to Kenworth's merchandising (www.ShopKenworth.com), Facebook and Twitter sites, along with links to the PACCAR, PACCAR Engines, PACCAR Financial, PacLease, Kenworth International Sales, Kenworth Mexicana, Kenworth Australia, and DAF websites.
About the Communicator Awards
The Communicator Awards are sanctioned and judged by the International Academy of Visual Arts, an invitation-only group consisting of top-tier professionals from acclaimed media, communications, advertising, creative and marketing firms. The Communicator Awards receives over 6,000 entries from companies and agencies of all sizes, making it one of the largest awards of its kind in the world. The website is www.communicatorawards.com.
 
About Kenworth Truck Company
Kenworth Truck Company is the manufacturer of The World's Best® heavy and medium duty trucks. Kenworth's Internet home page is at www.kenworth.com. Kenworth is a PACCAR company.