Kenworth to Sponsor ALABAMA'S "Roll On" Tour
Award-Winning Country Music Band Helps Kenworth Celebrate 100th Anniversary
Kenworth Truck Company announced it will partner with legendary country music band ALABAMA to sponsor its "Roll On 2 North America Tour" as a way to thank truckers and the trucking community for its support.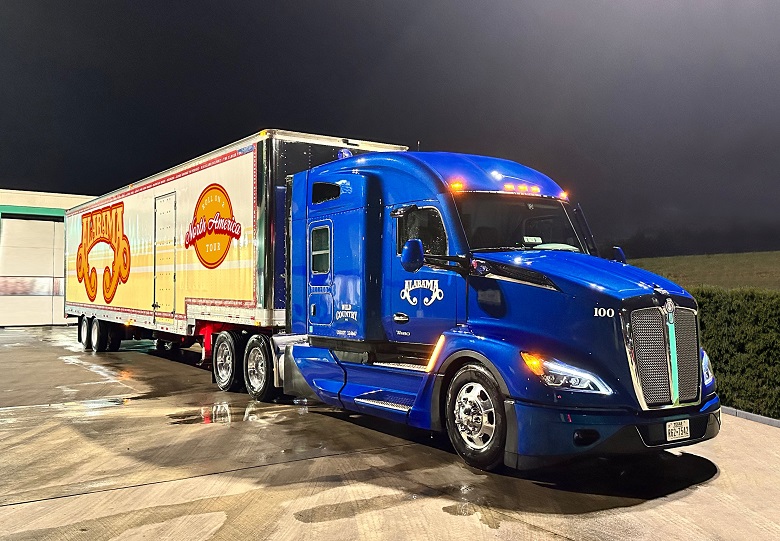 Kenworth T680


Kenworth is providing ALABAMA with a Kenworth T680 76-inch mid-roof sleeper for the band's 2023 concert tour. The partnership, which also coincides with Kenworth's 100th anniversary, is the renewal of a relationship that spanned a 15-year period from 1988-2003 when Kenworth sponsored its annual "Truckers Appreciation Concert" starring the popular, multiple award-winning band. The concert was held at Freedom Hall in Louisville in conjunction with the Mid-America Trucking Show. At the time, tickets were distributed to truckers, who patiently lined up outside the Kentucky Exposition Center before show doors opened the first two days.
For many years, ALABAMA used Kenworth trucks to transport its equipment to concert sites across the country. In 2003, the band visited the Kenworth plant in Renton, Wash., to pick up a new Kenworth W900 72-inch AeroCab. The band has also visited the Kenworth plant in Chillicothe, Ohio.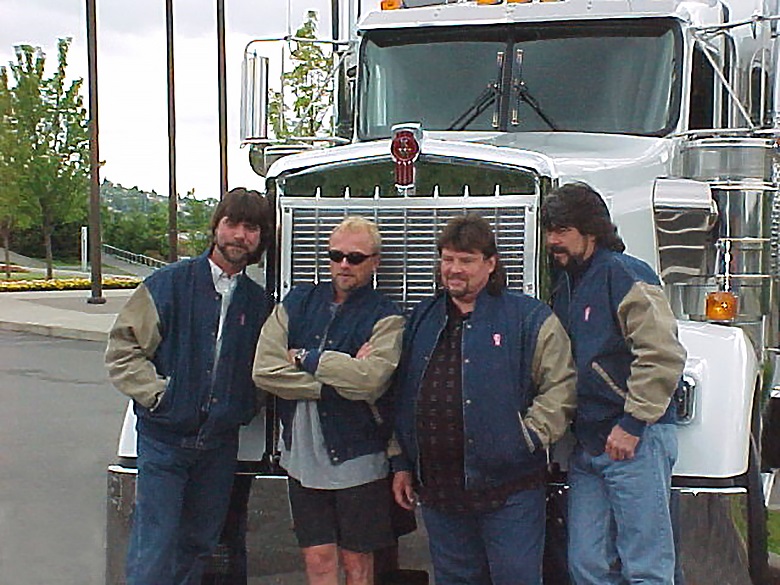 Alabama Visits Renton, Wash. in 2003


"For over 15 years of touring, we have had the pleasure of Kenworth trucks moving our equipment up and down the road for over a million miles. We are thrilled the fine folks at Kenworth are sponsoring our 2023 ROLL ON 2 tour," said ALABAMA's Teddy Gentry and Randy Owen. "We just celebrated our 50th anniversary and now Kenworth is celebrating their 100th anniversary. One thing is for sure, we depend on Kenworth trucks, and look forward to continuing our relationship."
The next performance on ALABAMA's 2023 Roll On 2 North America Tour will be June 3 at June Jam in Fort Payne, Alabama with 15 tour dates to follow: June 16 – Kick'N Up Kountry, Karlstad, Minn; June 22 – Xcel Energy Center, St. Paul, Minn; June 24 – 10th Annual Cattlemen's Ball at Denny Sanford Premier Center, Sioux Falls, S. Dak; June 29 – Ava Amphitheater at Casino Del Sol, Tucson, Ariz.; Jul. 1 – San Diego County Fair, Del Mar, Calif.; July 4 – 4th of July Spectacular at the Oregon State Fairgrounds, Salem, Ore.; July 6 – Spokane Arena, Spokane, Wash.; July 8 – Calgary Stampede at Scotiabank Saddledome, Calgary, AB Canada; Aug. 3 – Wisconsin State Fair, West Allis, Wisc.; Aug. 11 – Voices of America Country Music Fest 2023, West Chester, Ohio; Sep. 8 – Tri-State Rodeo, Fort Madison, Iowa; Sep. 10 – Great Southern Bank Arena, Springfield, Mo.; Oct. 20 – The Smoothie King Center, New Orleans, La. Nov. 9 – Bon Secours Wellness Arena, Greenville, S.C.; Nov. 11 – Greensboro Coliseum Complex, Greensboro, N.C.
"Kenworth values our longstanding partnership with ALABAMA, and we are excited to provide a Kenworth T680 for this year's tour," said Genevieve Bekkerus, Kenworth director of marketing. "We thank band members Randy Owen and Teddy Gentry for choosing to team up with us again and know Josh Gentry (Teddy's son) will enjoy driving this truck during the tour."
About ALABAMA
Over 50 years ago, Jeff Cook, Teddy Gentry and Randy Owen left the cotton farms of Fort Payne, Alabama to spend the summer playing music in a Myrtle Beach, South Carolina bar called The Bowery. It took them six long years of tip jars and word-of-mouth to earn the major label deal they'd been dreaming of. Then, seemingly no time at all to change the face of country music. ALABAMA, country music's first band, was inducted into the Country Music Hall of Fame in 2005. The group is known for hit songs including "Mountain Music," "Roll On," "Dixieland Delight" and "If You're Gonna Play In Texas (You Gotta Have A Fiddle In The Band)." From humble beginnings picking cotton in the fields, to international stars, ALABAMA went on to sell 80 million albums and charted 43 No.1 hits, becoming the most successful band in the history of country music. In November 2022, ALABAMA co-founder Jeff Cook passed following a lengthy battle with Parkinson's disease. With his prior encouragement and wishes, ALABAMA continues touring on a limited basis, keeping the iconic music they created alive for the current and future generation of fans.
ALABAMA fans can visit the newly remodeled, state-of-the-art ALABAMA Fan Club and Museum at 101 Glenn Boulevard S.W. in Fort Payne, Alabama. The museum features more than 50 years of music memorabilia from the band's early days in Myrtle Beach, South Carolina to the Country Music Hall of Fame. For more information on ALABAMA, visit thealabamaband.com.
Kenworth Truck Company, founded in 1923, is the manufacturer of The World's Best® heavy and medium duty trucks. Throughout 2023, Kenworth is celebrating its historic 100th anniversary. To learn more about the 100th anniversary celebration visit www.Kenworth100.com. Kenworth is "Driving the Next 100 Years." Kenworth's Internet home page is at www.kenworth.com. Kenworth is a PACCAR company.