Kenworth Sales Company Opens Full-Service Location in Heyburn, Idaho
Proximity to LNG Fuel Stations Allows Customers to Explore Natural Gas
Kenworth Sales Company has relocated its parts dealership in Heyburn, Idaho, to a newly renovated full-service facility offering expanded customer support.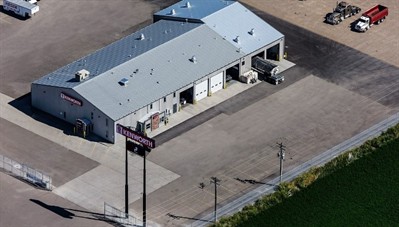 Kenworth Sales Company's new 19,000 square-foot facility has 12 service bays for service and PACCAR engine support, 5,700 square feet of parts storage and display space featuring quality Kenworth proprietary and TRP all-makes parts, and a comfortable driver's lounge. The dealership is located on 8 acres north of Exit 208 on U.S. Interstate 84 at 322 South 600 West, adjacent to a motel and a travel center with fuel stations. The new location has a large parking lot with ample room for drivers to maneuver their trucks and trailers.
Salt Lake City-based Kenworth Sales Company recently celebrated the relocation with a grand opening at the new Heyburn dealership that featured a barbecue and a vendor fair with 200 customers attending. Kenworth Sales Company also operates 19 other dealerships in Idaho, Montana, Nevada, Oregon, Utah, Washington and Wyoming.
"Heyburn has a strong agriculture and farm industry. A number of local companies move agricultural products and freight, and they need a facility where they can shop for quality trucks and obtain excellent parts and service support," said Kyle Treadway, president of Kenworth Sales Company. "To serve those customers, our new location offers extended hours of operation Monday through Saturday and is open Sunday. We also support truckers traveling eastbound and westbound on I-84 through Idaho."
Treadway said the PacLease franchise at the new Heyburn facility is offering local fleets the opportunity to rent Kenworth trucks powered by liquefied natural gas (LNG) and try them out before they lease or buy them. Fleets operating along the I-84 corridor through Utah, Idaho, and eastern Oregon can rent Kenworth LNG trucks through a rental program available from PacLease, Kenworth Sales Company, and Blu LNG.
"Blu LNG has opened an LNG station in Jerome, Idaho, 45 miles to the northwest and has another one planned for Cassie, Idaho, 25 miles to the southeast," Treadway added. "The LNG stations will offer local customers convenient locations to get their LNG-powered Kenworth trucks refueled."
Kenworth Sales Company - Heyburn is open from 6 a.m. to 12:30 a.m. Monday through Saturday and 6 a.m. to 4 p.m. on Sunday. The phone number is 208-678-3039. Key personnel are Matt Carr (district manager), Dave Stout (service manager), and Jim Brown (parts manager).
The new full-service dealership is part of the Kenworth dealer network of more than 340 locations in the United States and Canada.
Kenworth Truck Company is the manufacturer of The World's Best® heavy and medium duty trucks. Kenworth's Internet home page is at www.kenworth.com. Kenworth is a PACCAR company.