Kenworth's NavPlus System. Turning Heads without Turning Heads
Bluetooth Phone and Audible Navigation Directions Keep Drivers Eyes on Road
Once you have it, you can't do without it.
That's the word from Michelle Harry, Kenworth's special projects marketing manager, when discussing the Kenworth NavPlus® system. "Drivers of Kenworth trucks equipped with NavPlus find that it's a user friendly system with a number of helpful tools. It makes it hard to go back to a truck without the system."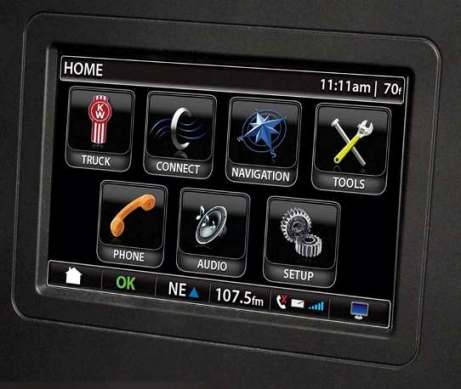 The driver's-side 7-inch, high-resolution color screen console display is loaded with technology to make driving easier and more productive. It offers everything from truck-specific navigation to hands-free telephone conversations - along with audio controls (including satellite-enabled radio, AM/FM, CD, MP3 and USB), and camera inputs for up to four optional video cameras for monitoring the truck and trailer. In addition, an on-screen "PACCAR" pre-programmed button automatically dials the Kenworth PremierCare® Customer Center, which operates 24 hours a day, 7 days a week, for roadside assistance.
Six virtual gauges provide current information on truck operation. Oil temperature, transmission temperature, manifold boost, current and average fuel economy, diesel particulate filter (DPF) status and percentage of torque come pre-loaded.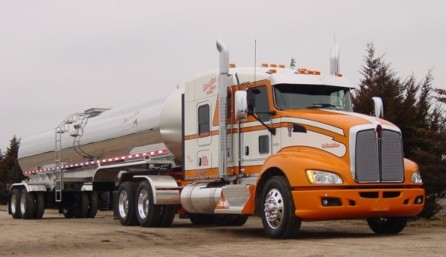 For Jerry Mies, of Mies Trucking - a milk hauler with 45 trucks outside of Wichita, Kan., NavPlus is a welcome addition, especially for the phone and audio components. "We typically run line-haul runs from farm to market, and use the navigation system when we pick up a new customer," he said. "I tell you what, our drivers love the phone system through NavPlus. They say the sound quality is just phenomenal. And with the recent laws about the need for hands-free calling, this is the perfect solution for our drivers."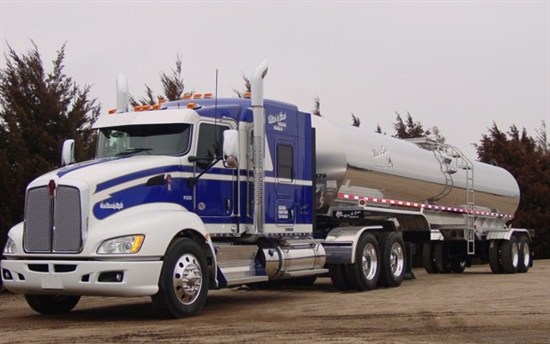 The system's gauges and alarm clock also received good reviews from Mies' drivers. "They just can't say enough about it," he said.
"We run an all-Kenworth fleet and have standardized on the T660," said Keith Harring, owner of K.L. Harring Transportation and Warehousing. "The latest orders are all coming in with Kenworth NavPlus. We don't skimp on items - we want to make our drivers more productive and comfortable. What I've seen and heard is they all like the features of NavPlus. It's very user friendly and gives them the tools they need for navigation and calling. Plus the stereo system has MP3 capability so they can play their own tunes; it's something they really like. NavPlus is a great addition to our trucks."
Jeff Paxton, a K.L. Harring driver with 13 years behind the wheel, said NavPlus is a big advancement in the trucking industry. "Driving a T660 with NavPlus is almost like driving a luxury car," he said. "It's very comfortable, plus I have tons of technology available to me for navigation, phone calls and music. The gauges are great too. Before, I used to wear a Bluetooth headset. Needless to say, it's a whole lot easier using NavPlus for phone calls."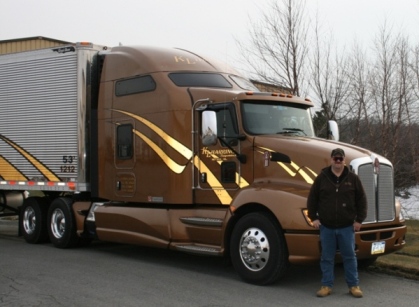 At the core of the Kenworth NavPlus is an on-board navigation system that provides drivers true truck-optimized routes from Garmin, customized to truck and load specifications. The system also allows truck and load information to be entered, which allows drivers to steer clear of restricted roads and streets. Audible prompts keep drivers eyes on the road, instead of the screen.
NavPlus uses the commercial vehicle J1939 SAE standard for communication, full vehicle monitoring (including hybrid system status) and diagnostics. The system is fully compatible with the Kenworth Electronic Service Analyst (ESA), a computer-based diagnostics tool, which simplifies troubleshooting.
Kenworth trucks with premium interior trim offerings and Kenworth diesel-electric hybrid vehicles offer NavPlus as a standard feature. The system is available as an optional upgrade with all other Kenworth interior trim packages.
Kenworth Truck Company is the manufacturer of The World's Best® heavy and medium duty trucks. Kenworth is an industry leader in providing fuel-saving technology solutions that help increase fuel efficiency and reduce emissions. The company's dedication to the green fleet includes aerodynamic trucks, compressed and liquefied natural gas trucks, and medium duty diesel-electric hybrids. Kenworth is the only truck manufacturer to receive the Environmental Protection Agency's Clean Air Excellence award in recognition of its environmentally friendly products. In addition, the fuel-efficient Kenworth T700 equipped with the low-emission PACCAR MX engine was named the 2011 Heavy Duty Commercial Truck of the Year by the American Truck Dealers. Kenworth is also the recipient of the 2011 J.D. Power and Associates award for Highest in Customer Satisfaction for Heavy Duty Truck Dealer Service. Kenworth's Internet home page is at www.kenworth.com. Kenworth. A PACCAR Company.