Kenworth's Renton Assembly Plant Honored With a Best Workplace for Commuters Award
For its efforts in promoting workplace commuting, Kenworth Truck Company's assembly plant in Renton, Wash., has been recognized as  "One of the Best Workplaces for CommutersSM" by the National Center for Transit Research.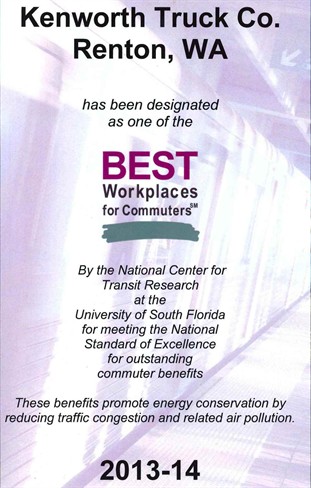 The award recognizes employers that achieve a national standard of excellence for providing outstanding commuter benefits, which help promote energy conservation by reducing traffic congestion and related air pollution.  This is the fifth consecutive year that the Kenworth - Renton plant has received the workplace commuting award.
"Alternative modes of transportation are used by 33 percent of our employees at the Kenworth - Renton plant under our comprehensive commuter program. We actively encourage the use of carpools, vanpools, bus, train ferry, bicycling and walking through subsidies paid to qualifying employees," said Judy McTigue, Kenworth-Renton plant manager.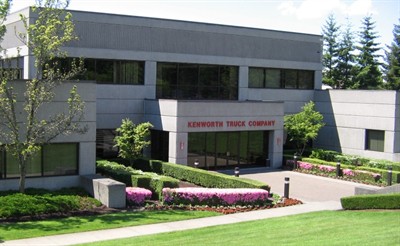 Kenworth - Renton assembly plant
The Kenworth - Renton plant recently celebrated its 20th anniversary of building The World's Best® trucks. Kenworth - Renton plant has produced more than 130,000 Kenworth trucks since it was opened in 1993, and currently produces Kenworth's T660, T800, W900, C500, K500 and 963 models along with some medium duty Kenworth T370s and T440s.
The National Center for Transit Research (NCTR) is located at the Center for Urban Transportation Research at the University of South Florida.  NCTR's goals are to minimize traffic congestion, maximize mobility options, promote safety and security, improve the environment, and enhance community sustainability. The group works to make public transportation and alternative forms of transportation safe, effective, efficient, desirable, and secure.
Kenworth Truck Company is the manufacturer of The World's Best® heavy and medium duty trucks. Kenworth's Internet home page is at www.kenworth.com. Kenworth is a PACCAR company.