Kenworth of Peterborough Opens New Dealership Near Highway 115 Peterborough Bypass
Kenworth of Peterborough, a new full-service dealership, has opened at a newly renovated facility that offers easy access to the Trans-Canada Highway 7 and 115.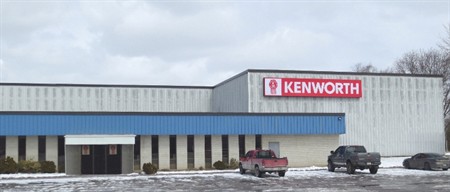 "Peterborough has a vibrant economy that not only supports large industry such as GE Peterborough, Pepsi QTG Canada, and Siemens Milltronics Process Instruments, but also a healthy mix of small- to medium-size businesses in the aviation, agriculture and technology sectors," said Guy Mercier, dealer principal and president of the Mercier Group.
"We're excited about the possibilities Peterborough offers to grow our business by providing local companies quality Kenworth trucks as well as dependable parts and service support for their trucks, regardless of manufacturer," Mercier said.
Kenworth of Peterborough's newly renovated 20,000 square-foot facility offers 10 service bays, a well-stocked 4,000 square-foot parts warehouse and a comfortable driver's lounge. The dealership is located on 10 acres at 810 Technology Drive, on the east end of Peterborough, less than a quarter mile from the Ashburnham Drive exit on the Peterborough Bypass of the Trans-Canada Highway 7 and 115. The property offers ample room for truck drivers to park their trucks and trailers.
At Kenworth of Peterborough, truck fleets and operators can purchase from Kenworth's comprehensive product lineup of aerodynamic, vocational and medium duty trucks. In addition to quality Kenworth proprietary and TRP all-makes parts, excellent service and PACCAR Engine support, the dealership offers PACCAR Financial support through flexible retail loans, and leases for the transportation industry.
Besides the Peterborough dealership, Mercier Group operates three other locations, all in Ontario: Kenworth of Ottawa, Kenworth of Kingston and Kenworth of Thunder Bay.
Kenworth of Peterborough is open from 8 a.m. to 6 p.m. Monday through Friday and 8 a.m. to noon Saturday. The phone number is 705-742-4747. Key personnel are Operations Manager Daniel Poliquin, New Truck Sales Manager Gord Sloan, and Parts Manager Andy Moore.
The new full-service dealership is part of a Kenworth dealer network of nearly 340 locations in the United States and Canada. The location is also part of Kenworth's constant commitment for superior dealer service.
Kenworth Truck Company is the manufacturer of The World's Best® heavy and medium duty trucks. Kenworth's Internet home page is at www.kenworth.com. Kenworth is a PACCAR company.