Kenworth of Pennsylvania Opens New Parts and Service Location Near Lancaster, Pa.
Kenworth of Pennsylvania has opened a new parts and service facility in an industrial area near Lancaster less than a mile south of Pennsylvania Routes 230 and 283.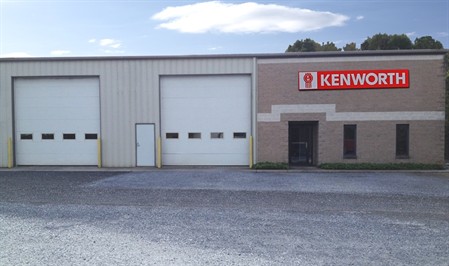 "We continue to expand our operations with new convenient locations like the Lancaster dealership for local truckload carriers, regional haulers and vocational operators," said Gary Mitchell, president of Kenworth of Pennsylvania. "Local customers will no longer have to drive 45 miles west to our location in Carlisle to access parts, service and warranty support."
The dealership is located near the intersection of South Esbenshade Road and Pennsylvania Route 230, less than a mile from Pennsylvania Route 238. Since Routes 230 and 238 are major trucking corridors through Pennsylvania, this new location also enables truck drivers passing through the area to obtain dependable parts and service, Mitchell said. Besides the Lancaster dealership, Kenworth of Pennsylvania operates six additional locations in Carlisle, Clintonville, Dunmore, New Stanton, Shartlesville, and York, Pa.
The newly renovated facility offers two drive-through service bays and 2,000 square-feet of parts display and storage well-stocked with quality Kenworth proprietary and TRP all-makes parts. It also has a comfortable driver's lounge. Kenworth of Pennsylvania - Lancaster is located on 7 1/2 acres at 4030 Old Harrisburg Pike. The property offers plenty of room for truck drivers to park their trucks and trailers.
"We've outfitted two Kenworth T370s as mobile service units and will run them from the new Lancaster location to provide fleet customers remote services," Mitchell said. "With the construction of a $50 million soybean processing plant in nearby Marietta set to open in 2014, the remediation of the old Armstrong World Enterprises factory, and other economic development projects, the Lancaster area is experiencing an economic revitalization. These projects have attracted new economic activity and generated more freight and truck traffic. We're pleased to be a part of it."  
Kenworth of Pennsylvania - Lancaster is open from 8 a.m. to 5 p.m. Monday through Friday and 8 a.m. to noon Saturday. The phone number is 717-898-2650. Steve Altland is parts and service manager.
The new parts dealership is part of a Kenworth dealer network of more than 340 locations in the United States and Canada.
Kenworth Truck Company is the manufacturer of The World's Best® heavy and medium duty trucks. Kenworth's Internet home page is at www.kenworth.com. Kenworth is a PACCAR company.