Kenworth Introduces Digital World's Best Magazine Website
Kenworth Truck Company introduces the World's Best magazine website (www.kwworldsbest.com), a new digital platform created to share the stories of Kenworth customers while providing other Kenworth-related news.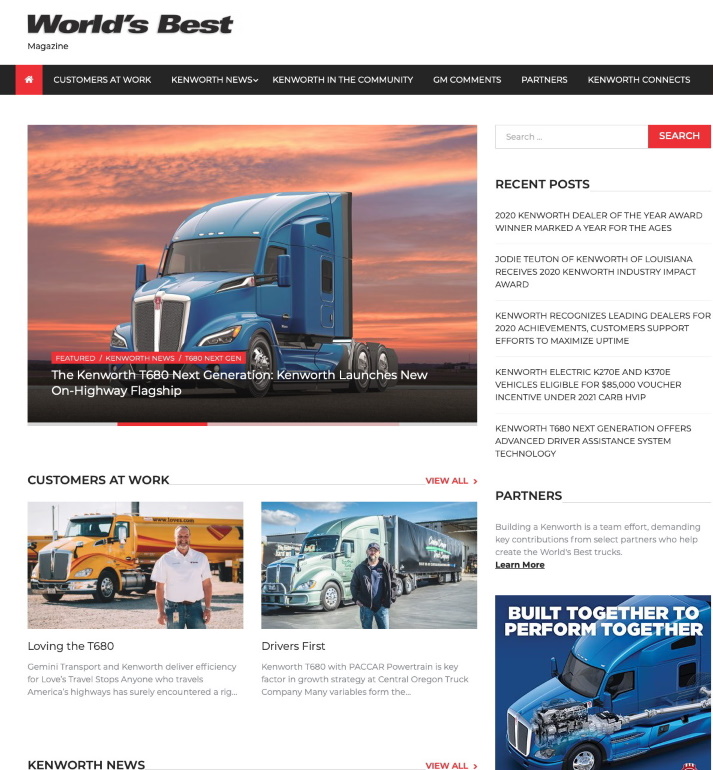 The Kenworth World's Best website offers major sections highlighting Customers at Work, Kenworth News, Kenworth in the Community, GM Comments, Partners and Kenworth Connects. The Customers at Work section features stories on Kenworth customers operating in variety of over-the-road, vocational and medium duty applications. With the World's Best magazine now online, Kenworth customers stories are saved, making it easy to find past company feature stories.
The Kenworth News section features the latest news on exciting new products and technologies, such as the recently launched T680 Next Generation, Kenworth dealers, manufacturing plants and more.
The new website also includes a Kenworth Connects page that features the Kenworth-produced online video series covering topics to help Kenworth customers learn more about increasing productivity and efficiency of their trucks. There are also convenient links to other informative Kenworth videos and Kenworth social media sites.
"With more people consuming information digitally, we developed the new digital World's Best magazine website to make it easy to access Kenworth content anywhere, anytime. We expect that fleets, truck operators and Kenworth fans will find the new digital platform useful, informative and engaging. The website is a place to stay up to speed on everything Kenworth," said Laura Bloch, Kenworth assistant general manager for sales and marketing.
The new website replaces the semi-annual print magazine with a digital version regularly updated with new content.
Kenworth is The Driver's Truck™. See what drivers are saying at www.kenworth.com/drivers.
Kenworth Truck Company is the manufacturer of The World's Best® heavy and medium duty trucks. Kenworth's Internet home page is at www.kenworth.com, Kenworth is a PACCAR company.