Kenworth Chillicothe Assembly Plant Underway on Major Construction Project
The Kenworth plant in Chillicothe, Ohio, is in the midst of a $17 million project to enhance truck quality and assembly efficiency through construction of a new parts management system and automated storage facility, the company announced today.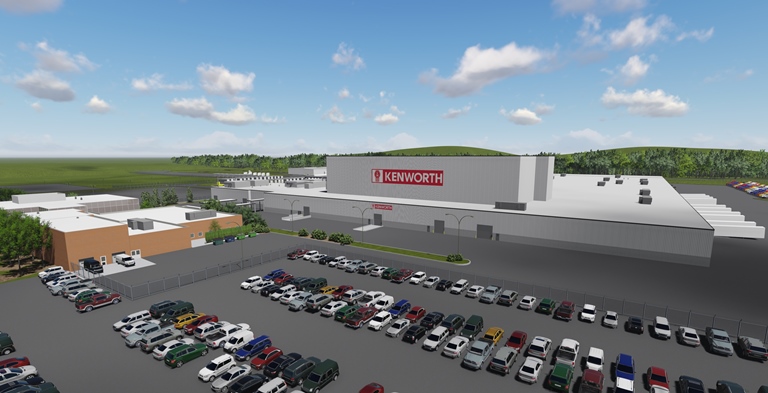 Here is a rendering of how the Kenworth plant in Chillicothe, Ohio, will appear upon completion of its $17 million expansion project later this year.

The new system will increase the plant's efficiency by using technology to achieve rapid storage of painted parts, and faster delivery of those parts when needed on the assembly line. The 25,000 square-foot addition, being built on the top of the current plant, will feature a climate-controlled environment to provide quality improvements for painted parts.

"Kenworth is continuously implementing process improvements at all our plants every day," said Daryl Simon, Kenworth assistant general manager for operations. "This cutting edge system will provide customers with enhanced truck quality while advancing the technologies embedded within our assembly operations."

The first Kenworth truck rolled off the Chillicothe assembly line in 1974. Employees at the state-of-the-art Kenworth factory produced the plant's milestone 500,000th truck in February. Throughout the plant's 42-year history, Kenworth-Chillicothe employees have maintained a strong focus on quality, efficiency, customer satisfaction, and environmental stewardship. Chillicothe has earned the prestigious ISO 14001:2004 certification for effective environmental management systems established to help build Class 8 trucks in an environmentally sustainable manner.
 
Kenworth Truck Company is the manufacturer of The World's Best® heavy and medium duty trucks. Kenworth's Internet home page is at www.kenworth.com. Kenworth is a PACCAR company.