Kari Rihm Named National Truck Dealer of the Year
Rihm Family Companies is pleased to announce that its president and CEO Kari Rihm has been named the National Truck Dealer of the Year by the American Truck Dealers Association (ATD).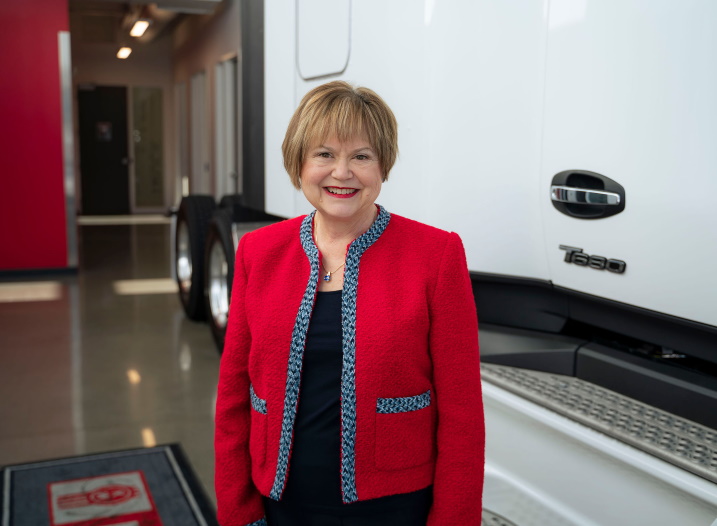 Kari Rihm - 2022 ATD Truck Dealer of the Year
The ATD Truck Dealer of the Year is a national award that recognizes commercial truck dealers for business performance, industry and civic leadership, and service to their community. It is sponsored by ATD, Heavy Duty Trucking magazine and Procede Software.
Kari received that award during the recent ATD Show opening general session in Las Vegas. She was one of three nominees for the 2022 award. Eric Jorgensen, president and CEO of JX Truck Center in Hartland, Wis., and Jon Vandehey, president and CEO of Mid-State Truck Service in Marshfield, Wis., were also nominated.
Nominees are selected by state, metro and national association leaders, and a panel of judges from Indiana University's Kelley School of Business evaluate the nominees and select the winner each year.
"I am so proud to represent all commercial truck dealers in this role as the 2022 ATD Truck Dealer of the Year," Kari said in her acceptance speech. "I am grateful and humbled to become a member of a class of truck dealers all with highly distinguished careers and contributions to the great trucking industry."
The award tops off an extensive list of accolades Kari received, as she continues to take her family business to new heights. In the past few years Kari was named the Most Admired CEO in Minnesota, received an award for being the #1 Women-Owned Business in the Twin Cities, earned a Kenworth Dealer Longevity Award, and was named both a Top Woman-Owned Business and Best Company for Women to Work for in Transportation by the Women in Trucking Association.
About Rihm Family Companies
Rihm Motor Company (dba Rihm Kenworth) was established in 1932 and celebrates its 90th anniversary this year. Rihm Kenworth is part of Rihm Family Companies, Inc. (RFC), which is family-owned and operated, with its fourth generation in office today. RFC employs about 350 people with locations in Minnesota, Wisconsin, and South Dakota, and includes Rihm Kenworth, a Kenworth truck dealer; Rihm Leasing, a truck lease, rental, and maintenance company; and Rihm Global Sales, which handles international truck and parts sales. For more information, visit rihmkenworth.com.
NOTE: Kari Rihm is the first woman to receive the prestigious ATD National Truck Dealer of the Year award, and she was honored during Women's History Month.