Inland Kenworth's Don Blake Receives 2022 TAT Champion Award
Don Blake, Inland Kenworth – Phoenix new truck sales manager recently received the prestigious Truckers Against Trafficking (TAT) Champion Award at the ATA Management Conference & Exhibition held in San Diego.
TAT is a 501(c)3 non-profit devoted to stopping human trafficking by educating, mobilizing, and empowering the nation's truck drivers and rest stop employees.
The TAT Champion Award annually recognizes and honors individuals who have found innovative ways to support TAT's mission to fight human trafficking.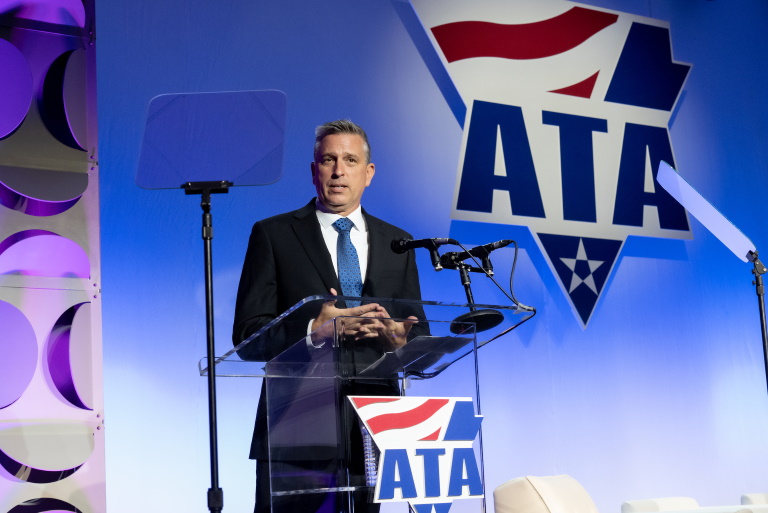 Don Blake of Inland Kenworth - Phoenix
"Truckers Against Trafficking is a tremendous organization that's helping save countless lives through its educational programs that have trained more than 1.3 million truck drivers and others in our industry how to identify and report possible human trafficking cases," said Blake, who also serves on the TAT board of directors in addition to his role at Inland Kenworth – Phoenix. "It's truly an honor to receive the TAT Champion Award and I look forward to continuing to work with TAT to raise awareness of human trafficking in our industry."
In the past five years, Blake has spearheaded the effort to build two special "Everyday Heroes" Kenworth T680s and a T680 Next Gen that were sold at auction with all proceeds going to TAT. Blake received significant support from key sponsors including Kenworth Truck Company and Inland Kenworth to offset the costs to build the trucks. The "Everyday Heroes" trucks were specially wrapped to help promote the organization's mission on the road.
"Don has worked so hard over the years through his efforts in coordinating the "Everyday Heroes" trucks and as a TAT board member," said Esther Goetsch, TAT executive director. "Don is highly deserving of this award and we're proud to name him this year's TAT Champion."
Last year, an "Everyday Heroes" Kenworth T680 equipped with a 76-inch sleeper, and PACCAR Powertrain featuring a 510-hp PACCAR MX-13 engine, PACCAR TX-12 automated transmission and PACCAR DX-40 rear axles was sold to Vancouver, Washington-based Freestyle Transportation. The sale of the truck in addition to extra truck sponsor donations from industry suppliers generated $328,000, making it the single largest donation TAT has received to date. Combined, the three "Everyday Heroes" truck auctions have raised more than $573,000 for TAT.
"Don's dedication to TAT and its mission to ending human trafficking is truly admirable," said Jim Walenczak, Kenworth assistant general manager for sales and marketing. "Don is an excellent representative of Inland Kenworth and the Kenworth dealer network and we appreciate all he does to make our communities safer and help those in need."
Kenworth Truck Company is the manufacturer of The World's Best® heavy and medium duty trucks. Kenworth's Internet home page is at www.kenworth.com. Kenworth is a PACCAR company.