Inland Kenworth Opens New $23 Million Phoenix Dealership
Anchors Business Park Dedicated to Transportation Services
Inland Kenworth has opened a new state of the art $23 million dealership. The location is part of a unique 85-acre business park, which also includes new locations for a major truck stop chain with a restaurant and tire center, a local truck wash business and a trailer dealership.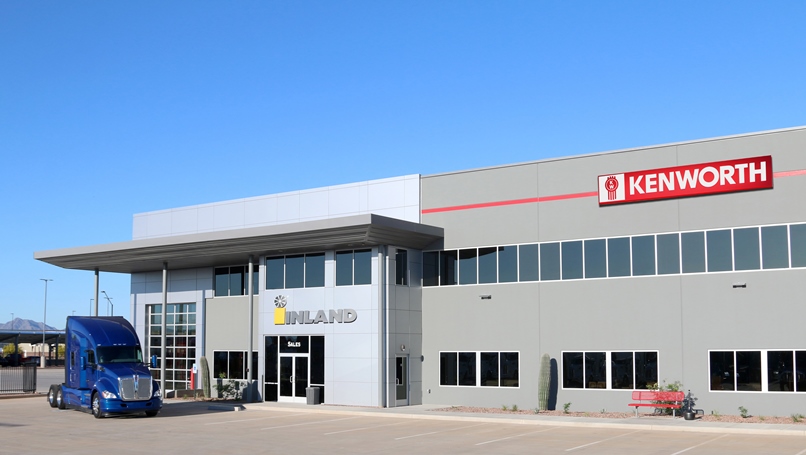 Inland Kenworth - Phoenix
Inland Kenworth, which was awarded the 2015 Kenworth Parts and Service Dealer of the Year award earlier this year, served as the catalyst for dedicating the entire park to non-competing businesses that support the commercial truck transportation industry.

The 110,000-square-foot dealership, located at 8314 W. Roosevelt St. in Tolleson, Arizona, features a 47-bay service shop with additional capacity for light work outside, and a 21,500 square-foot parts department. The facility and the business park are adjacent to U.S. Interstate 10, or Papago Freeway, just south of Exit 135.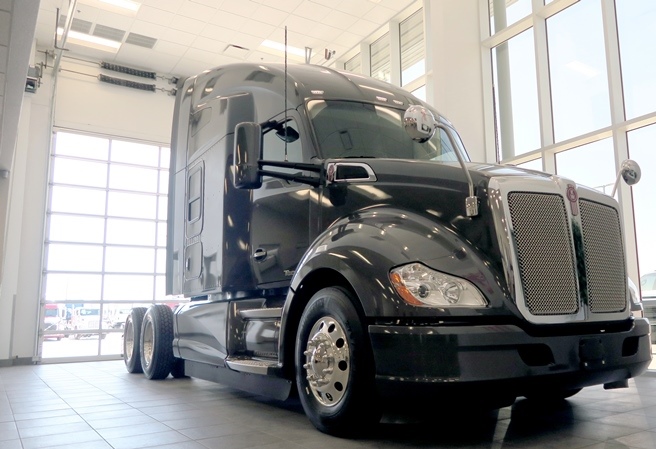 Showroom with Kenworth T680
"This was a rare opportunity to help get commercial truck-related businesses moved into this park, which offers direct access to I-10 and is highly visible from the freeway," said Bill Currie, president and chief operating officer of the Inland Group, (www.inland-group.com). "Our new Phoenix area location will provide body shop repair, enhanced truck parts and service support with four 10-ton overhead cranes, an alignment machine, a chassis dynamometer, and more opportunities to see the latest in truck technology available from Kenworth in an indoor truck display.

"We wanted better accessibility for all our customers," Currie said. "We also wanted to make the time drivers spend in our facility to be more comfortable and productive by providing a sleeping area, a dog run for their pets, laundry facilities, an outside sitting area, work stations and a premium customer lounge with Wi-Fi internet access and satellite television.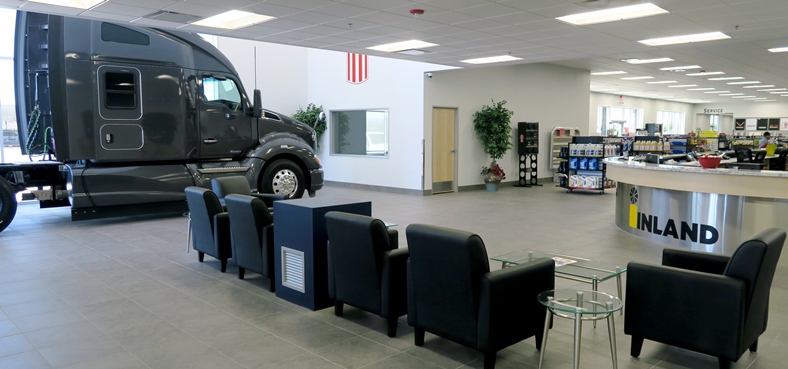 Showroom and Comfortable Lobby
"We were excited to find a business park where a one-stop location could be created for products and services that support the industry and compliment what we offer," said Greg Sternberg, recently retired vice president with Inland Kenworth. Sternberg served as vice president of operations in Arizona and New Mexico for Inland Kenworth during the siting and construction of the Phoenix dealership. "We believe this project is one of the first of its kind."

The phone number for Inland Kenworth – Phoenix is 602-258-7791 or toll-free 800-258-7791. Dave Donahue leads the location's management team as general manager. Vic Stiller manages the parts department. Don Blake is new truck sales manager. Luis Ugarte manages the used truck department. Dave Vaughn serves as service department manager and Kevin Freitag is manager of the dealership's full-service body shop. Parts and service are available from 6 a.m. to 11 p.m., Monday through Friday, and 7 a.m. to 3 p.m. on Saturday.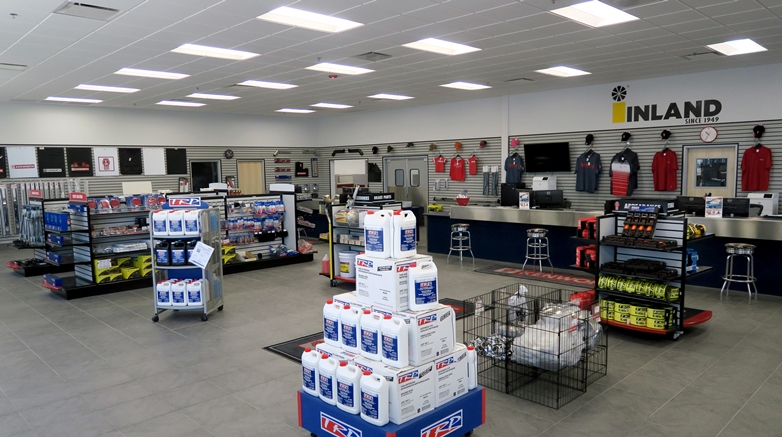 Well-Stocked Parts Department
The service department offers full warranty support for PACCAR MX series engines. The dealership also provides leasing and rental services through its PACCAR Leasing franchise - Inland PacLease, which is managed by Bob Grob. The dealership plans to hold a grand opening from 11 a.m. to 5 p.m. on May 13.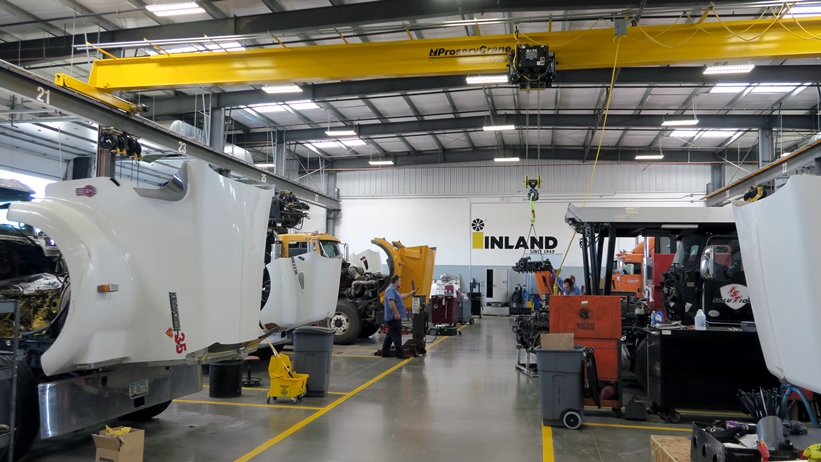 Service Department includes four 10-Ton Overhead Cranes
In addition to its Phoenix branch, Inland Kenworth, based in Burnaby, British Columbia, operates another seven U.S. locations in Arizona, California and New Mexico and 15 Canadian locations in British Columbia and the Yukon Territory.

Kenworth PremierCare® dealers help fleets and truck operators to maximize productivity by offering a full stock of parts and accessories, convenient hours of operation, expert factory-trained technicians, and mobile roadside assistance.
Kenworth is the driver's truck. See what drivers are saying at www.kenworth.com/drivers.

Kenworth Truck Company is the manufacturer of The World's Best® heavy and medium duty trucks. Kenworth's Internet home page is at www.kenworth.com. Kenworth is a PACCAR company.