Gabrielli Kenworth Takes Pride in Premium Support
While fleets and owner-operators want fast and convenient truck service and support, many still seek a quality, premium experience.
Kenworth dealer Gabrielli Kenworth understands that distinction and offers fast, premium truck service and support in the New York City area with locations in the Bronx, Hicksville, Medford and Queens, N.Y., and in Dayton, N.J., where its newest dealership opened two years ago.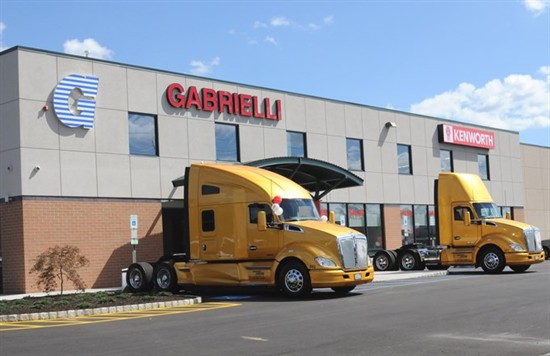 Gabrielli Kenworth of New Jersey - Dayton
The Gabrielli family, who joined as a Kenworth dealer in 1999, has operated a truck parts and repair business since the late 1960s. Gabrielli Kenworth dealer principal Armando Gabrielli began his professional career as an apprentice diesel mechanic at his uncle's auto repair shop in the outskirts of Rome before immigrating to the United States.
Romolo Gabrielli, Armando's son, manages Gabrielli Kenworth of New Jersey - Dayton, and shares in his father's vision throughout the company's operation - efficiently providing a premium level of parts and service support at competitive rates.
"Our Dayton location opened when Kenworth introduced the Kenworth T680 with the PACCAR MX-13 engine," Romolo said. "A year later Kenworth introduced its newest vocational model - the T880. We've opened the right place at the right time to provide our customers the right trucks."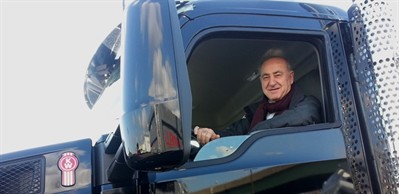 Armando Gabrielli
"We've gotten a lot of compliments about our new location," said Armando Gabrielli. "It's good for our family, for our employees, for our customers and for Kenworth. It will grow along with our family business and provide us new opportunities for the future. I am happy that I can realize a dream. Our dealership can offer truck fleets and operators a level of service that matches the quality of a Kenworth truck."
Located at 2306 Route 130 North in Dayton, the dealership recently extended its hours until 7 p.m. Monday through Friday. Romolo said his dealership has an agreement with nearby motels to provide truck drivers with complimentary shuttle service to and from their facilities, plus discount rates when a truck repair requires an overnight stay.
"Gabrielli Kenworth of New Jersey - Dayton represents just one example of the investment Kenworth dealers have made in growing the Kenworth dealer network of more than 345 locations in the United States and Canada," said Preston Feight, Kenworth assistant general manager for sales and marketing. "It's an attractive facility that's conveniently located in the New York City area, and offers truck operators superior service using the latest technology."
According to Romolo Gabrielli, there was something that always had bothered his father about the look of a typical truck repair facility. He wanted a new truck dealership with the same level of customer service and pride found at a premium car dealership.
"We wanted something special," Romolo said. "Just as my Dad likes selling the best trucks in the industry, he likes owning and driving nice cars. After repairing trucks most of his life, he's seen the value of owning and driving the best. And when he's taken his cars in for service at a local high-end car dealership, the look of the dealership has always impressed him - even the technicians' chrome-plated tools and blue toolboxes are all on display in the shop. It all looks so neat and professional."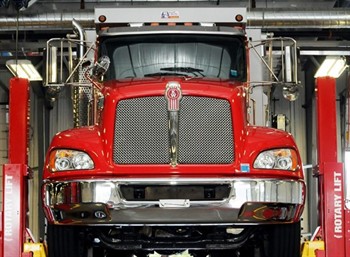 As Romolo noted, "We also saw that same level of pride and workmanship at the Kenworth plant in Chillicothe, Ohio, and the PACCAR Engine plant in Columbus, Miss. Both plants are incredibly clean and well organized despite all of the things happening on the plant floor. We figured, why can't we do the same thing?" Romolo said.
And they did. The service bays feature overhead lube services to help speed up routine maintenance services. A parts department that includes a 24,000 square-foot warehouse with an advanced inventory system keeps the dealership and customers consistently stocked. And the facility is kept immaculate. Romolo said he pays a full-time employee who's responsible for keeping the facility clean. But it's not just the responsibility of one employee, he added. "Everyone is expected to keep the facility clean by picking up after themselves," he said.
Having a new facility that looks more like a premium car dealership than a truck dealership also doesn't mean that the Gabriellis or their employees have forgotten their roots in providing parts and service support for value-conscious truck operators.
"Having done business operating a truck sales and parts and repair shop for almost four decades, we also understand that the parts and service we provide must still be competitively priced to meet our customer's needs," Romolo said.
Kenworth Truck Company is the manufacturer of The World's Best® heavy and medium duty trucks. Kenworth's Internet home page is at www.kenworth.com. Kenworth is a PACCAR company.