First Kenworth K370 Cabover Goes To Coca-Cola Refreshments
Offers Excellent Quality, Durability and Maneuverability
Kenworth Truck Company's first Kenworth K370 cabover was officially presented to the Coca-Cola Refreshments fleet operation in Bellevue, Wash. during a special ceremony.
"It's exciting to bring the Kenworth K370 cabover into the market and there's no better way to start than with Coca-Cola Refreshments," said Gary Moore, Kenworth general manager and PACCAR vice president. "Our new cabover products open the door for us to offer Kenworth quality, styling and ease of service to a variety of customer applications."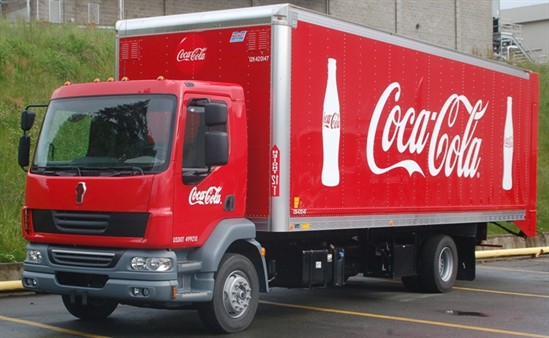 "It's an honor for Coca-Cola Refreshments to receive the first Kenworth K370 cabover," said Tony Eiermann, fleet asset manager for Coca-Cola Refreshments at the company's headquarters in Atlanta. "Kenworth and Coca-Cola have been long-term collaborators and we look forward to continuing our work together in the future."
During the ceremony, Moore presented the keys for the new Kenworth K370 to Coca-Cola Refreshments' Bob Slack, vice president of field operations for the Pacific Northwest Market Unit; and Curt Kazen, Bellevue distribution manager. The first K370 features a 6.7-liter PACCAR PX-6 250 hp engine with 660 lb-ft of torque and an Allison 2500 HS 5-speed automatic transmission.
Coca-Cola Refreshments has made an initial purchase of seven K370s, all to be placed into service at the Bellevue facility. The K370s were purchased from MHC Kenworth - Atlanta. Coca-Cola Refreshments also operates more than 500 Kenworth T370 conventional diesel-electric hybrid tractors and trucks in the United States and Canada.
In addition to the K370, Kenworth also offers the new Class 6 Kenworth K270 cabover. Applications for the K270 and K370 include pick-up and delivery, lease/rental, towing/recovery, landscaping, furniture, and food processing and distribution that require a highly maneuverable truck with 16- to 28-foot van body size, stake bed, or roll-on/roll-off bed. The 63.4-inch BBC (front bumper to back of the cab) on the K270 and K370 provides a 55-degree wheel cut for excellent maneuverability.
Kenworth Truck Company is the manufacturer of The World's Best® heavy and medium duty trucks. Kenworth is an industry leader in providing fuel-saving technology solutions that help increase fuel efficiency and reduce emissions. The company's dedication to the green fleet includes aerodynamic trucks, compressed and liquefied natural gas trucks, and medium duty diesel- electric hybrids. Kenworth is the only truck manufacturer to receive the Environmental Protection Agency's Clean Air Excellence award in recognition of its environmentally friendly products. In addition, the fuel-efficient Kenworth T700 equipped with the low- emission PACCAR MX engine was named the 2011 Heavy Duty Commercial Truck of the Year by the American Truck Dealers. Kenworth's Internet home page is at www.kenworth.com. Kenworth. A PACCAR Company.