Dillon Transport To Add 25 Kenworth T800s with New Cummins Westport ISX12 G Heavy Duty Engine
Dillon Transport will add 25 Kenworth T800 short hood day cabs powered by the new Cummins Westport ISX12 G heavy duty natural gas engine to its 450+ truck fleet starting this summer.
"We're excited to expand our leadership in natural gas trucks by becoming among the first Kenworth customers to select the Cummins Westport ISX12 G engine. The Kenworth T800 is a high quality, rugged and reliable truck that fits well into our green initiatives," said Jeff Dillon, president and owner of Dillon Transport, a leading liquid and dry bulk carrier in Burr Ridge, Ill., with an operational concentration east of the Rockies.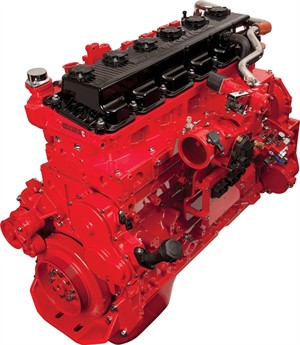 Cummins Westport ISX12 G
Dillon Transport plans to operate the 25 T800 tractors from its Dallas, Texas, terminal to haul asphalt, sand and other raw bulk products. The trucks are specified with both a 72- and a 150-gallon LNG (liquefied natural gas) tank to provide a range of approximately 650 miles. The trucks are expected to make two 600-mile round trips per day in a driver slip-seat operation. LNG refueling will typically be done twice a day at the Clean Energy station located at Dillon Transport's Dallas terminal.
"The new ISX12 G offers an excellent natural gas option for those regional, refuse and pickup and delivery applications that need a little more power and torque than the 8.9-liter Cummins Westport ISL G," said Andy Douglas, Kenworth national sales manager for specialty markets.
The Cummins Westport ISX12 G engine requires a single fuel source and can run on either LNG or CNG (compressed natural gas), both of which are cost effective, low carbon, and low emissions fuels. The natural gas engine uses a maintenance-free, three-way catalyst and does not require a diesel exhaust fluid (DEF) tank, diesel particulate filter (DPF) or selective catalytic reduction (SCR) technology. Kenworth offers the ISX12 G in ratings to 400-hp and 1,450 ft-lb. torque.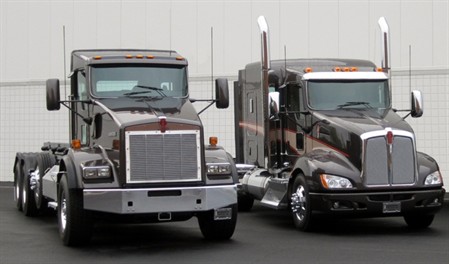 Shown here are examples, from left, of a Kenworth T800 short hood (116.5-inch BBC) and Kenworth T660 that Kenworth offers with the Cummins Westport ISX12 G heavy duty natural gas engine. Kenworth also offers the ISX12 G for the Kenworth W900S.
Kenworth offers the ISX12 G for the Kenworth T660, T800 short hood (116.5-inch BBC) and W900S. Also available for heavier applications is Kenworth's T800 standard hood (122.5-inch BBC) with the Westport™ 15L HPDI technology natural gas engine.
With more natural gas fueling facilities opening across the United States and Canada, and more North American production coming on line in the months and years to come, Douglas expects natural gas to become an even more readily accessible fuel.
"With the right spec'ing choices, many operators have the potential to realize significant reductions in fuel costs and emissions, particularly if they're replacing older diesel trucks with new Kenworth trucks powered by natural gas," he said.
Kenworth Truck Company is the manufacturer of The World's Best® heavy and medium duty trucks. Kenworth's Internet home page is at www.kenworth.com. Kenworth is a PACCAR company.