Louisiana Fleet Survives Economic Downturn and Hurricanes – Bright Skies Ahead
Fleet of Kenworths and New T680s Help Boost Bottom Line, Retain Drivers
Ben Hogan knows all about the highs and lows - in business, as the owner of Dedicated Transportation in Lafayette, La., as well as in the weather forecast in the form of barometric pressure. 
"Not only did we have to deal with the recession like everyone else, we had to survive several hurricanes, including Katrina back in 2005," said Hogan.  "I can take a deep breath and tell you we survived."
Hogan said it wasn't easy.  The hurricanes not only had the power to destroy some of his equipment and property, its aftermath totally disrupted business.  Bills still had to be paid without money coming in.  Katrina put the business down for five weeks.  And drivers left the area, leaving trucks with no pilots.  "It was tough and that's an understatement," said Hogan, who operates a fleet of 32 Kenworth trucks.  "Adversity only made us stronger.  We plan to add 12 more trucks to our operation by this time next year."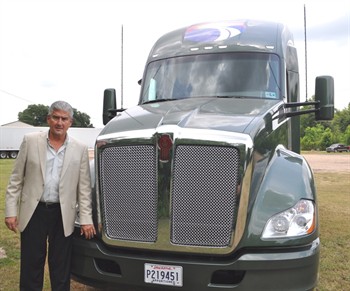 Ben Hogan, owner of Dedicated Transportation in Lafayette, La., is shown with one of this Kenworth T680s equipped with the PACCAR MX-13 engine.
Running all lower 48 states, the company delivers dry goods as well as hazmat materials. In 2011, the company began converting its fleet to Kenworths - and today is 100 percent Kenworth running T660s and now the new T680s, powered by the PACCAR MX-13 engine.  The trucks were purchased through Kenworth of South Louisiana. 
"We decided we wanted to up the quality of the tractors we operated and that decision has really paid off for us," said Hogan.  "We've seen an improvement in many ways, but first and foremost has been in fuel economy.  We've been getting a full 1 mpg better with our Kenworths as compared to the other brand we were running.  And I will tell you that's the most self-serving number any fleet manager looks at if he wants to make money."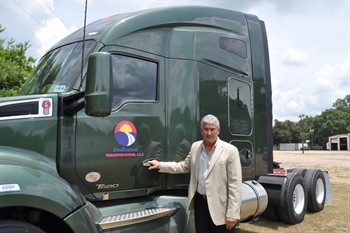 The math alone proves that out, saving Hogan an estimated $400,000 a year in diesel costs.  And, Hogan said that once more T680s come into the fold, savings should increase even more thanks to the fuel-economy advancements of PACCAR MX-13, coupled with what he feels is the best-in-class aerodynamics of the T680.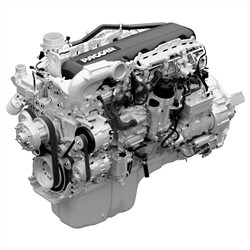 PACCAR MX-13 Engine
Hogan said the Kenworths, especially the T680, are helping him save in driver costs as well.  "Since we started buying Kenworths we've had only three drivers voluntarily leave the company," he said. "We treat drivers well and we know there is a driver shortage.  But you can't underestimate the importance of running quality equipment that drivers like to drive; trucks that other drivers want to run.  When we got one of our first T680s, one of our drivers came out of a diner to find a group of drivers hovering over the truck - admiring it.  That gave him a lot of pride in what he was driving.  And it made us feel good in what we were providing to our drivers."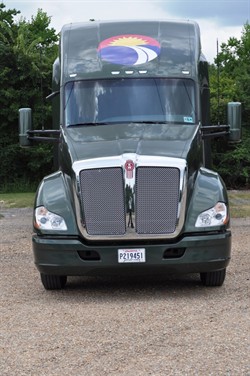 With six Kenworth T680s with 76-inch sleepers operating, and another three on order, Hogan said that truck model has made enough of an impact on drivers, that it's the truck of choice moving forward. 
"When the first two trucks came in, we offered them up to our two most senior drivers.  But they had only been in the T660s for a year and had grown attached to the trucks -- they said they were great, why change?  But, I told them they just might want to take a look anyway.  So, they did and they couldn't grab the keys fast enough.  They're driving those T680s now.  They went from what they thought was the best truck in the industry, to something even better."
Kenworth Truck Company is the manufacturer of The World's Best® heavy and medium duty trucks. Kenworth's Internet home page is at www.kenworth.com  Kenworth is a PACCAR company.