Carver Companies Adds Kenworth W990 Tri-Axle Dumps To Meet Growing Customer Transportation Demands
When Carver Companies was founded in 1989, it was a construction company comprised of a single crew digging cellars. With hard work and dedication, it quickly diversified into a multifaceted division capable of all phases of developmental site work.
With the growth of the construction division in the '90s, Carver Companies purchased land near Albany, New York where it could source its aggregate material to sell and use for projects. Next came the addition of commercial vehicles it could use to deliver products to residential and commercial customers in the area as well as job sites.
As Carver Companies became known for its reliable services and quality products in Upstate New York, it saw an opportunity for significant expansion. In 2003, Carver Companies acquired the last running New York State Brick Yard with a vision to export its products down the Hudson River to New York City and beyond.
The next two expansions were port terminals in Charleston, South Carolina in 2016 and a location in Port Manatee, Florida in 2018. These new locations along with the presence in New York allowed for Carver Companies to become a leading service provider to major markets along the East Coast. To further its growth, in 2020 Carver added a quarry location and port terminal in Bayside, New Brunswick to expand its services into Canada and to ship specialty stone products to Carver Companies' other port terminals and beyond.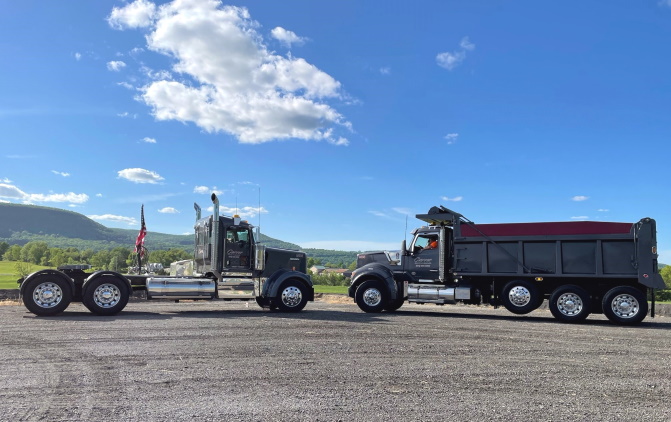 Kenworth W900 (left) and Kenworth W990
According to Bill Kuhl, Carver Companies fleet manager, the company is currently growing at a 20% clip each year. To accommodate the increase in customer orders, the company has added to its fleet of commercial trucks, primarily with Kenworth W990 tri-axle dumps and W900 tractors.
In 2013, Carver Companies made its first Kenworth purchase – a W900 – through Kenworth Northeast – Albany – and has continued to grow its fleet of Kenworth long hoods ever since. Today, Carver Companies operates 77 commercial vehicles and trucks – the latest trucks being Kenworth W990s.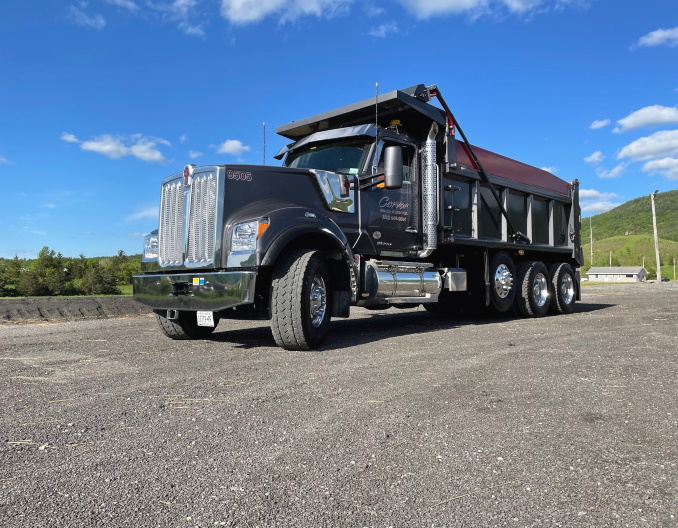 "As our fleet was growing, we wanted to start adding high quality trucks to the mix," Kuhl recalled. "We're a fan of the classic long hood look of a truck, and we were drawn to adding W900s. The relationship we've built over the years with our Kenworth dealer as well as the quality and reliability of the trucks we've received made our decision an easy one to continue building a uniform fleet of Kenworths. Aaron (Harrell, Kenworth Northeast – Albany salesman) and Rick (Crumlish, Kenworth Northeast – Albany branch manager) and the rest of the team at Kenworth Northeast – Albany are so supportive of our operation and are great people to work with."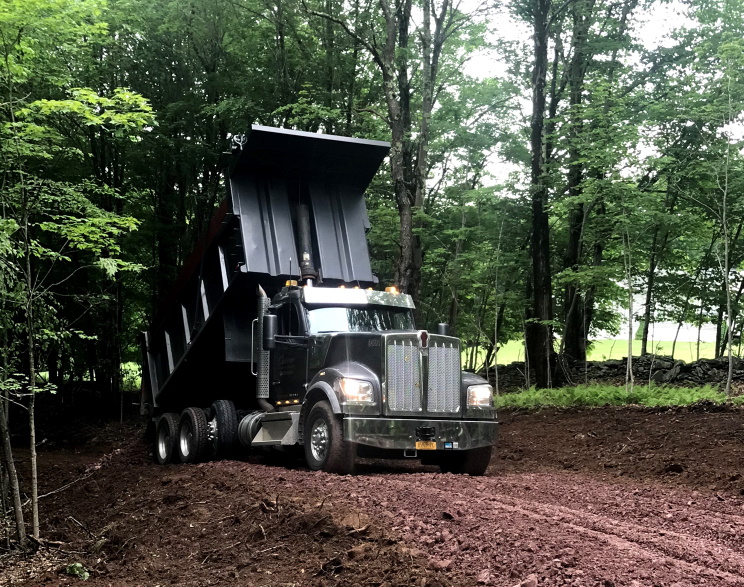 When Carver Companies began adding Kenworth W990s in 2020, the company decided to try spec'ing its new trucks with automated transmissions instead of manuals. It's a move that's been widely accepted by their drivers and maintenance staff. "Our drivers are really happy with our decision to add trucks with automated transmissions. They're easier to drive and it helps reduce driver fatigue," said Kuhl. "We do most non-warranty service in-house and our mechanics find the transmissions less complicated to work on."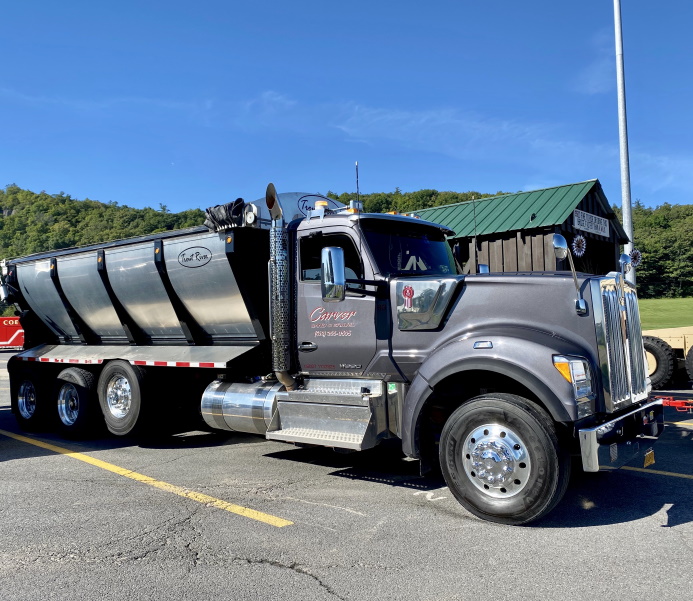 Carver Companies provides services to some of the largest contractors in the markets it serves, do-it-yourself small residential projects, and everything in between. In addition to hauling aggregate such as sand and gravel, the company transports oversized granite rocks, weighing anywhere from 15-18 tons or more to construction projects. The company is currently delivering these types of rocks to Montauk Point, where projects are underway to restore a rock revetment that protects the point and shoreline from erosion. The rock revetment was damaged during Hurricane Sandy in 2012.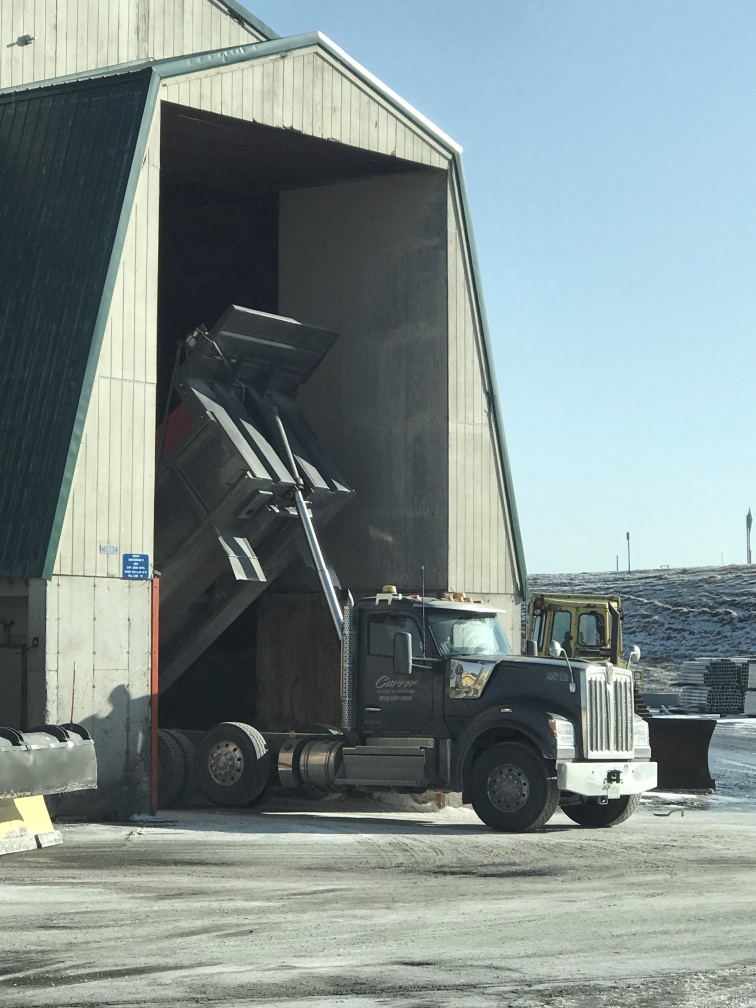 "Since we run heavy and max out our payload most of the time, we 'heavy spec' all of our trucks with 16,000-lb. steerable axles, 46,000-lb. Chalmer suspensions and have transmissions calibrated specifically for heavy haul so our trucks are better suited to handle any load we need them to move," said Kuhl. "Our Kenworth W990s and W900 have proven to perform very well for us over the years. In fact, we still operate a few W900s that we purchased in our first initial orders. Last year, our fleet combined for 4.1 million miles driven and we'll easily surpass that this year."
On the road, drivers in the Kenworth W990s are finding the layout and technology inside the cab, comfortability of the ride, and overall drivability of the truck as key upgrades over the previous model.
"Our drivers take a lot of pride in the trucks they're in each day. Most even take the time to hand polish their trucks so that they look their best before hitting the road," said Kuhl. "We receive compliments all the time from our customers, community members, and other drivers on how nice our trucks look. We even receive messages on social media sometimes from drivers saying that they'd like to work for our company if they lived closer to our locations. The equipment we operate definitely makes a difference in our drivers' ability to do their job and overall job satisfaction."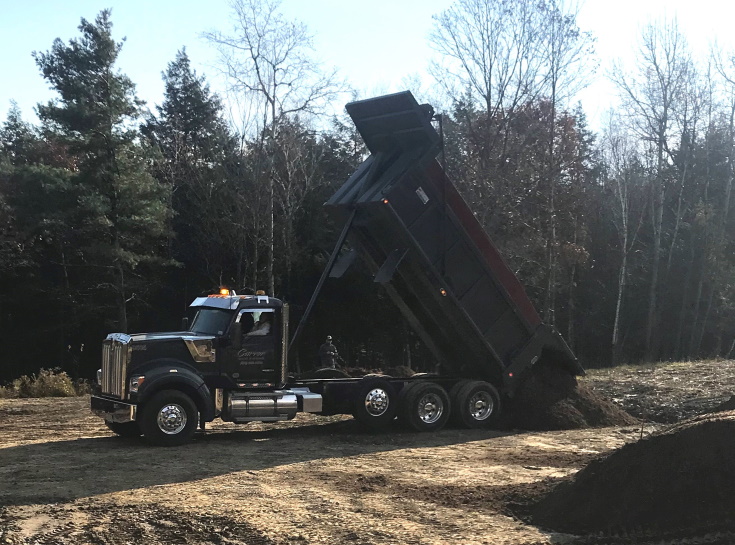 In the 33 years Carver Companies has been in business, the company hasn't shied away from opportunities for growth and continues to prioritize maintaining reliable services for its customers.
"The company has worked hard at developing a reputation as a company that offers quality products and services," Kuhl concluded. "The trucks we operate are a key part of our business and Kenworth's reputation as a quality truck manufacturer aligns with how we want to market our business."
Kenworth Truck Company is the manufacturer of The World's Best® heavy and medium duty trucks. Kenworth's Internet home page is at www.kenworth.com. Kenworth is a PACCAR company.