Kenworth K270 and K370 Cabovers Offer New Option For Adding a Second 45-Gallon Fuel Tank
Kenworth's K270 and K370 medium duty cabovers now offer the option of a second 45-gallon fuel tank, providing customers with greater range and longer operating times between refuelings.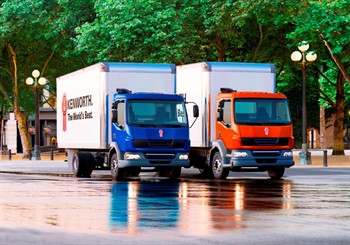 The second, 45-gallon rectangular fuel tank utilizes approximately 28 inches of frame space, clearance between the battery box and the fuel tank is nearly 5-1/2 inches, and from back of the cab to the back of fuel tank is just over 100 inches on the passenger side frame rail.
The second 45-gallon tank for the K270 and K370 is available with 19.5-inch tires and wheelbases of 166, 178, 190, 202, 214, 226 and 238 inches, or with 22.5-inch tires and wheelbases of 170, 182, 194, 206, 218, 230 and 242 inches.
The Kenworth cabovers are for beverage distributors, pick-up and delivery, furniture, food processors and other urban delivery applications. A key advantage of the K270 and K370 cabovers over medium duty conventional trucks is a 55-degree wheel cut for a tighter turning radius and greater maneuverability for operating in crowded urban environments.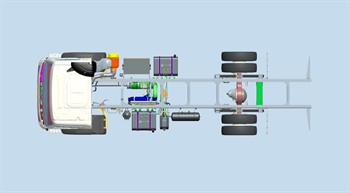 The bumper to back of cab (BBC) of only 63.4 inches for the Kenworth cabovers - compared to a 106-inch BBC on medium duty conventionals - also provides plenty of room for a large van body. This enables the K270 and K370 to haul more payload with a shorter overall length. This is especially important as overall truck length is becoming more regulated in some major metropolitan cities. In addition, the Kenworth cabovers offer a large windshield for enhanced visibility, and room to carry a three-person crew with a driver air-suspended seat and two-person bench seat.
Both the K270 and K370 are powered by a 6.7-liter PACCAR PX-7 engine with a standard 220-hp rating and 520 lb-ft of maximum torque.   Optional ratings are 240-hp and 560 lb-ft of torque and 250-hp with 660 lb-ft of torque.  Both models are available with Allison 5-speed transmissions.
"Kenworth's excellent medium duty cabovers provide customers with a great choice of quality trucks that fit their applications," said Doug Powell, Kenworth medium duty marketing manager. "The dual tanks give customers of longer regional hauls the ability to stretch out fill intervals."
Kenworth Truck Company is the manufacturer of The World's Best® heavy and medium duty trucks. Kenworth's Internet home page is at www.kenworth.com. Kenworth is a PACCAR company.