Altman Plants Grows with New Fleet of Kenworth T270s
In-Depth Truck Review Reveals Kenworth as the Clear Choice
It's the Altman way. The renowned nursery is known for its due diligence and attention to detail to create beautiful and robust plants and flowers. It's what's enabled the Vista, Calif.-based nursery to create some of the most sought-after specialty plants in the country. Its cactus collection alone is North America's largest. Overall, the company is the second largest producer in the country - up from No. 5 in 2013.

Altman's has grown from a backyard operation, started by Ken and Deena Altman in 1985, to one where seven growing facilities, from California to Florida, raise more than 1,000 varieties of cactus and succulents, along with flowers and flowering shrubs, vegetables and bedding plants.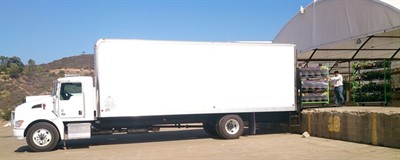 Throughout Southern California, medium duty Kenworth T270s move loads of Altman Plants to big box stores (Home Depot, Lowes, and Walmart) along with traditional home and garden locations. Altman Plants' two Southern California nurseries - located in San Diego and Riverside counties, are the company's largest. The Riverside facility alone boasts 670 acres of growing terrain, while San Diego has over 350 acres, along with 3 million square feet of greenhouse space.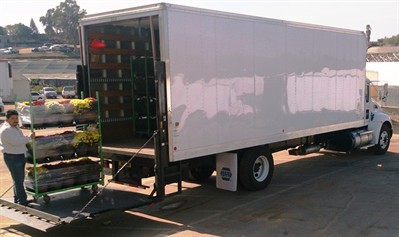 To support the San Diego and Riverside facilities, a fleet of more than 100 trucks transport plants during its peak season (March through June). That includes 42 medium duty trucks, which handle deliveries of up to 150 miles round-trip throughout Southern California. Eight Class 8 trucks, on lease, are used for plant distribution throughout the Lower 48. An additional 60 rental trucks (a mix of medium duty and long-haul) finish off distribution during the busy season.
Recently the company completed more 'due diligence' when it decided to upgrade its short-haul fleet. "We did a tremendous amount of homework in deciding which medium duty truck would lead us into the future," said Jim Hessler, Altman Plants Southern California general manager.  "We looked at all the different brands and narrowed it down to three finalists. We then brought those trucks to our facility for a test drive and walkaround with our drivers, maintenance supervisor, and operations folks.  The clear-cut winner was Kenworth's T270. We were so impressed we have decided to standardize on that model as we move forward."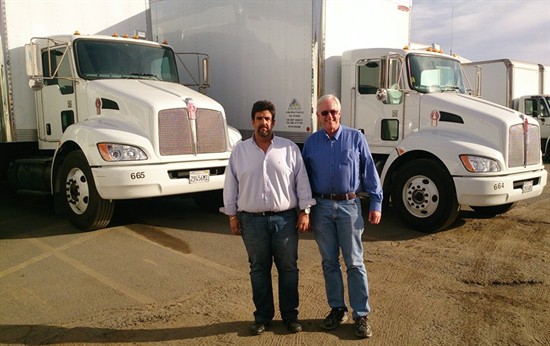 From left, Leo Napoles, Altman Plants distribution and customer service manager, and Jim Hessler, Altman Plants Southern California general manager.
The company took delivery of its initial 12 Kenworth T270s in the spring from Inland Kenworth - El Cajon. The trucks are outfitted with 24-foot aluminum boxes and are powered by the PACCAR PX-7 engine rated at 240 hp, and driven through Allison 5-speed transmissions.
According to Hessler, reliability, driver friendliness, ease of service, and dealer support all came into play in the selection process.
 
"It was clear that the Kenworth T270 was built with the driver in mind," said Hessler. "It's a very comfortable truck and one that's easy to get in and out of. Each truck could make just one delivery to a big-box store, or it could make 10 stops in a day. So, it's important to us to give our drivers a truck that's comfortable and one they want to drive, and we feel Kenworth is that truck."
 
During the walkaround of each of the contesting trucks, Hessler said the drivers not only sat-in and compared cab appointments, they looked at the differences between trucks when it came to pre-trip inspections. "They pointed out how all the fluid checks were on one side of the Kenworth - little things like that are important to drivers," Hessler said. "Checks are a necessary evil and if a truck is well thought out and designed right, it makes life easier for our drivers and our service technicians. We like that."
 
Since the Kenworths are domiciled at Altman's Riverside and San Diego facilities, the company works with both Inland Kenworth's Fontana and El Cajon locations. "We have the utmost confidence in them," said Hessler. "Inland Kenworth took the time to have its service manager meet with us. We discussed everything from parts availability, to parts costs and service support from the service department.  We came away impressed."
 
From the operational side, Hessler said Altman's plans to run the trucks with no end in sight. "We don't have a trade schedule and I fully expect these trucks to be running long after I'm gone," joked Hessler. "I know Kenworth has a high residual value which speaks volumes about their longevity and reliability. And I know first-hand from previous jobs how well Kenworths hold up and the appeal they have to drivers. Once, we had a 14-year old Kenworth among several newer trucks. Even though it was old, all the drivers wanted to drive the Kenworth. That stuck with me."
 
Behind the wheel of the Kenworth T270s are the company's safest drivers. "Since everyone wanted to drive the new trucks, we had to come up with a fair way to decide who gets to drive them," related Hessler.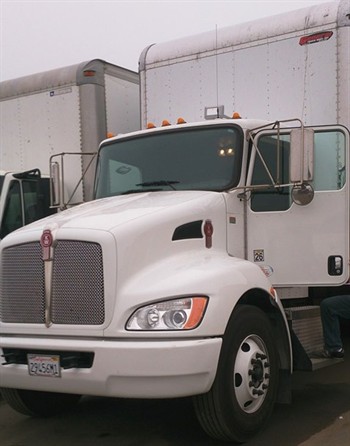 It was a fair and creative approach. Hessler reviewed all driving records and those with the most accident-free miles got the keys to the Kenworth. "This way it was a reward for those drivers, and an incentive for the others. It was a win-win for both the drivers and the company."
 
Kenworth Truck Company is the manufacturer of The World's Best® heavy and medium duty trucks. Kenworth's Internet home page is at www.kenworth.com. Kenworth is a PACCAR company.