New Kenworth T680 Natural Gas Truck Leads Kenworth Lineup for ACT Expo 2014
Kenworth Truck Company will exhibit four natural gas trucks in its booth (No. 1157) during the Alternative Clean Transportation (ACT) Expo May 5-8 at the Long Beach Convention Center in Long Beach, Calif. The ACT Expo is called North America's largest clean fleet show representing all weight classes and alternative fuels.
Leading the way is the new Kenworth T680 natural gas truck, which was showcased at the 2014 Mid-America Trucking Show. "The new natural gas-powered Kenworth T680 offers fuel-saving aerodynamics and cost-efficient natural gas to provide excellent operating cost benefits for truck operators in various applications," said Alan Fennimore, Kenworth vocational marketing manager. The T680 with the Cummins Westport ISX12 G natural gas engine will be available later this year.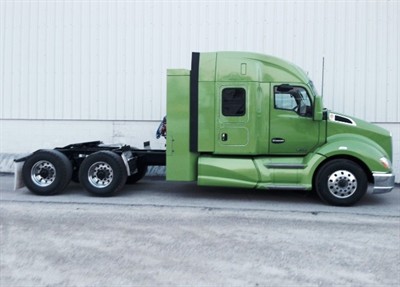 Kenworth T680 52-inch natural gas
Kenworth will display a CNG-powered T680 52-inch natural gas configuration with the factory-installed Cummins Westport ISX12 G natural gas engine rated up to 400 hp and 1,450 lb-ft of torque. The T680 day cab also will be available with natural gas, while the T680 is offered with diesel power in day cab, 52-inch mid-roof sleeper and 76-inch sleeper configurations.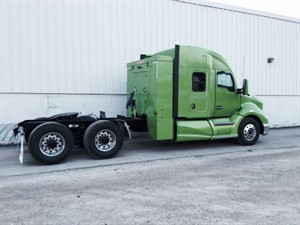 Kenworth T680 52-inch natural gas

At ACT Expo, Kenworth will exhibit a T660 Extended Day Cab and a short hood (116.5-inch BBC) Kenworth T800 roll on/roll off, both in a CNG configuration with the Cummins Westport ISX12 G engine. A pickup and delivery CNG-powered Kenworth T440 with the 8.9-liter Cummins Westport ISL G engine also will be shown.
 
Kenworth works closely with such companies as Agility Fuel Systems, Trilogy Engineered Solutions, and McNeilus to provide natural gas tanks and fueling systems for Kenworth natural gas trucks.
 
In addition, Andy Douglas, Kenworth national sales manager for specialty markets, will participate in an OEM panel discussion on Heavy Duty Natural Gas Trucks Tuesday, May 5, starting at 2:45 p.m. at NGV Global 2014, which has concurrent sessions in Long Beach with ACT Expo 2014.
 
Kenworth Truck Company is the manufacturer of The World's Best® heavy and medium duty trucks. Kenworth's Internet home page is at www.kenworth.com. Kenworth is a PACCAR company.
#