ABC Supply Takes Delivery of First Full-Production Kenworth T880
Nation's Largest Roofing Distributor To Add 53 More T880s to its Fleet in 2014
Kenworth Truck Company's first full-production Kenworth T880 was recently delivered to ABC Supply Co., Inc., one of the largest distributors of exterior building products in the nation, at its headquarters in Beloit, Wis.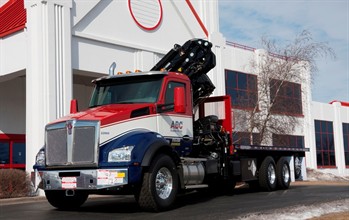 The first full-production Kenworth T880 is equipped with a PACCAR MX-13 engine rated at 430 hp and 1,550 lb-ft of torque, a 10-speed manual transmission and a 116.5-inch BBC hood optimized for the PACCAR MX-13. The truck was produced at the Kenworth assembly plant in Chillicothe, Ohio. ABC Supply's new T880 is equipped with a 59-foot Hiab XS 335 crane. ABC Supply plans to add 53 more Kenworth T880s this year.
 "A true American success story, ABC Supply has revolutionized the roofing material distribution business over the past 30 years. The new Kenworth T880 flagship vocational truck is ready to transform the vocational truck market and already has captured the attention of fleets and truck operators," said Preston Feight, Kenworth assistant general manager for sales and marketing. "It's exciting for such an outstanding company as ABC Supply to take delivery of our first full-production T880, and to select this truck as its new standard Kenworth model. We thank ABC Supply for its strong support of the T880."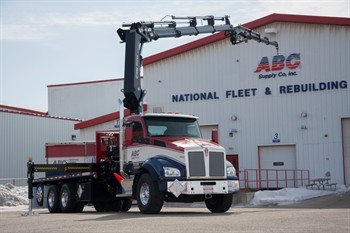 "The Kenworth T880 is a rugged and durable truck that can get the job done in our demanding application," said Mike Boggs, director of operations for ABC Supply. "The T880 has the specific frame, cab and drive train layout to allow for the proper length and turning radius. The engineers at Kenworth were able to help us with important details on chassis layout which in turn helped us produce a unit that fits our needs."
 
The Kenworth T880s, which ABC Supply purchased through Wisconsin Kenworth - Milwaukee, will be assigned to the company's various branches across the United States and be used to deliver roofing, siding, windows and other building supplies. The company also operates more than 100 Kenworth T370, T680 and T800 trucks in its fleet.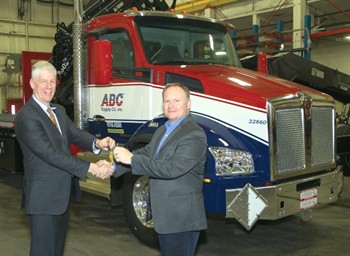 From left, Tom Platts, Kenworth fleet sales director, presents Mike Boggs, director of operations for ABC Supply Co,pany with the key to the first full-production Kenworth T880.
Since its founding by Ken and Diane Hendricks in 1982, ABC Supply's sole focus has been serving professional contractors - taking care of them better than any other distributor, treating them with the respect they deserve and offering products, services and support they need to build their businesses. More than 30 years later, ABC Supply has grown to more than 450 branches in 45 states.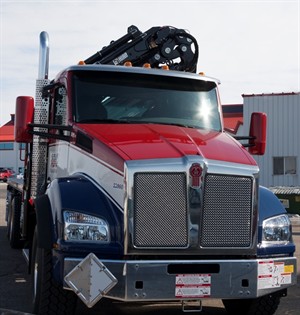 ABC Supply is an "employee-first" company that believes to provide the best service to its customers, associates must be treated with respect and given the tools they need to succeed.
 
"By acquiring the Kenworth T880, we're giving our drivers the tools they need to make more productive and effective deliveries to our customers," Boggs said. "Based on our experiences with other Kenworth trucks, we fully expect the T880 to provide our drivers with a comfortable work environment and our company with a high degree of reliability for many years."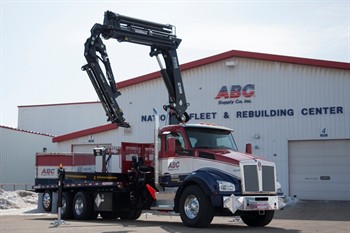 The Kenworth T880 is especially suited for vocational customers who demand a durable and reliable truck, including dump, mixer, refuse, and heavy haul applications. The T880 is standard with the PACCAR MX-13 engine rated up to 500 hp and 1,850 lb-ft of torque. The new vocational truck also includes an air-assisted hydraulic clutch, complex reflector headlamps, 5-piece Metton® hood for easier and faster repairs, and new lightweight, factory-installed lift axles. The T880 uses Kenworth's 2.1-meter wide, stamped aluminum cab, which is robotically assembled. The cab has a comfortable 23 inches of room between the seats.
 
Kenworth Truck Company is the manufacturer of The World's Best® heavy and medium duty trucks. Kenworth's Internet home page is at www.kenworth.com. Kenworth is a PACCAR company.