2015 Kenworth Calendar Features Captivating Images of The World's Best Trucks
Available in Wall and Appointment Sizes
The 2015 Kenworth Calendar featuring The World's Best® trucks is now available for order (www.shopkenworth.com). The new calendar offers captivating images of Kenworth's aerodynamic, vocational, traditional and medium duty trucks in scenic surroundings.
2015 Kenworth Wall Calendar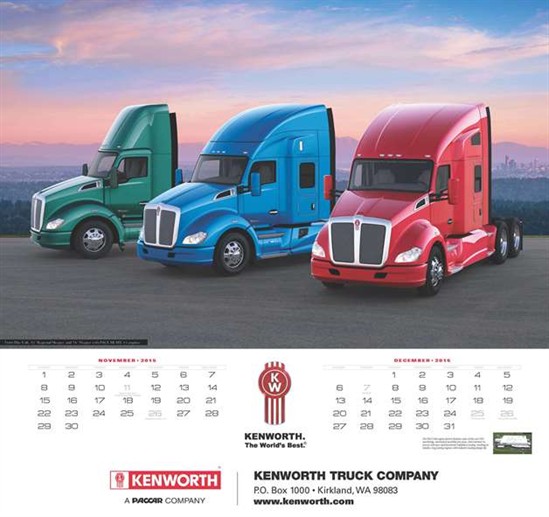 Shown above is the Kenworth T680 family. From left: T680 day cab, T680 52-inch regional sleeper, and T680 76-inch sleeper.
The six-page, 2015 Kenworth Wall Calendar showcases the Class 8 T680 Advantage, T680 76-inch sleeper, T680 family (day cab, 52-inch regional sleeper and 76-inch sleeper), T880 dump truck, and T880 52-inch sleeper tri-drive, each equipped with the fuel-efficient and quiet PACCAR MX-13 engine. Kenworth's medium duty trucks are represented by the K270 cabover van and T370 conventional van with the PACCAR PX-7 engine. The large, poster-size wall calendar is 26-1/4 inches tall by 28 inches wide.
2015 Kenworth Appointment Calendar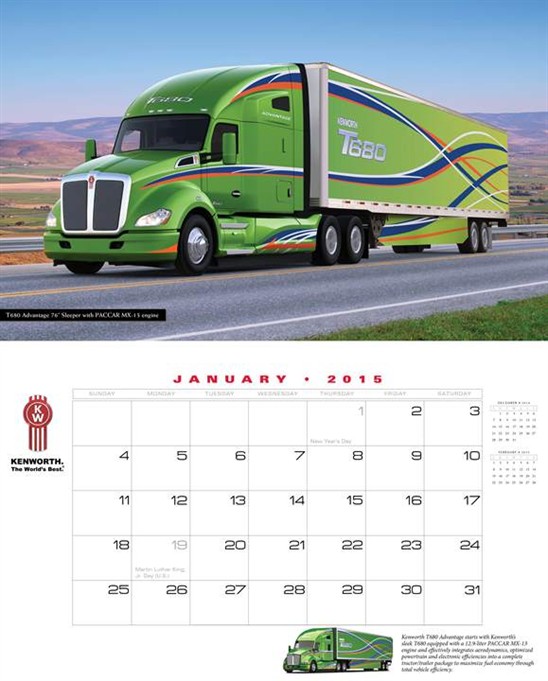 Shown above is the fuel-efficient Kenworth T680 Advantage.
The 2015 Kenworth Appointment Calendar highlights a Kenworth Truck of the Month. These trucks include the six wall calendar photographs. Also featured are the T440 and T470 extended day cab with the PACCAR PX-9 engine, compressed natural gas T680 52-inch mid-roof sleeper, T700 75-inch sleeper, T800 62-inch sleeper, W900L 86-inch Studio Sleeper, and Super 963 with a carrying capacity of 122,000 lbs. The appointment calendar is 9-3/4 inches tall by 13 inches wide.
"Kenworth trucks offer excellent styling, outstanding performance, low operating costs, and exceptional comfort for on-highway, vocational and medium duty applications," said Kurt Swihart, Kenworth marketing director. "Truck owners, fleet managers, drivers and truck enthusiasts will be proud to display the 2015 Kenworth Calendar starring The World's Best trucks throughout the year."
To order, visit your Kenworth dealer or go to www.shopkenworth.com and click on "New Arrivals" on the left. Cost is $16.95 (US$) for the 2015 Kenworth Wall Calendar and $11.95 (US$) for the 2015 Kenworth Appointment Calendar. Prices do not include shipping and handling. The calendar also may be ordered by calling 1-877-705-3314 (U.S.) and 1-425-806-2306 (International).
Kenworth Truck Company is the manufacturer of The World's Best® heavy and medium duty trucks. Kenworth's Internet home page is at www.kenworth.com. Kenworth is a PACCAR company.